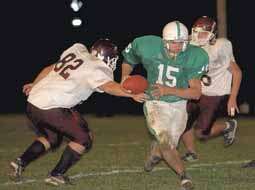 WEEDSPORT - Twenty-five years ago on an October night like Friday's, an estimated 4000 fans showed up to see Weedsport defeat Port Byron 14-0 for its first ever league title.
That year, the Warriors shut out seven opponents and there defense allowed the fewest points in the state.
A quarter of a century later, though no league title was at stake and fewer were in attendance, Weedsport had the game well in hand before the 25th anniversary half-time ceremony and the homecoming court was escorted around the field.
The Warriors (6-1) went on to defeat the Panthers (1-6) 34-7 in the OHSL Class C West contest. Port Byron avoided the shut out on Brett Moon's (186 yards) fourth quarter scramble into the end zone.
"Like they've done all year, those kids play hard right to the end," said Warrior coach Cal Mosher. "I really have a lot of respect for that. We were ahead by 30 points, and they drove it right down our throat against our first string and scored. Most teams won't do that. Most teams when they're down by 30 will fade a little bit."
Though Weedsport didn't always come away with points, they managed to capitalize on four Port Byron turnovers and keep the Panthers out of the end zone until late in the game. Brandon Bach also blocked a punt that led to a Shane Annal touchdown.
"That's a huge factor, you're going to win almost every game when you have that kind of disparity in the turnovers," Mosher said.
You have free articles remaining.
Panther coach Chip Kehoskie agreed, but he also saw other flaws.
"At one time we had a 3rd-and-8 and we had a pop over the middle, and he fumbles it," said Panther coach Chip Kehoskie. "That was one, but defensively we were not quick enough to stop dives, and to stop the option and that was really hard."
The first time the Warriors won the league title, before the advent of the sectional and state postseason formats, the league title was the highest rung on the ladder. Now, Weedsport is in the middle of a murky playoff picture.
General Brown (OHSL North) and Onondaga (OHSL West) clinched league titles with victories last night. Pending an upset, Herkimer (6-0) will be crowned OHSL East champions with a win over Sauquoit (4-2).
If Cooperstown (5-1) defeats Mount Markham (3-3) today, Weedsport will be in a three-way tie for the four, five and six seeds in the upcoming postseason. Westmoreland (6-1) defeated Thousand Islands (5-2) last night to be the final piece of the puzzle.
If that scenario turns out to be correct, the seeding will be decided by the first-half point differential. Each team can earn a maximum of 25 points, no matter how many they score.
For instance if team A scores 30 points in the first half, and team B scores 0, the first half point differential for team A would still be 25. If team A scores 20 points in the first half and team B scores 6, team A's first-half point differential would be 14. Team B would lose 14 points when its other games are factored in.
With the regular season behind them, Weedsport's first-half point differential is 74. If this figure is good enough to beat Cooperstown and Westmoreland, the Warriors will most likely earn the four seed in the eight-team field and a home game this weekend.
"There's a chance that we may get a home game," Mosher said. "That would be big for us to get a home game. Other than that, we'll just see who we get and we'll try to get our best plan together. We have a good football team, and I think against most of the schools we're going to give them a good game."