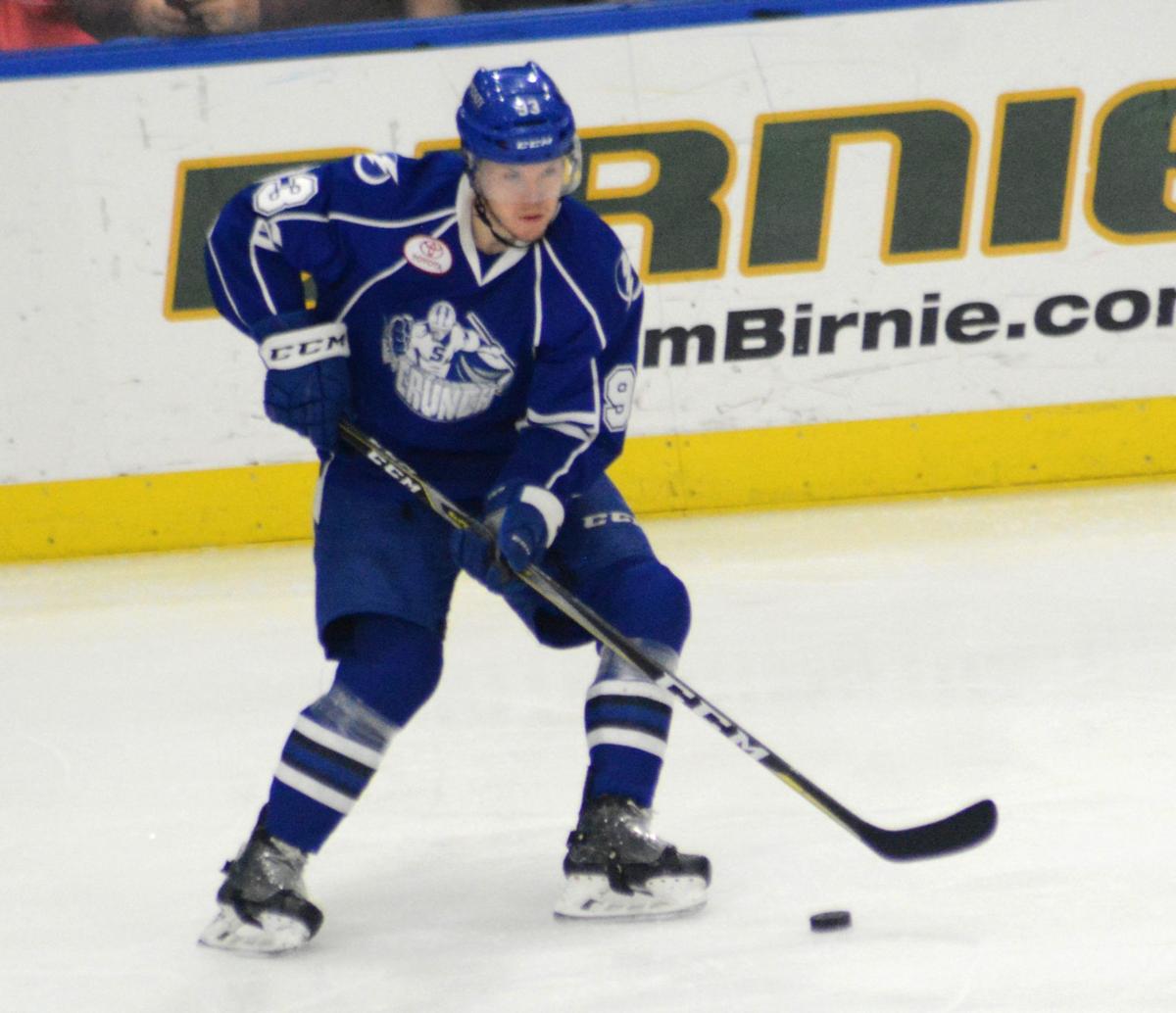 SYRACUSE — The goal was so pretty, the players stopped celebrating to watch the replay.
Olivier Archambault picked up the boards on the half wall, cut toward the middle, deked through a defender, took the puck from his backhand to his forehand and easily slid the puck past the Springfield goalie. The overtime game-winner was just the beginning of a three-goal weekend for the Syracuse Crunch forward.
Archambault has put on a show offensively in his tryout with Syracuse.
"When you see a goal like that, you're like 'Wow!'' Crunch head coach Benoit Groulx said. "It's a great move. We know he has those skills. He made a great play. You don't see those goals every game."
Archambault has recorded eight goals and five assists in 19 games with Syracuse. The 25-year-old is riding a three-game goal streak and a five-game point streak.
"You always have to prove yourself everywhere," said Archambault, a fourth-year pro. "I think this is the first year I have a good opportunity and I'm taking it right now."
A Quebec native who was Montreal's fourth round selection in the 2011 NHL Entry Draft, Archambault was with the San Jose Barracuda in the AHL on a tryout earlier this season. He posted five points in 12 games before being released.
Archambault went back to ECHL Allen, where he registered 13 goals and 18 assists in 19 games.
"In San Jose, they didn't really give me the opportunity like they did here and I really do appreciate it," Archambault said. "It's fun to be a part of this team. I think we have a good team and I have fun with those guys."
Archambault split the previous three seasons between AHL Iowa and Alaska, Quad City and South Carolina in the ECHL. He has 145 points in 142 career ECHL games and 29 points in 71 AHL contests.
While Archambault's strength has been his scoring touch, he knows there's still some work to be done in his defensive game.
"(Archambault) has got skills, he's got speed and he wants to score," Groulx said. "He likes to score. He likes to make plays, which I think those attributes are his strengths. Now he's got to bring it every day, and he's got to have the good habits to do things right that are necessary every day. That's his challenge right now. We like what he's doing. He's better on the ice and better in the gym as well, but that's what he's got to do.
"He's got to learn how to bring that A game consistently."
Archambault's tryout with the Crunch is close to hitting the 25 game limit. The team can either sign him to an AHL contract, offer another tryout deal or cut him loose.
"Obviously, it's not easy. You never know if you're going to be here tomorrow, but they've given me the opportunity to play on this team," Archambault said. "We have a good team. It's not easy to be on a PTO, but at the same time they make it easy for me."
Sports writer Jeremy Houghtaling can be reached at 315-282-2256 or at jeremy.houghtaling@lee.net. Follow him on Twitter @CitizenHough.