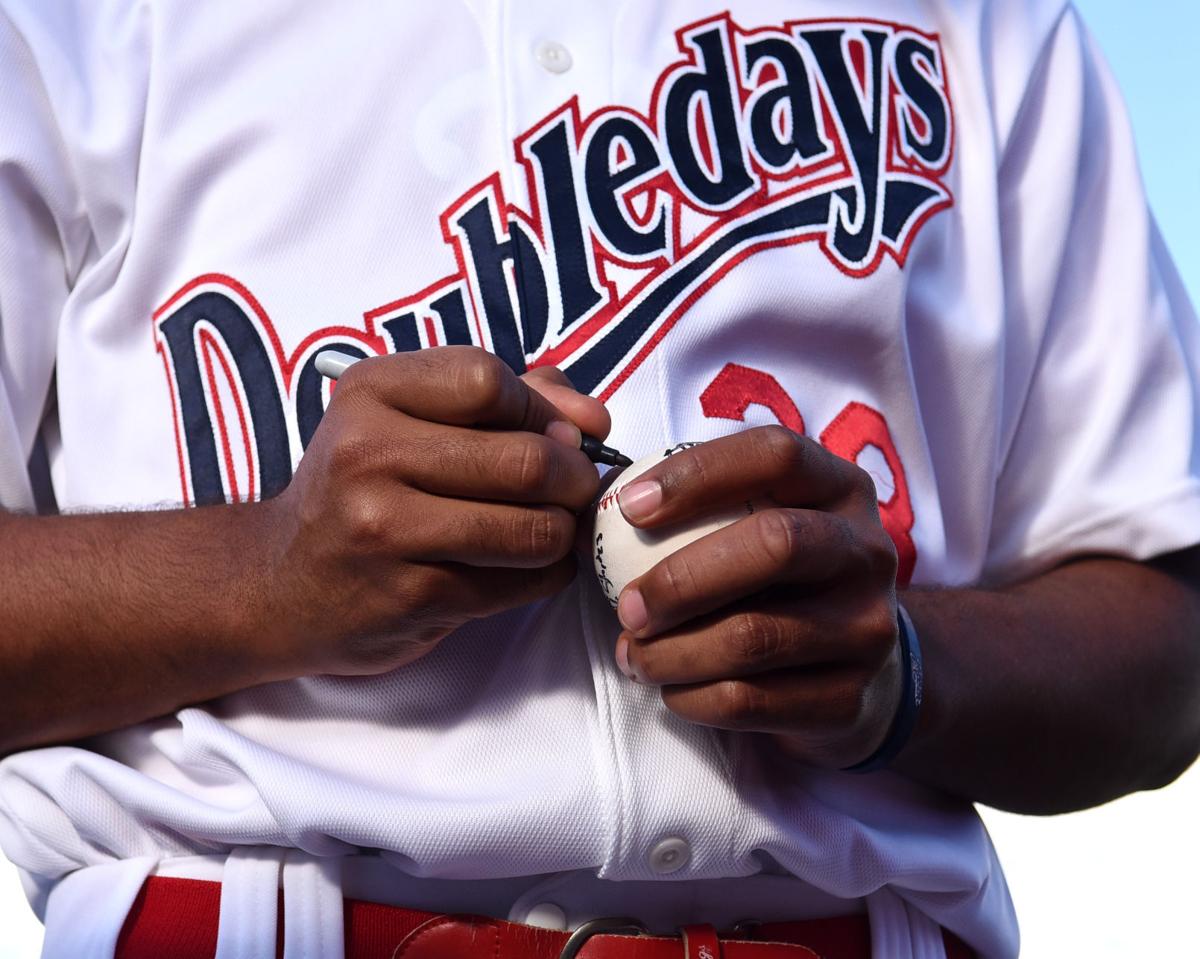 The New York-Penn League is dissolving at a rapid pace, as several teams are moving on to join Major League Baseball's new Draft League.
The Auburn Doubledays, however, will not be one of them. 
On Monday, MLB announced its new league, which will be a summer wood bat circuit for college prospects preparing for the annual MLB amateur draft.
Four former New York-Penn League teams will be charter members: the Mahoning Valley Scrappers, State College Spikes, West Virginia Black Bears, and the Williamsport Crosscutters. The Trenton Thunder, formerly the Double-A affiliate of the New York Yankees, are also included. 
Members of the Draft League will not have a major league parent club. 
In its press release announcing the formation of the Draft League, MLB said that it's in "advanced discussions" with a sixth team intent on joining. 
That sixth team will not be Auburn. City manager Jeff Dygert told The Citizen Monday that while Auburn was offered a position in the Draft League — the Albany Times Union reported that all New York-Penn League teams were similarly propositioned — it did not make financial sense for the organization. While he did not disclose a dollar amount, Dygert said the franchise fee to join the Draft League is "significantly more" than what it previously cost to play in the New York-Penn League. 
"We want to make sure this next move we make is good for the community and good for Falcon Park," Dygert said. "The cost of doing business is different than it was with the New York-Penn League and Minor League Baseball. There's still, in my mind, quite a few unanswered questions that make it tough to make a good business decision about what's on the table right now."
The formation of the MLB Draft League is the latest development in minor league baseball's ever-changing landscape. Baseball America and The New York Times first reported in 2019 that the upcoming Professional Baseball Agreement between MLB and Minor League Baseball could contract up to 40 minor league franchises. 
The previous PBA expired after the 2020 minor league season, which was canceled at all levels due to COVID-19. 
The New York-Penn League's start date was convenient for Falcon Park, which also hosts Auburn High School baseball and Cayuga Community College athletics through late May. However, the MLB Draft League potentially conflicting with other Falcon Park tenants was not a factor in Auburn's decision to bow out, according to Dygert. 
With Monday's announcement, Auburn is now one of eight New York-Penn League teams without a home. Two other teams based in New York state — Batavia and Staten Island — are also absent major league affiliates and leagues. 
Staten Island was previously the short-season affiliate of the New York Yankees, but the Yankees announced in early November that the partnership was over. Instead, the Yankees are seizing control of the Hudson Valley Renegades — Tampa Bay's former affiliate in the New York-Penn League — who will play in the new Mid-Atlantic League, planned to be a full-season Single-A classification. 
The Brooklyn Cyclones, a New York Mets affiliate that was a member of the New York-Penn League since 2001, are also joining the Mid-Atlantic League. 
While Dygert did not completely close the door on minor league baseball returning to Auburn, "we're getting more serious about discussions with other teams and leagues," and the formation of the MLB Draft League could expedite that process. Most of Auburn's conversations have been with collegiate-level teams and leagues that are interested in using Falcon Park. 
Not all inquiries for using Falcon Park have been baseball-related. Because of Auburn's partnership with Cayuga Community College, which funded a renovation of Falcon Park two years ago, the facility is now capable of hosting several sports other than baseball, including soccer and lacrosse. 
The New York-Penn League has operated as a first stop for professionals since 1939, when it was called the Pennsylvania-Ontario-New York League (PONY). It adopted its current name in 1957, and has operated as a short-season league since 1967. 
Auburn has been a member of the New York-Penn League since 1958, though the organization did endure a brief hiatus from the league in 1981 when Auburn failed to secure a major league parent. 
When asked if Auburn would ever consider transitioning to a full-season minor league team, like Brooklyn and Hudson Valley, Dygert said that option isn't a feasible one because of differences in the markets. Brooklyn and Hudson Valley have finished first and second in New York-Penn League total attendance every year since 2015. In that same span, Auburn has finished worst or second-worst in attendance every year. 
In 2019, Falcon Park had an average attendance of 1,158. That same year, Brooklyn averaged almost 5,000 attendees per game. 
"You're talking about markets with a lot larger area that they're drawing from, as far as population and attendance," Dygert said. "A lot of the costs are fixed and it doesn't matter how many people or how few are in the seats. I don't think it's that the Auburn community doesn't support baseball, but they don't support it in a way that makes it viable at the level."
Dygert still hopes to have a final decision on the future of Auburn baseball by the end of 2020 or early 2021. The city plans to retain trademark rights to the Doubledays name and logo, which a collegiate team could adopt if the city goes down that route. 
"We're trying not to rush into a decision," Dygert said. "We know it's going to be different than it was, and for some people that will be problematic. It's a change, and it's opened up some other opportunities for us that we probably would've never explored with the minor league baseball that was here. 
"We'll lose that, but there may be opportunities for even better things down the road."
New York-Penn League — Where are they now?
| Team | Previous affiliate | New affiliate | Current League |
| --- | --- | --- | --- |
| McNamara Division | | | |
| Aberdeen IronBirds | Orioles | Orioles | Class-A Advanced |
| Brooklyn Cyclones | Mets | Mets | Mid-Atlantic (Single-A) |
| Hudson Valley Renegades | Rays | Yankees | Mid-Atlantic (Single-A) |
| Staten Island Yankees | Yankees | N/A | N/A |
| Pinckney Division | | | |
| Auburn Doubledays | Nationals | N/A | N/A |
| Batavia Muckdogs | Marlins | N/A | N/A |
| Mahoning Valley Scrappers | Indians | N/A | MLB Draft League |
| State College Spikes | Cardinals | N/A | MLB Draft League |
| West Virginia Black Bears | Pirates | N/A | MLB Draft League |
| Williamsport Crosscutters | Phillies | N/A | MLB Draft League |
| Stedler Division | | | |
| Lowell Spinners | Red Sox | N/A | N/A |
| Norwich Sea Unicorns | Tigers | N/A | N/A |
| Tri-City ValleyCats | Astros | N/A | N/A |
| Vermont Lake Monsters | Athletics | N/A | N/A |
Sports reporter Justin Ritzel can be reached at 282-2257 or at justin.ritzel@lee.net. Follow him on Twitter @CitizenRitz.