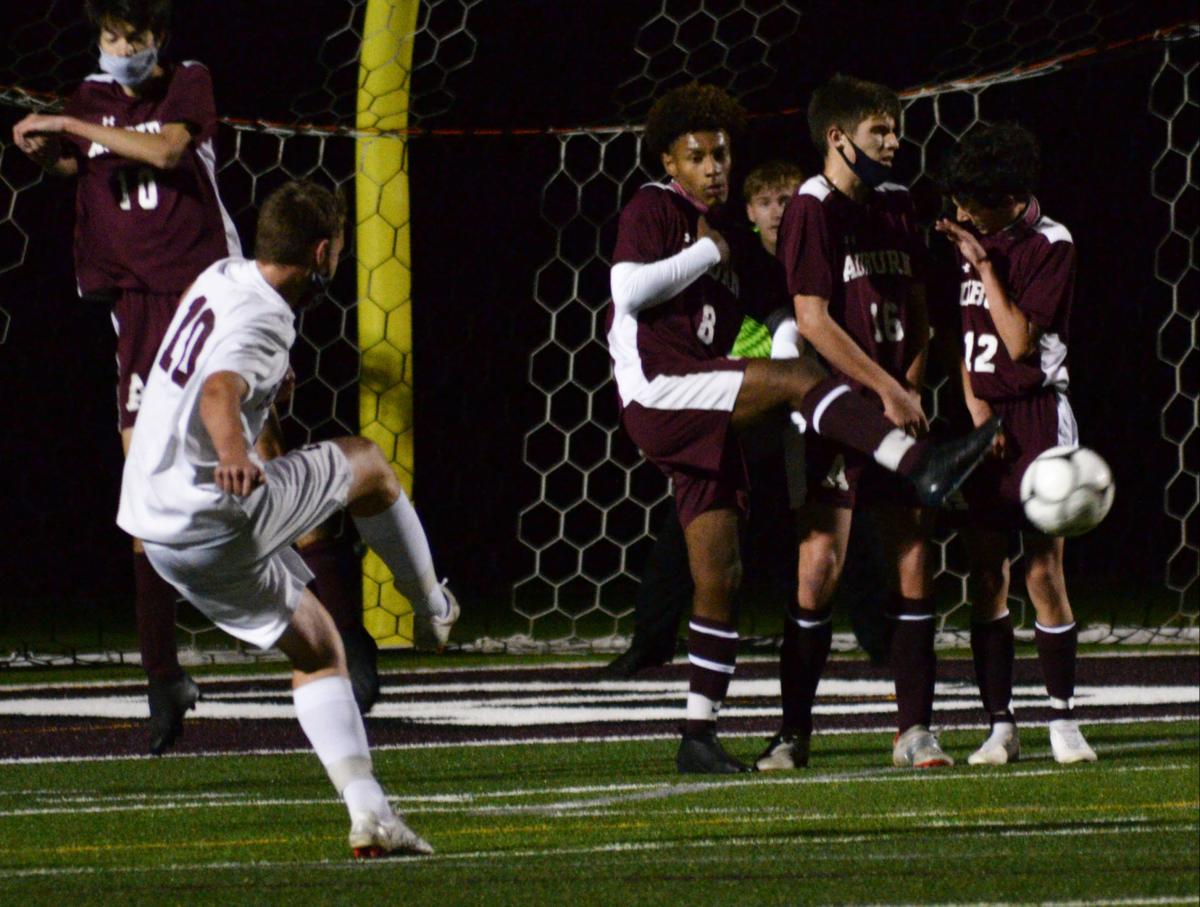 Due to a student-athlete's positive COVID-19 test, Auburn High is canceling the remaining boys varsity and junior varsity soccer games. 
The Maroons' varsity team had five more contests remaining on the season which was scheduled to end Nov. 13, while the JV team had six matches left. 
In an interview with The Citizen on Monday, Auburn Enlarged City School District Superintendent Jeff Pirozzolo did not specify if the positive test was from a student-athlete on the varsity or JV, but said that all players from each team must quarantine for two weeks because they practice together every day. 
Pirozzolo added that it's the first positive virus test for a high school student in the district. The school district has been forced to revert to online-only learning at the elementary level as recently as Oct. 27, after a student at Casey Park Elementary tested positive for COVID-19. 
It is currently unclear how the high school student contracted the virus. 
Soccer was one of several interscholastic fall sports permitted by Gov. Andrew Cuomo to begin play on Sept. 21. Others that specifically apply to Auburn include boys golf, girls tennis, boys and girls cross country, and girls swimming and diving.
Until now, the Maroons' decision to participate in the normal fall season has gone on without a hitch, and Pirozzolo stands by the decision to opt in. 
"I'm very glad we did sports," Pirozzolo said. "We think our children have lost enough since March 13 (when COVID-19 originally forced schools to close), and any opportunities we can provide for them, I think it's beneficial. Our kids need it for social and emotional reasons. They need to get out there and be around their peers and their coaches. I think it was a great opportunity for them."
School districts were also given the option of delaying fall sports until the Fall II season, which begins in March. Auburn's girls swim team will begin then due to a decision from its league, the Salt City Athletic Conference, to postpone. 
Cayuga County school districts have had varying degrees of success with interscholastic sports this fall. Moravia, Port Byron, Southern Cayuga and Union Springs decided, through their own volition or their leagues', to wait until March for the Fall II season. Cato-Meridian intended to play this fall and several of its sports programs began practicing on Sept. 21, but the school district reversed course and chose to delay until Fall II on Sept. 28. Superintendent Terry Ward cited staffing concerns as the deciding factor — coaches, many of whom teach within the school district, would be forced to quarantine if exposed to COVID-19. 
Other schools that elected to opt in are Jordan-Elbridge, Skaneateles and Weedsport. In mid-October, Jordan-Elbridge decided to pause varsity sports after a student who "is active in school life and co-curricular activities" had a positive COVID-19 test, but the Eagles' sports programs have since returned. 
Skaneateles had to postpone sporting events last Monday, Oct. 25, after a high school teacher tested positive for COVID-19, but the Lakers' sports programs have also resumed play. Weedsport has not reported a positive test within the high school that has forced sporting event cancellations. 
Pirozzolo was less optimistic about the prospects of winter sports, as a status update is expected this week from the state. Several winter sports, such as basketball, ice hockey and wrestling, are considered high-risk in Cuomo's guidelines for sports and recreation. 
"I don't see these high-risk sports being allowed to go until some of these guidelines change," Pirozzolo said. "I think our best bet is to wait and see if this vaccine comes out, hopefully quickly, so that we can at least have somewhat of a season, even if they're shortened seasons."
Sports reporter Justin Ritzel can be reached at 282-2257 or at justin.ritzel@lee.net. Follow him on Twitter @CitizenRitz.
Be the first to know
Get local news delivered to your inbox!