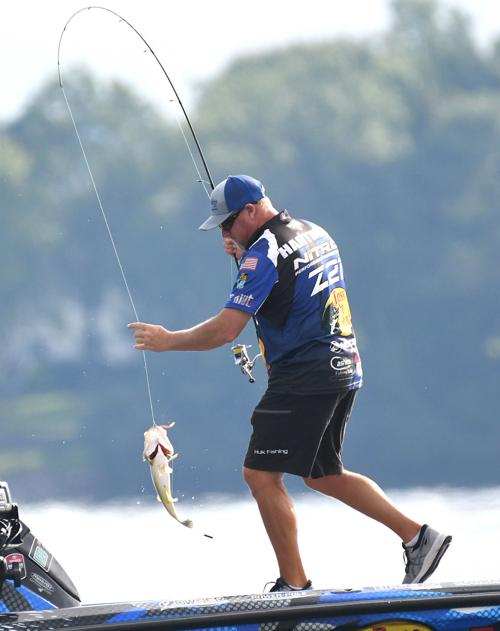 The schedule for the 2020 Bassmaster Elite Series, a nine-tournament slate, was announced on Thursday with two stops in upstate New York.
"This year, we unveiled the mantra 'Big Bass. Big Stage. Big Dreams.,'" said B.A.S.S. CEO Bruce Akin. "We've certainly delivered on that in 2019 — and with the schedule we've put together for 2020, we're ready to take another giant step on that path."
The season will start once again in Palatka, Fla., with an event at the St. Johns River on Feb. 6-9. 
After visiting one big largemouth factory in Florida, the Elite Series will shift to another fishery that was recently ranked as one of the best in the country on Bassmaster Magazine's annual Top 100 Best Bass Lakes list. That event is scheduled for Feb. 14-17, but the site won't be announced until a later date.
You have free articles remaining.
The Elite Series schedule will pause during March for the Super Bowl of Bass Fishing, the 2020 Bassmaster Classic. Competition will be March 6-8 on Alabama's Lake Guntersville.
When Elite competition resumes, B.A.S.S. will make a return visit to Alabama's historic Lake Eufaula in Eufaula, Ala. on April 2-5.
The fourth Elite Series event will be in Manning, S.C., on the Santee Cooper Lakes. The next fishery on the schedule is known for producing some of the biggest crowds in B.A.S.S. history — the Sabine River in Orange, Texas. The fifth Elite Series event on the 2020 slate will be held at Orange on May 29-June 1 and could challenge the Elite Series fan attendance record of 36,200.
The site for the annual Toyota Bassmaster Texas Fest will be announced at a later time. But the dates have been tentatively set for June 5-9 — just before the Elite Series makes its New York swing.
That will begin with another trip to smallmouth bass fishing's holy country, the St. Lawrence River in Waddington, N.Y., on July 23-26. The fishery was named the top bass fishing destination in America on Bassmaster Magazine's list of Top 100 Best Bass Lakes.
The pros will leave Waddington and head to Plattsburgh, N.Y., for an event at Lake Champlain July 30-Aug. 2. With the Bassmaster Angler of the Year title and numerous Bassmaster Classic berths hanging in the balance, the Elites will finish their season in Macomb County, Mich., at Lake St. Clair on Aug. 20-23.