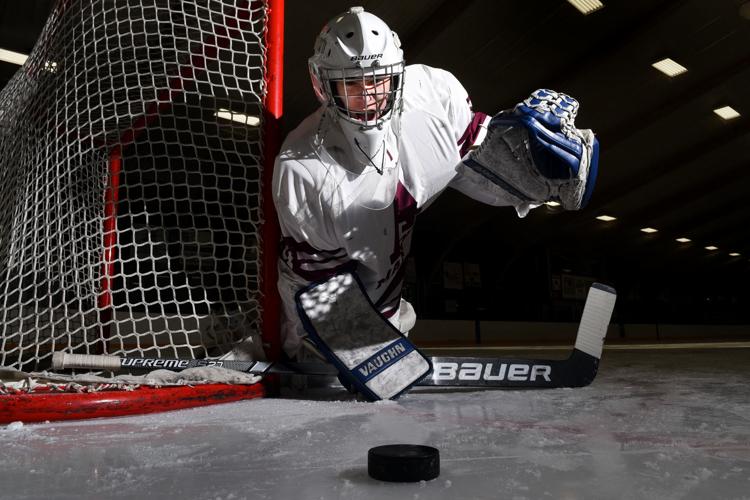 "Why would anyone want to be a goalie?"
To the casual hockey observer, it's a plain enough question. As the last line of defense, goaltenders are insurance for the skaters in front of them, there to cover up any mistake.
When they fail, a flashing light paints the rink red and the crowd taunts by singing their name. When they succeed, jeers turn to oohs and ahhs, and teammates skate by and offer a tap on the leg pad as a way of saying, "Thanks again for saving our butts."
Like a pitcher in baseball or a quarterback in football, goalies carry the most pressure. They can single-handedly define a game with their performance, good or bad. Their job is to remain steady, even when opponents are crashing the net and firing discs of vulcanized rubber much faster than a typical highway speed limit.
Goaltending is a position that's changed time and time again, from the rigid positioning of yesteryear to the acrobatic styles of today. The equipment has evolved too, from the introduction of the mask by Jacques Plante in the late 1950s to now, as some goalies' padding rivals the Michelin Man.
Between the ears, goaltending is no different. The same mindset is required, some mix of lunacy and courage, a combination of focus and relaxation.
What compels a goalie to stand between the pipes and face an incoming barrage of pucks? Why do they flop around the crease like a fish, utilizing every inch of their bodies to prevent a goal? What truly makes them tick?
Those are hockey's most unanswerable questions.
Every goalie has their own origin story.
At the beginning, all hockey players learn the basics — how to skate, how to stop, how to cross over. Then come more nuanced skills like stickhandling and shooting.
It's often not until team concepts are introduced that goaltending opportunities are presented. After all, these players eventually need someone to shoot on. 
A major focus for USA Hockey in recent years has been expanding how many young players have the chance to try goalie, with the belief that more exposure will increase the quality in the United States. With that line of thinking, USA Hockey encourages that all players ages 8 and under try goalie.
Auburn's youth hockey program, the Ice Hawks, has taken that message to heart for its lower age groups.
"Everybody who wants a chance gets a chance," said squirt (10-U) coach Tim Siracusa. "Even if they don't want their chance, I made a game out of it. I pulled a name out of the hat and that person was in pads for the week. The kids had fun with it."
This season the Ice Hawks had two players, TJ Pisciotti and Luke Siracusa, Tim's son, who rotated between skater and goalie. Thanks to a financial grant, Auburn was also able to provide a goaltending clinic for young players like TJ and Luke to learn proper instruction.
Ultimately though, the goal is to ensure the kids are still having fun.
"The glory is scoring goals and winning games," Siracusa said. "They get a shutout and that's great, they feel good about themselves. I think like everything, when it's going good everyone's spirits are high."
Auburn High School starting goalie Aaron Kowal is an example of USA Hockey's model at its best, though his inspiration for putting on the pads had nothing to do with luck of the draw.
"My dad was a goalie when he played hockey. He never played high school but he played club. The only reason I wanted to do it was because my dad," Kowal said. "That time came when we needed a goalie and I raised my hand when coach asked if anyone wanted to be a goalie.
"My dad didn't want me to be goalie because he knew how much trouble and annoying it was, but it's what I wanted to do and I've loved it ever since."
Kowal, like many young goalies before him, leaned heavily on used equipment while growing up; Kowal recalls using a normal player's helmet instead of a goalie mask for his first few years in net. Hockey is a sport that carries a significant financial burden, especially for goalie equipment that can exceed thousands of dollars. Because of that, young goalies often have to make due with what's available.
"Growing up I never had new stuff. I always got pads from other people," said Skaneateles' Adam Casper. "I like to stay with my pads. Even when I was growing out of them my dad would say, 'You have to get a new pair.' I hated trying on new stuff."
Chris Falso, who shares the Skaneateles net, shared that sentiment, expressing a preference for used equipment.
"Even when mine are falling apart, we try to keep with them," Falso said. "I definitely mess with mine, thinking I'm a scientist or something, cutting pieces off. McKie's (sports shop in Syracuse) would sell those beat up ones and it was like, 'Yeah, I want those.'"
Goaltenders are ... a little different.
Visually, the position is unique. Bigger pads, wider stick, cooler helmet. Even to the amateur hockey eye, there's something special about those who occupy the blue paint.
The contrasting equipment is only the tip of the iceberg when considering the difference between netminders and their more mobile, less-padded counterparts. There are countless tales of legendary goalies and their odd idiosyncrasies.
Patrick Roy was famous in this regard. The Hall of Famer was often caught chatting with his posts and crossbar, thanking his red-painted friends for making the saves that he couldn't. Glenn Hall, before developing the commonly used "butterfly" style used by most goalies today, was known for vomiting prior to every game under the belief that this act would help him win.
For many goalies, being an oddball just comes with the territory.
"People think it's kind of weird just standing in net and letting hard shots come at you," said Casper. "They automatically think you're a little off."
Oftentimes, goalies must pinpoint the pulse of their team, providing lightheartedness in dire situations, or showing focus when the moment calls for it.
"When you're in net, you've got to look at things a little different ... lighten up maybe," said Falso. "If you let in like five goals on five shots, you have to do something happy or weird to cheer everyone up."
The final score often reflects the performance of the goaltender and no single position carries more weight. If a forward turns the puck over in the neutral zone, the defense is there; if a defenseman gets caught standing still, the goalie is there.
If a goalie is off their angle or misreads the play, there's no insurance. Instead, it's a goal for the other team. Falso recollected one particular time this season where a blunder of his led directly to a goal.
"I'm not really good with playing the puck," Falso said. "The puck came down and I thought, 'OK, I'll give it a try.' I whacked it and it went right to the other team. I had to get back to the net and I just ate it ... they shot and scored. I just sat there and kind of laughed to myself."
Casper, who saw the play from the bench, remembers the reaction from the rest of the team.
"Some people were like, 'What is he doing?' but others were kind of laughing it off," Casper said. "We were like, 'That's Chris.' If you let in a bad goal, you really have to try and shake it off and prove yourself after that."
What is the most important trait to be a successful goaltender?
Ask 100 goalies and there might be 100 different answers. 
Kowal, who stands well over 6 feet tall on his skates, believes size makes the biggest difference. 
"Skill comes with size I think," Kowal said. "I'm 6-1, 6-2 ... I look bigger and I take up a lot of the net. You don't have to move as much as the smaller goalies do to take up the same amount of net."
Casper took a more cerebral approach, believing that goaltending is all about mental toughness. 
"It's a mental game. You've got to stay level-headed," Casper said. "You can't think that you're amazing, but you've got to have confidence in yourself and find a way to focus."
Confidence can be key, but over-confidence can hurt. At any time a goalie can be beat, and the last save made doesn't guarantee the next one. 
The more pucks that come their way though, the more fun it is. Then, when a goalie makes a robbery that causes an opposing shooter to look skyward in disbelief, that's netminding nirvana. 
"I always like to think that I can be beat, so I drive myself to try and stop that," Falso said. "I never like to think that I'm better than anything. I want to stick to my game and stick to what works for me.
"You ever see that quote from Tom Brady? 'Which ring is your favorite?' and he says the next one. The favorite save is the next one after that."