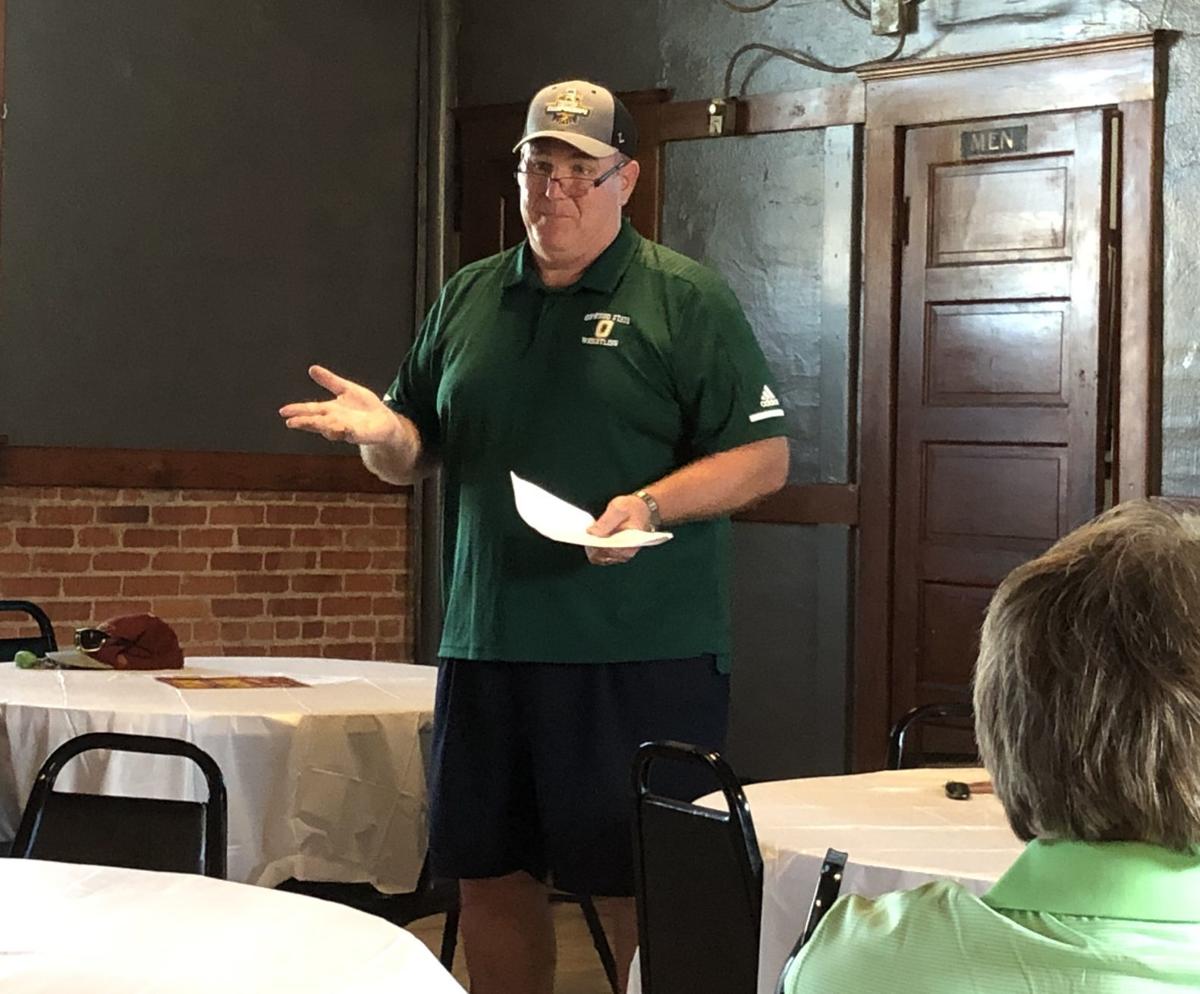 FULTON — Local and regional wrestling coaches came together Friday to try to brainstorm.
With numbers at most schools decreasing, how do you increase participation in the sport?
The nearly three-hour seminar — which featured speeches by SUNY Oswego assistant coach Mike Conners, Section III Hall of Famer Dick Farfaglia, Fulton Athletic Director Chris Ells and Fulton head coach Jeff Waldron — sought to find answers and give tips at Chubby's Sports Bar & Grill in Fulton.
For Waldron, it was just as much about helping the sport as it was his program.
"Every year we have 40 or 50 guys come out for wrestling. It's a lot of work on our part to recruit those kids, but I see all these programs that are combining or they're being dropped," Waldron said. "When Fulton was at its best, Section III was at its best — Baldwinsville was nasty, Canastota was really good, Phoenix and Mexico were state champs. We had all the competition we needed around here. Now we've got to go to Long Island and Section V and Section II to find competition."
Jordan-Eldridge coach Kurt Alpha was one of the local coaches at the event. While his team was one of the few from the Cayuga County area that filled out the weight classes at the end of last season, he knows there's still plenty of ways to grow the Eagles program.
"You can always do better with numbers," Alpha said. "It's like 'OK, I've got 20 or 25 kids, how can I get 35 or 40 kids?'"
Alpha, who talked about his success in drawing more people to attend meets because of theme nights, took mental notes about possibly adding more community events and having a bigger presence online.
"A lot of reinforced some of the things I already do and made me feel good about what I'm doing," Alpha said, noting that it was good to get tips and pick from ideas other coaches had. "That's why I came here. Fulton is the cream of the crop here in the section. What can I do to pick up a few things from them?"
Conners spoke first about how it's important to create relationships with athletes, their parents, other coaches and helpers, as well as teachers at the school.
Conners, who coached for more than 25 years at Fulton before going to SUNY Oswego, said one of the keys to building a program is getting kids hooked in fifth or sixth grade. Most of the speakers spoke of the success of Fulton's fifth and sixth grade wrestling tournaments, which are held right before the Pee Wee season that encourages kids to sign up.
"You have to have someone in the middle school to catch kids," Conners said. "There are kids there. You have to get them. If you can't do it yourself, you need to find someone in that building to get those kids. Having a youth program is fantastic, but you've got to have a middle school program … and have people transition them into our high school programs."
Of his many topics, such as needing good help from every level, Waldron pointed out one of the biggest problems is getting kids to commit to a team when there's so many other activities to do.
"Our greatest opponent is no longer our cross-town dual meet rival," Waldron said. "It's all the other activities wrestlers could be doing. It's other sports, sitting in front of electronics, working, getting in trouble, girlfriends or boyfriends. … That's our biggest obstacle — the other things kids can be doing. So if wrestling isn't fun, they're not going to do it."
Each of the speakers talked about keeping it fun, especially in modified or junior varsity. That may include offseason wrestling tournaments that include trips to an amusement park, bumper cars or food.
"When the (varsity) season starts, that's when the work starts," Waldron said. "The offseason is the fun time. I think the spring is the best time to recruit kids. Get them in a wrestling club, into the spring duals, just have fun."
Waldron hopes to have more of the seminars in the future — possibly later in the summer — on other topics such as fundraising.
"A lot of the coaches here I already have a great rapport with," Waldron said. "The hope is they'll come, say they took a lot from it, and the word will spread and more coaches will come."
Sports writer Jeremy Houghtaling can be reached at 315-282-2256 or at jeremy.houghtaling@lee.net. Follow him on Twitter @CitizenHough.
Be the first to know
Get local news delivered to your inbox!