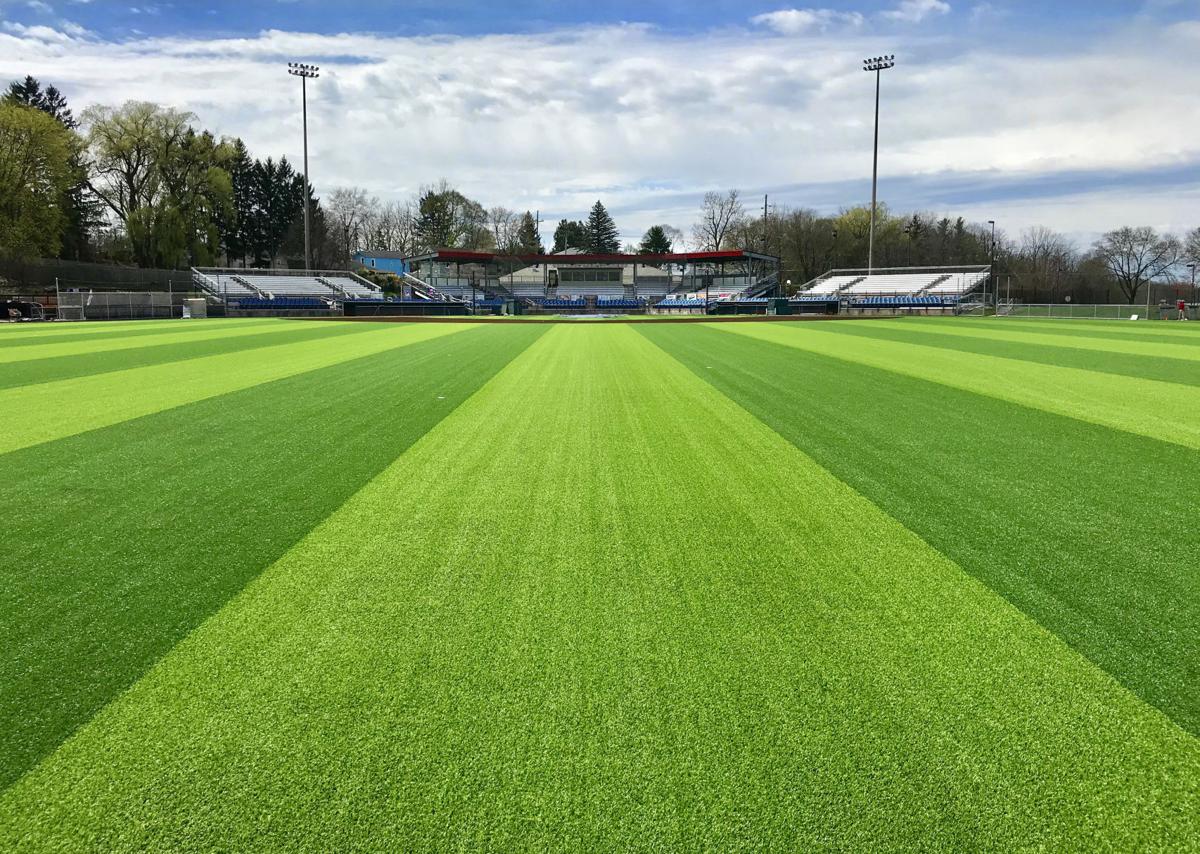 The city of Auburn is expected to finalize an agreement with a new ownership group this week that will bring a collegiate baseball league team to Falcon Park. 
Auburn Baseball, Inc., headed by Robert Ohmann and Don Lewis, is expected to sign a rental agreement for use of Falcon Park that will pay the city $35,500 over the next three years. Payments will be required every six months, beginning June 1. 
The agreement will be completed on Thursday, March 4 during the Auburn City Council meeting, which is scheduled for 5 p.m. and will take place via videoconference. 
The team will maintain the Doubledays nickname and will compete in the Perfect Game Collegiate Baseball League, a wood bat league for college players. 
Ohmann and Lewis already have ties to collegiate summer leagues in New York state. Ohmann also owns the Perfect Game league's Geneva team and previously owned the Newark Pilots. Lewis' resume' includes ownership of the New York Collegiate Baseball League's Mansfield Destroyers. 
Because the city of Auburn also has a rental agreement with Cayuga Community College, Auburn Baseball, Inc. must agree to create a schedule that does not conflict with the college's. The Perfect Game league's schedule typically runs from June to July. 
Among other details of the agreement:
• In addition to rent payments, the team must pay the city of Auburn 5% of all revenue from advertising sales from within the ballpark, and 10% of gross from merchandise sales. The latter is due to Auburn's trademark rights of the Doubledays nickname. 
• The team must save two roster spots for CCC players, unless no CCC players apply for a position on the team. 
• Auburn's schedule must be provided to CCC by Feb. 1 of each year of the agreement, and the city reserves the right to schedule other sports and community events during the collegiate season. 
• Players, coaches, city employees, team employees and others who enter Falcon Park must wear face coverings at all times, even during game play, until Cayuga County and state health officials deem it OK to do otherwise.
Auburn was a member of the New York-Penn League since 1958 (save for 1981, when the team was unable to secure a major league affiliate) and has a long history with minor league baseball that dates back to the early 1900s. 
The city's involvement with minor league baseball officially ended in February, when MLB formally announced the 120 teams that will be included in the newly termed Professional Development Leagues. Only three ex-New York-Penn League cities remain affiliated with MLB, while several others like Auburn have joined collegiate leagues. 
City officials were preparing for a future without minor league baseball prior to MLB's February announcement. City manager Jeff Dygert told The Citizen that there were also discussions to join the independent Frontier League or the New York Collegiate Baseball League, but ultimately sided with Perfect Game. 
Falcon Park has not hosted baseball in almost a year, dating back to last March when CCC's baseball season was cut short due to the COVID-19 pandemic. The New York-Penn League season was postponed from its normal June start and later canceled, while Auburn High School's varsity baseball team also did not have a season.
Sports reporter Justin Ritzel can be reached at 282-2257 or at justin.ritzel@lee.net. Follow him on Twitter @CitizenRitz.