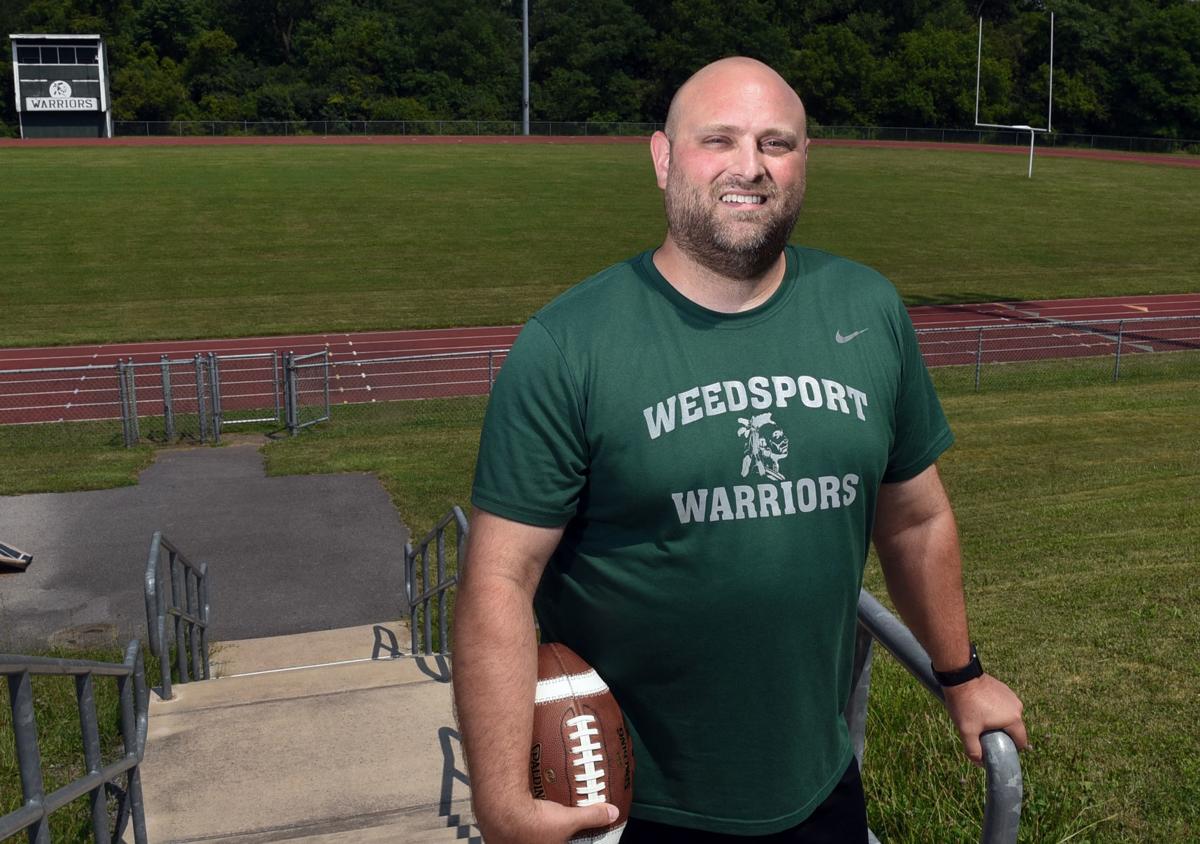 WEEDSPORT — Rob Piascik will be wearing his hometown green this upcoming football season.
Piascik spent the last five years as an assistant and head coach for rival Port Byron/Union Springs. Now he's joining head coach Jon Sgarlata's staff with the Warriors.
Piascik thought about stepping away, but couldn't keep himself from the gridiron.
"I was prepared to take a break — I have a 4-year-old and a 1-year-old at home — but when we got into February and March I got into more conversations with our athletic director. ... He asked me if I had interest in coaching," Piascik said. "I said I'd have to learn 8-man football .... and then it materialized with 'You're going to coach here in the fall.' It just makes sense. I'm here in the district and qualified with some experience, and it makes sense for me to coach at the varsity level.
"I couldn't say no, because I love it."
Piascik is a 1999 graduate of Weedsport, who went on to play at the University of Rochester. He bounced around after injuries at Cayuga Community College and SUNY Oswego, but got into coaching when he was in graduate school.
Piascik took an assistant job at West Genesee, and stuck with it despite being offered a spot in Weedsport. The Warriors went on to win a state championship that season, while the Wildcats went 1-8.
"I still learned more that year than I think I have ever," Piascik said. "Just how to coach and how to handle yourself, prepare and how to game plan. It was a tough season for wins and losses, but it was a good year for me professionally."
Piascik joined Weedsport as an assistant the next season, and then moved to Hannibal where he was an assistant on the varsity and eventually the head modified coach. When a spot came up closer to home, he put on the rival maroon to help out with Port Byron/Union Springs.
"I was away from Weedsport for so long in Hannibal, I kind of separated myself from that rivalry because I wasn't involved with it directly," Piascik said. "It was a little weird and difficult for my family. ... My family is from this area, so it was a little strange for them when I said I was taking a job at Port Byron on the varsity level. I really wanted to be back at the varsity level."
After three years under Panthers coach Dan Robbins — which saw Port Byron/Union Springs go from 0-8 to 10-0 to win the National Football Foundation title — Piascik took over the program two years ago.
After going 3-5 in Port Byron/Union Springs' first year back in Section III, Class C, the Panthers went 0-8 last season. Piascik decided it was time to step away.
For Piascik, the role of head coach is much different than being an assistant. There's extra paperwork, people management and added pressure.
"It's different when you sit in that seat as a head coach and you try to do the same things that you did as an assistant. It doesn't always translate," Piascik said. "Your priorities have to change a little bit, and there's a lot of stress. There's a lot of things that aren't necessarily football related that fall into the coach's lap."
Piascik, who is set to lead the Warriors' offense, said he's been doing whatever he can to help Sgarlata get ready for the season — as long as it's not being the head coach.
"I've been in his seat before, and I think that's helpful. ... It's comforting as a head coach to have someone else who has been a head coach as an assistant," Piascik said. "You have someone who can say 'I've tried that before' or 'We tried this when I was in charge.' You can bounce ideas off each other."
Sgarlata believes having Piascik — a former head coach — will make his staff better. Sgarlata has known the family for a while, and has coached with Rob's brother, PJ.
"He bleeds green," Sgarlata said. "It was probably hard for him to coach against Weedsport, but we're happy to have him."
With Weedsport being in the 8-man league and Port Byron/Union Springs remaining in Class C, the schools aren't scheduled to meet. If either switches leagues, Piascik doesn't feel like there would be any added hostility.
"When I left there it was on good terms," Piascik said. "I wasn't fired. It was a resignation and time for me to move on. There's no ill will there at all — no animosity or any of that stuff.
"But a rivalry game? I'd be excited and so will the kids."
Sports writer Jeremy Houghtaling can be reached at 315-282-2256 or at jeremy.houghtaling@lee.net. Follow him on Twitter @CitizenHough.