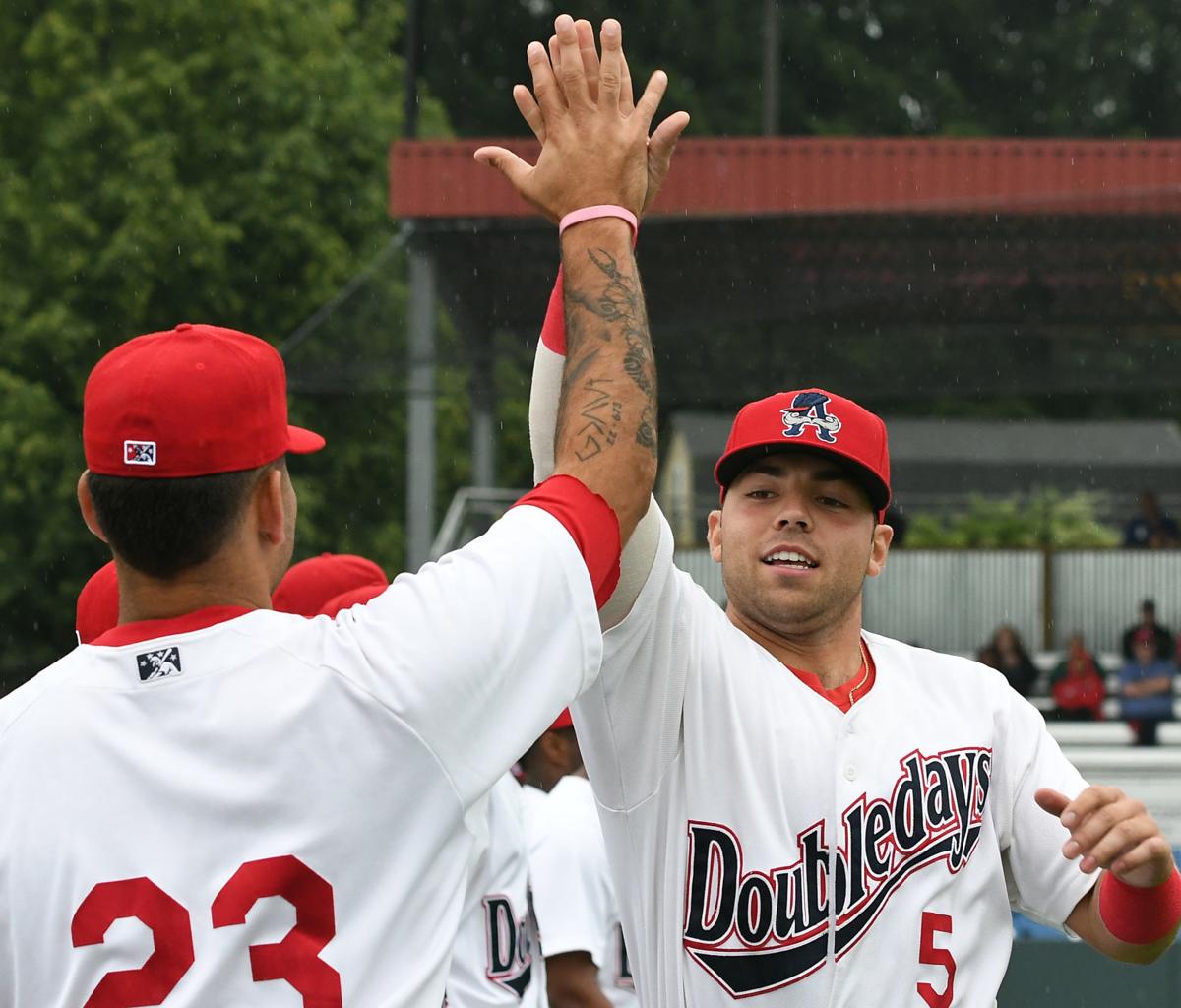 Four members of Congress on Tuesday launched a bipartisan task force to save the Auburn Doubledays and more than 40 other minor league baseball teams that could be eliminated under a Major League Baseball proposal. 
U.S. Reps. David McKinley, Max Rose, Mike Simpson and Lori Trahan created the task force and will serve as co-chairs. Two of the members — Rose, a New York Democrat, and Trahan, a Massachusetts Democrat — represent districts that are home to New York-Penn League teams that would be contracted if MLB's plan is adopted. 
The Staten Island Yankees play in Rose's district. The Lowell Spinners are based in Trahan's district. 
The task force held its first meeting Tuesday. Minor League Baseball President Pat O'Conner and owners of minor league baseball teams joined the discussion. In a news release, the members said the group "discussed strategy to continue the momentum on this urgent issue." 
"Major League Baseball can look at all the 'sabermetrics' it wants, but what they don't understand is the serious impact that losing these baseball teams will have on our communities," Rose said in a statement. "You won't see it in any formula, but my colleagues and I have all seen the impact teams like the Staten Island Yankees can have on the faces of the children who show up at the ballpark every year. I'm proud to join this effort to urge the MLB to reconsider." 
Major League Baseball and Minor League Baseball are negotiating the terms of a new professional baseball agreement, which dictates the relationship between the two entities. The existing agreement expires in September 2020. 
One of MLB's proposals is to restructure the minor league system. Some teams, including the Brooklyn Cyclones which play in the New York-Penn League, would be reclassified. But more than 40 teams, including the Doubledays, would lose their status as minor league affiliates. 
MLB reiterated in a statement this week that cities affected by contraction would be offered "options to preserve baseball." Part of MLB's plan is a proposed "Dream League," which would feature undrafted players. The teams in the Dream League would not be affiliated with major league clubs. 
Minor League Baseball has criticized MLB's proposal. While MLB argues that facility quality and travel are concerns, MiLB believes those issues can be addressed without eliminating teams. 
Jeff Lantz, senior director of communications for MiLB, told The Citizen that ballparks are subject to an independent audit every three years. All minor league ballparks received passing marks, Lantz said. 
Lantz acknowledged there might be opportunities for realignment. There are leagues with teams located hundreds of miles away, which makes it challenging for low-level teams that bus players to road games. 
For now, the fate of the Doubledays and other minor league teams is unclear. MLB and MiLB will continue negotiations at baseball's winter meetings next week. 
In November, the Doubledays issued a statement expressing hope that the team will remain a part of the community. On Wednesday, Bob Scarbrough, the club's general manager, praised members of Congress for "standing up for Minor League Baseball and speaking out against MLB's effort to cast off thousands of jobs, reduce affordable, family-friendly entertainment and undermine grassroots support for our great game."
"With this proposal, MLB is willing to break the hearts of dozens of communities across the country," Scarbrough said. "We are going to resist this plan and gratified that so many in Congress are willing to join with us." 
U.S. Rep. John Katko, whose district includes Cayuga County, is supportive of keeping the Doubledays in Auburn. He signed a letter to MLB asking the league to reconsider its proposal to eliminate the Doubledays and other minor league teams. 
Online producer Robert Harding can be reached at (315) 282-2220 or robert.harding@lee.net. Follow him on Twitter @robertharding.
Be the first to know
Get local news delivered to your inbox!