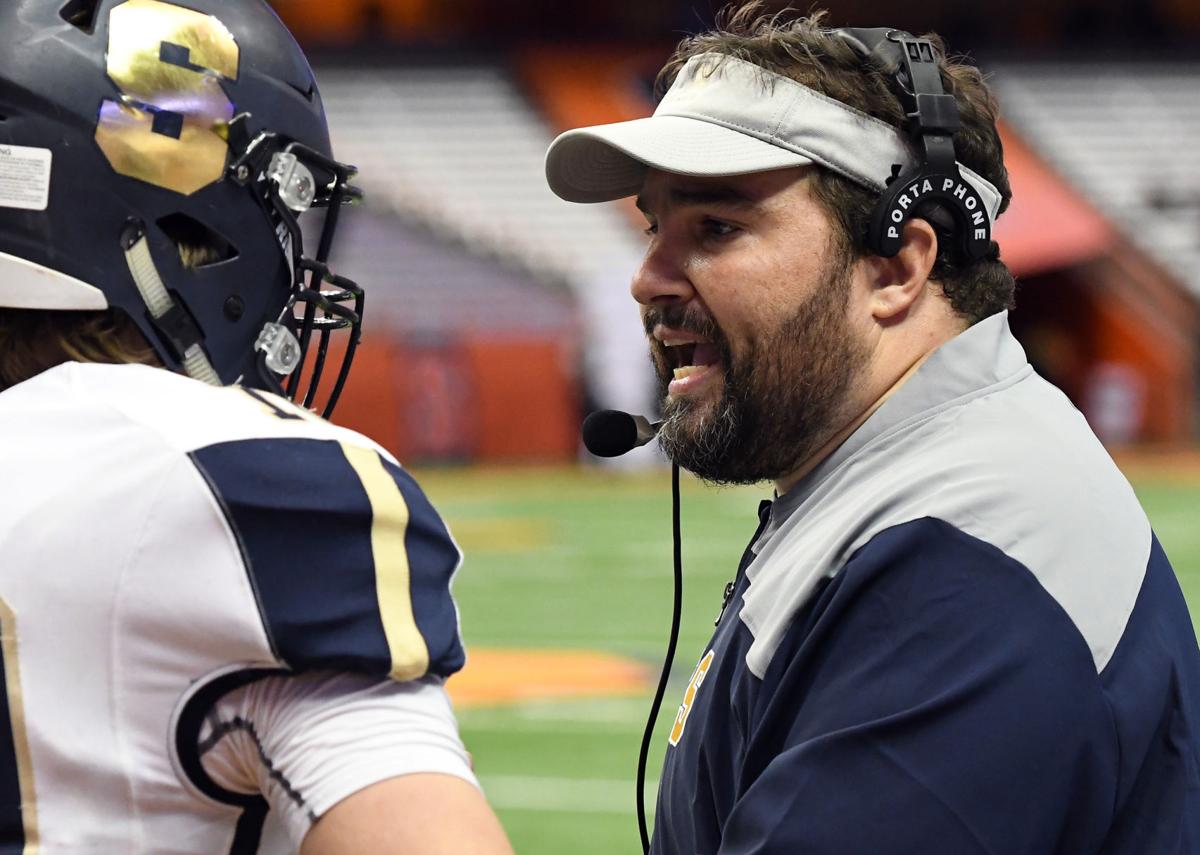 The immediate status of former Skaneateles varsity football coach Joe Sindoni will be determined next week, following a preliminary hearing in Onondaga County court Wednesday. 
Sindoni has requested a preliminary injunction to be reinstated as coach for the upcoming season, pending the final outcome of his lawsuit against the Skaneateles Central School District and its board of education. Sindoni asserts that he was wrongfully terminated from his position due to his involvement in a pickup football game, called the "Turkey Bowl," that took place on school property Nov. 26. 
In January, Skaneateles Superintendent Eric Knuth informed Sindoni that he would not be returning to his position as football coach. According to the school district, because Sindoni was never officially reappointed as football coach for the 2020-21 season, his compliant is without merit because he could not be terminated from a job he wasn't holding. 
The school district also argues that while Sindoni was not considered an employee at the time, he had a responsibility to inform school officials of the informal game but failed to do so. 
On Wednesday in a court hearing, Sindoni's representatives said that he was not involved with the organization of the pickup game, that his attendance was merely to ensure participants followed COVID-19 health guidelines, and that the school district's board of education improperly conducted his ensuing termination. 
"Our claim in this case is that this was not the COVID-spreading event that everybody thought it was and that the school district made it out to be," Sindoni attorney John Cherundolo said. "We believe their termination of Mr. Sindoni was done improperly."
Sindoni's representation added that they believe the coach is being made "a scapegoat for a COVID outbreak that was going on in Skaneateles at the time," and that his dismissal is the result of "an issue that (athletic director Stephen Musso) has generally with Mr. Sindoni, and he has seen this as a way to get rid of him."
Judge Gerard Neri questioned why the school district claims Sindoni was not considered an employee at the time of the game, as well as the district's process for reappointing coaches. 
"If he wasn't coach at the time that he went to the Turkey Bowl, then how can he violate something he wasn't obligated to do, because he wasn't employed?" Neri said. 
Representatives for the school district answered that Sindoni's "poor judgement," not his status with the school district, is the issue at hand. 
"The position is that because he did not show good judgement when students were involved, that there was a decision not to reappoint him as the coach," school district attorney Bethany Centrone said. "He could've identified this (to the school district). He went there ... he brought masks, he brought equipment supposedly. He created at least the appearance to the community that it was a sanctioned event, which is demonstrated by the level of complaints the school district got following the event."
On Jan. 18, Skaneateles posted a job opening on its district website for "Boys Varsity Football Head Coach Position." Interested individuals were required to submit their application by Feb. 5. High school football in New York state is expected to begin play March 1, after Gov. Andrew Cuomo announced in January that high-risk sports, including football, could begin game competition. 
Both sides have filed scores of pages of legal arguments and exhibits with the court. On Wednesday, Neri directed the attorneys to submit any final arguments and documents by the end of this week, and that he would look to make a determination next week.
Sports reporter Justin Ritzel can be reached at 282-2257 or at justin.ritzel@lee.net. Follow him on Twitter @CitizenRitz.