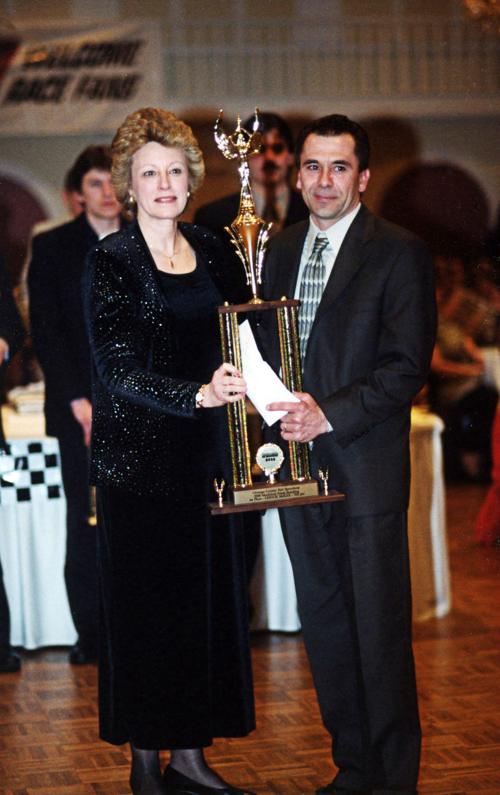 Editors' note: Today's article is the latest in a series of profiles of the 2019 inductees submitted by the Northeast Dirt Modified Hall of Fame in Weedsport:
Former Orange County Fair Speedway general manager and co-promoter JoAnne Chadwick of Garrison will be recognized as the recipient of the annual Outstanding Woman in Racing Award during the 2019 Northeast Dirt Modified Hall of Fame induction ceremonies. The Thursday, July 25 event will be held at the Hall of Fame Museum located on the Weedsport Speedway complex. Chadwick and several others will be honored before family and friends for the many contributions they have made to the sport of dirt racing.
As a teenager, Chadwick had casually attended the nearby Middletown track with her friends, never imagining that, years later, she would be running the place.
But that's what happens when your cousin is DIRT Motorsports founder Glenn Donnelly. In 1983, the DIRT organization took over operations at Orange County. From his perch at DIRT HQ in Weedsport, Donnelly knew he needed someone on the ground in Middletown; a person he could trust who would report back to him.
His cousin, JoAnne, checked all the boxes: She was local. She was family. She was hard-working and reliable.
"I couldn't have asked for a better person to fill that slot," Donnelly stated. "Through JoAnne, I knew everything that was going on there. And everything was documented."
Initially, JoAnne and her husband Gary — both teachers by trade — were called on to assume responsibility for production and sales of the weekly speedway program book. Gary did the writing while his wife handled the layouts, advertising, sales and distribution, and coordinated with the printer. From 1983 through 2006, no matter what was going on in their personal lives, JoAnne got the program out. For every single show: In 23 years, JoAnne never missed a deadline.
"She was very well organized, a real straight shooter," said George Caruso Jr., who ran the printing firm Speedway Press. "She was just what Glenn needed down there: A calming influence who kept the waters flat."
And diligently reported back to DIRT headquarters.
When Donnelly sent Robin Manus down to Middletown as acting general manager, JoAnne was installed in the track office, to handle all paperwork and keep the books. She worked with Manus, then incoming GM Will Cagle, before taking a brief maternity leave in 1987.
By that time, Chadwick had also been tapped to work alongside DIRT comptroller Howard Commander in the "back room" at Syracuse, counting money and coordinating bookkeeping each year during Super DIRT Week.
"The only race I missed was 1987. After that, Glenn told me, 'You can never have another baby! With you gone, everything was off!'" JoAnne laughed.
Commander reinforced Donnelly's vote of confidence. "Millions of dollars would go through our hands, and we usually balanced out within a $50-$500 range for the whole week," Howie detailed. "No one was as accurate as JoAnne. Ever. She double-checked me."
Meanwhile, back at Middletown, Chadwick's role kept expanding. By 2000, she was managing the track's day-to-day operations, supervising employees, selling sponsorships, scheduling, paying vendors and keeping the accounts — all while juggling her jobs as a preschool director and piano instructor.
In 2001, JoAnne was elevated to general manager.
It was a turbulent time to assume the mantle, as DIRT's lease on the OCFS facility was up for renewal. There were rumors the aging speedway would be sold for commercial development. "We really didn't know what was going to happen with the track. And really, how sensible is it to pour money into a rented place and not know if you will have it next year?" Chadwick said at the time. "I tried to do as much as I could with what we had to work with. But it was definitely tough."
DIRT's lease did get extended; but then in 2004, Donnelly divested the whole DIRT shebang, selling to what is now World Racing Group.
For 2005, under the new DIRTcar, Chadwick was named OCFS co-promoter along with longtime Donnelly corporal Cory Reed. JoAnne continued to hold down the fort in the front office, while Cory traveled down the Thruway to race-direct on Saturdays.
For JoAnne, it just wasn't the same with her cousin Glenn gone. She handed in her resignation in August of the 2006 season — finalizing the smallest details for the year-end Eastern States program before she left, in true JoAnne fashion.
"I felt like it was a family business — working with my cousin, my husband, our kids, Brett and Brooke," Chadwick reminisced. "Glenn was very supportive. But it was an education by fire."
Ultimately, she likened race track management to war zone survival.
"You have to constantly plan ahead because you never know what's going to happen. The water truck breaks down, the generator goes. You get everything done and then it rains at 4:30. But I've never done anything at less than 100 percent in my life! So I threw myself into it," JoAnne pronounced. "You're in an impossible situation, under impossible conditions. And you get it done."
Author's note: "Paved Track, Dirt Track" by Lew Boyd was a valuable source in compiling this story.
Be the first to know
Get local news delivered to your inbox!