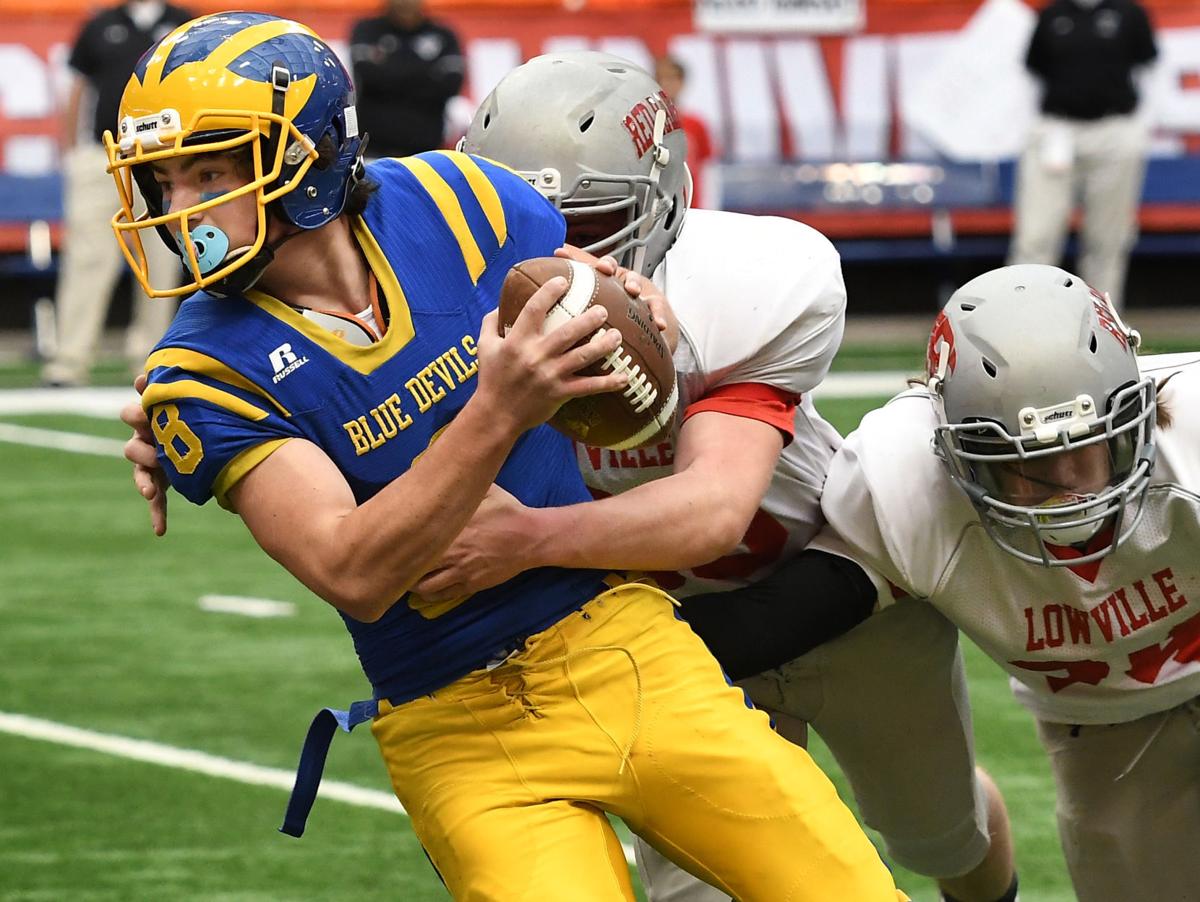 Imagine being the high school football team's field-goal kicker and the soccer team's star striker. 
Such dual participation, or competing in multiple sports during the same season, is not currently permitted in Section III, which governs high school sports in central New York. A recent proposal from Section III's football committee would've changed that, but was voted down by the section's athletic council last Thursday. 
There is no statewide rule concerning dual participation; instead, the NYSPHSAA leaves those determinations up to each individual section. Section III allows dual participation in all but three sports: football, ice hockey and indoor track. However, league approval is also required. According to Section III Executive Director John Rathbun, only one of the section's six leagues permit dual participants. 
That league is the Center State Conference, which covers the Mohawk Valley region. Athletes in the SCAC (Auburn) or OHSL (Cato-Meridian, Port Byron, Skaneateles, Weedsport) cannot participate in multiple sports in the same season.
While league approval for the second sport would still be needed, the Section III football committee nearly eliminated one hoop for athletes to jump through. The athletic council, comprised of athletic directors from around central New York, voted down the proposal 14-9. 
"We knew it was gonna be a close vote," Section III football chairman Keith Kempney said in an interview with The Citizen on Monday. "I didn't hear any arguments (against) as far as safety. I think a lot of the thought was if our league doesn't allow it for all sports, we shouldn't allow it for football."
The primary motivation behind the proposal, according to Kempney, was to provide additional opportunities for student-athletes. While dual participating affects all sports, he also specifically mentioned that this would allow soccer players to join football teams in the fall to boost special teams units, which have suffered at the small-school level. 
"There's several small schools that don't have much of a kicking game," Kempney said. "They either go for (a two-point conversion), or they don't have anyone to kick the ball deep (on a kickoff), so they end up doing squib kicks or onside kick more frequently. It puts the defense at a disadvantage."
Last week, The Citizen reached out to executive directors from all 11 sections for their stance on dual participation. Out of the nine responses, only Section X (St. Lawrence area) has a ban on dual participation. Section X executive director Carl Normandin cited time conflicts, team dynamic issues, and players' commitment to both teams as the rationale. 
While several other sections responded with "Yes" to dual participation, some responses came with caveats. Section IV (which includes Cayuga County school districts Moravia, Southern Cayuga and Union Springs) only restricts dual participation when it involves football. Section XI (Suffolk County) allows for dual participation in small school classifications only (Class B, C D). Most other sections, like Section III, allow their individual leagues or member school districts to decide. 
In the Center State Conference, students that dual participate are required to designate a primary sport in case of time conflicts, and individual school districts are responsible for monitoring such situations. 
"If there's a practice or game, regardless of any situation, they have to play that sport first," Rathbun said. "If your designated sport is baseball, and all of sudden your team is 0-10 ... just because the team's not doing well or you're mad at the coach or you're not getting playing time, you can't just quit one and go to the other."
While Section III football leaders have discussed allowing dual participation for several years, this was the first time it came to a vote. The football committee passed the proposal 15-5 before it was turned down by the athletic council last week. 
The football committee could revisit the proposal in November after high school football season ends. 
"I suspect someone will want to bring it up and we'll vote on it again," Kempney said. "Unfortunately we didn't have a robust discussion this spring because of the pandemic. We sent out our logic of why we wanted this, but people didn't really have a chance to talk it through with their coaches or within their leagues to get a feeling. I wouldn't be surprised if people on the football committee brings it up again ... and we'll see if people still want to take it forward."
Sports reporter Justin Ritzel can be reached at 282-2257 or at justin.ritzel@lee.net. Follow him on Twitter @CitizenRitz.