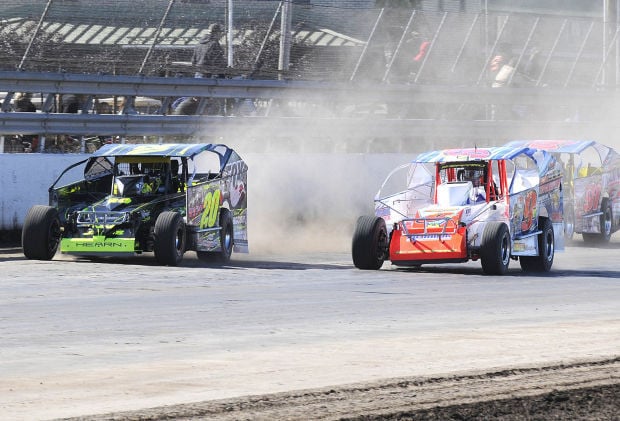 DIRTcar's all-time winningest driver, Brett Hearn, consummate Delaware standard-bearer Harold Bunting and pioneer Southern Tier wild man Joe Donahue will officially be inducted into the Northeast Dirt Modified Hall of Fame in July, according to a press release on Thursday.
These legends will join a list of Modified standouts that started in 1992 when the Hall of Fame was established on the Cayuga County Fairgrounds in Weedsport.
The 29th annual induction ceremonies are scheduled for 7 p.m. July 23 in the Northeast Dirt Modified Museum and Hall of Fame at Weedsport Speedway. The event is free and open to the public and will feature pre- and post-program festivities. The following Sunday, Weedsport Speedway will present its Super DIRTcar Series Hall of Fame 100 for the big-block Modifieds.
Hearn's astounding career numbers simply blow every other contender: 919 victories at 48 different tracks in 11 states and two Canadian provinces. His career has produced an unmatchable body of work: 97 track and series championships, including eight overall Mr. DIRT Modified titles, 10 Super DIRTcar Series titles and crowns in every other DIRTcar title series. Hearn is a six-time Super DIRT Week winner in both the big-blocks and small-blocks (a dozen overall).
Milford's Bunting earns the distinction of becoming the first Hall of Fame driver inductee from Delaware. Bunting won 234 times in his career. 
You have free articles remaining.
Kirkwood's Donahue was the man everyone loved to hate — and he relished the role of villain. Throughout the 1950s and well into the '60s, "Irish Joe" continued to build better cars and attract better rides, with a hell-bent-for-leather driving style and undisguised intimidation. During a career that spanned five decades, Joe won four titles at the Point, a pair at both Susquehanna and Glen Aubrey, a single title at Midstate, two Southern Tier championship races. Donahue passed away in 2007 at 80.
Also being honored at the July 23 induction ceremonies are Tico Conley, Billy Taylor, Bob and Donna Miller, Tery Rumsey and April Preston-Elms.
The 2020 Gene DeWitt Car Owner Award goes to Conley, a second-generation car owner who grew up in Oaks Corners and who will be forever attached to Hall of Fame driver Alan Johnson's legacy. The Johnson/Conley team hit for 169 feature wins at 24 different tracks in five states and two Canadian provinces.
Taylor, recipient of this year's Mechanic/Engineering Award, has been in the sport for the past 59 years. Taylor now works for JR Motorsports in NC, building electric systems for the team's Xfinity cars.
The promoting team of Bob and Donna Miller will receive the prestigious Leonard J. Sammons Jr. Award for Outstanding Contributions to Auto Racing. The Millers recently celebrated the 30th anniversary of their popular Thunder on the Hill Series at Grandview Speedway. 
DIRT TV cameraman and producer Rumsey, now residing in Rochester, NH, will receive the Andrew S. Fusco Award for Media Excellence, in memory of Hall of Fame board member and legal counsel Andy Fusco. Rumsey shot and produced Super DIRT Week for ESPN and was on the ground floor for "This Week on DIRT," a slick weekly cable show that captured the CNY racing season. 
Preston-Elms, co-owner of Bear Ridge Speedway in Bradford, VT, will be honored with this year's Outstanding Woman in Racing Award. 
Be the first to know
Get local news delivered to your inbox!