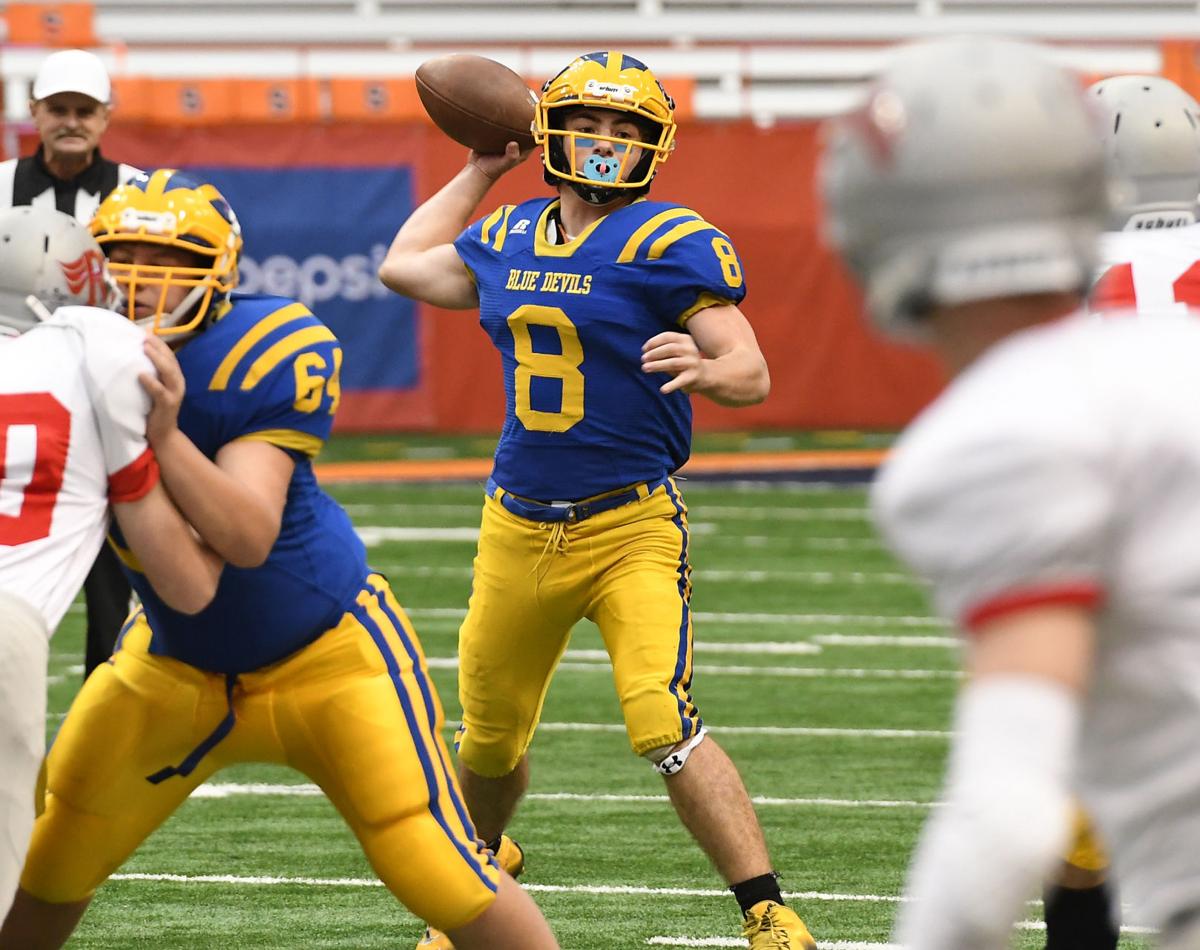 Friday night lights will have to wait. 
The New York State Public High School Athletic Association announced Wednesday that it was pushing high school football and volleyball season, as well as cheerleading, to the spring interscholastic season. 
The decision to postpone each sport comes weeks after Gov. Andrew Cuomo announced that several low- or moderate-risk sports, such as soccer, field hockey and cross country, could practice and play contests starting Sept. 21. In that same announcement, Cuomo said high-risk fall sports, such as football and volleyball, could practice on Sept. 21 but were not yet allowed to play games. 
Football, volleyball and competitive cheer will be allowed to return March 1, and the season will be known as "Fall Sports Season II." The start date for the spring 2021 season, which was originally March 15, has also been pushed back to April 19. 
The NYSPHSAA cited concerns from its membership about allowing high-risk sports to play contests this fall as its primary reason for the decision. 
"We've spent two days speaking with nearly 500 athletic directors across the state and it's clear that administering high-risk fall sports during the COVID-19 pandemic presents a significant challenge for our member schools," NYSPHSAA Executive Director Robert Zayas said in a statement. "These are unprecedented times and unfortunately, difficult decisions will have to be made to address this ongoing crisis. We continue to stay committed to providing support to our member schools and quality participation experiences for the students we serve."
High school sports in New York state have had a roller-coaster ride the last several weeks. On Aug. 24, Cuomo gave approval for some interscholastic sports to return in September. But later that week, a New York superintendents organization called on Cuomo to reverse course and delay all high school sports until Jan. 1, explaining that extracurricular activities like high school sports would take focus away from safely reopening schools. 
There have been several signs during the summer that typical fall sports, like football, could be moved to the spring. The NYSPHSAA's COVID-19 task force this summer considered flipping the athletic calendar, bumping low- and moderate-risk sports like baseball, softball and track and field to the fall, while football would be moved to the spring. 
Auburn coach Dave Moskov told The Citizen in July, concerning a potential move to spring, that he is "open to anything."
"Obviously that's going to change things, but there's no reason we shouldn't play football," Moskov said. "It's a matter of when, and if they move it to the spring then so be it."
Pushing football and volleyball to spring, even while typical spring sports will be pushed back, could create some unforeseen conflicts for athletes that play multiple sports. Football players, especially at small schools, are also members of baseball or lacrosse teams in the spring. Volleyball players could also have new conflicts with sports like softball or track and field. 
More news for central New York athletes could be coming later this week. Syracuse.com reported Tuesday that Section III, which includes Cayuga County-area schools such as Auburn, Cato-Meridian, Port Byron, Skaneateles and Weedsport, will determine the fate of fall sports within the coming days.
According to the report, Section III sent out a survey to all 106 school districts asking for a preference between beginning the fall season Sept. 21, pushing high-risk sports (like football and volleyball) to spring if games aren't allowed by Sept. 28, or move all fall sports to after Jan. 1. One of those options has now been taken out of Section III's hands by the NYSPHSAA. 
Sports reporter Justin Ritzel can be reached at 282-2257 or at justin.ritzel@lee.net. Follow him on Twitter @CitizenRitz.
Be the first to know
Get local news delivered to your inbox!