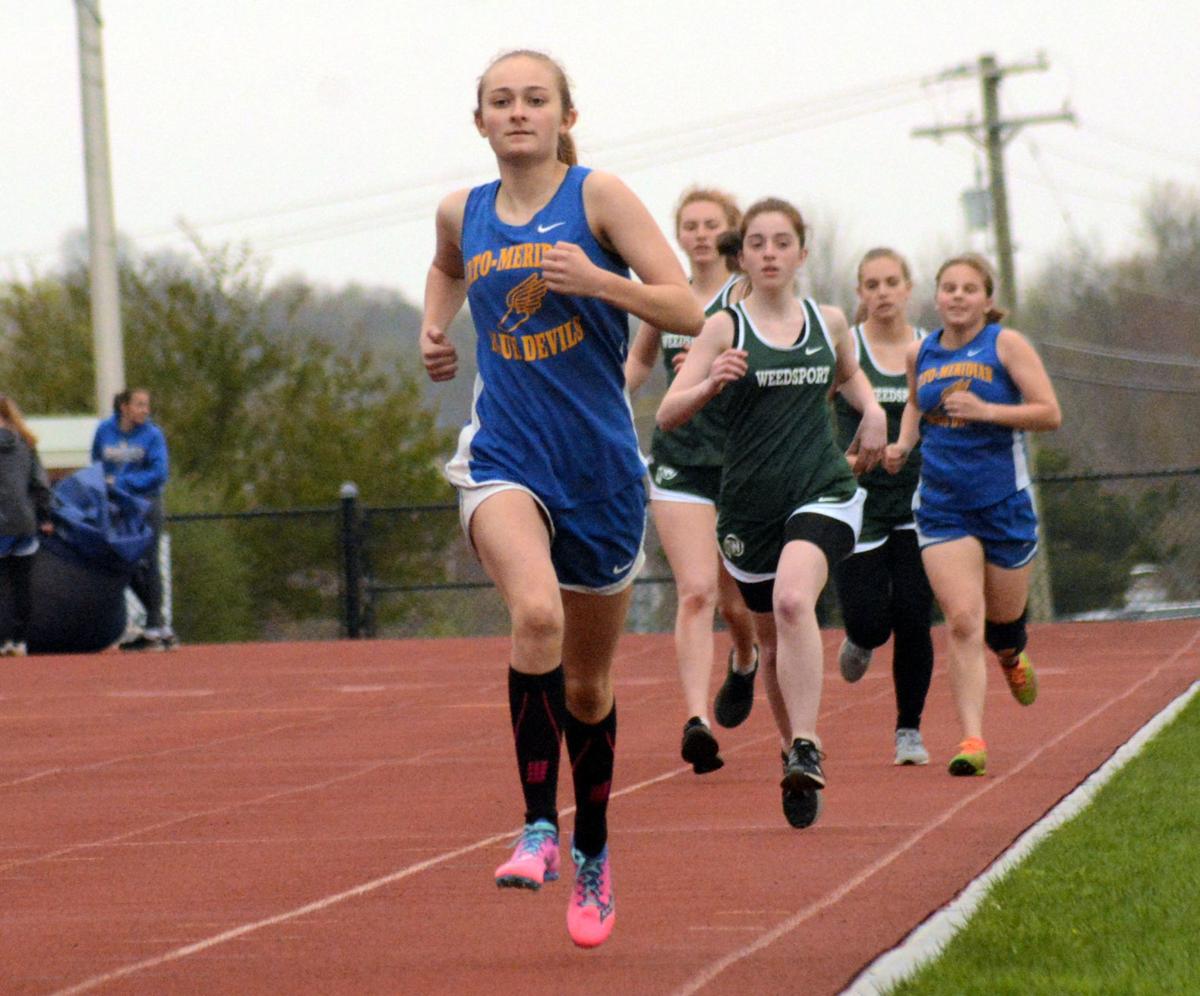 The Cato-Meridian girls track and field team had a first-place finish in every event in a dominant 126-10 win over Syracuse Academy of Science Wednesday.
In the races, Rachael Gilbert won the 100m high hurdles (21.7), Chelsea Dennison took the 100m dash (14.1) and 200m dash (29.9), Grace Cady finished the 1500m run first (6:00) and won the 3000m run (12:54), Ariana Proper was first in the 400m dash (1:14.3), Ella Power ranked first in the 400m hurdles (1:31.8), and Megan Cady won the 800m run (2:49).
For relays, Sylvia Day, Mackenzie Ray, Cassie Chalon and Hannah Janes were first in the 4x800m (13:58); Kendra Deville, Courtney LaForce, Gilbert and Dennison won the 4x100m (59.4); and Janes, Power, Grace Cady and Megan Cady were first in the 4x400m (5:29).
Chalon won both the shot put (28-11) and the discus throw (86-7), Proper posted the top long jump (13-0) and high jump (4-6), Kyleigh Walton was first in the triple jump (26-11), and LaForce ranked first in the pole vault (6-0).
Weedsport 102, Onondaga 38; Weedsport 106, Bishop Grimes 34: Overall, Mariah Quigley was first in the 100m hurdles (16.9) and 400m hurdles (1:15.1), Cassi Carroll won the triple jump (30-2), Sydney Manchester had the top shot put (28-4.75), Jessica Cook posted the top discus throw (80-3), Sarah Carroll won the high jump, and Alena Manchester was first in the pole vault (7-1). Brooke Hammersley, Gilfus, Sarah Carroll and Emma Stark won the 4x800m relay (11:34).
Cato-Meridian 112, Syracuse Academy of Science 29: On the track for the Blue Devils, Nathan Conklin won the 1600m run (5:26) and the 800m run (2:27), Shawn Hunter took the 400m dash (57.4), Chad Thompson was first in the 400m hurdles (1:06), and Clias Oot came in first in the 3200m run (13:34).
In the field, Josh Lovejoy took the long jump (20-1) and the pole vault (10-0), Trent Nearhood was first in the triple jump (37-10), Gavin Bartholomew had the best throw in the shot put (35-8), and Robert Krieger won the discus (97-8.5).
Shawn Hunter, Donovan Herne, Connor Griffin and Merritt Cox teamed up to win the 4x800m relay (11:18); Ethan Divelbliss, Lovejoy, Griffin White and Devan Gilmore took the 4x100m relay (55.8); and Griffin, Conklin, Cox and Herne were first in the 4x400m relay (4:18).
Weedsport 106, Onondaga 29; Weedsport 102, Bishop Grimes 33: Will Sterling won the 110m hurdles, Nick Blowers had the best distance in the triple jump, Max Horsford won the 400m dash, Chris Chalker won the shot put, Logan Reich finished first in the discus, and David Sterling ranked first in the pole vault.
The Warriors also won all three relays. Blowers, Landon Kepple, Justin Miles and Horsford were first in the 4x100m; Andy Sayles, Kepple, Caleb Tracy and Forrest Nguyen won the 4x800m; and Blowers, Kepple, Miles and Horsford were the best team in the 4x400m.
Port Byron/Union Springs 5, Fabius-Pompey 0: Kyle Bailey kept the Panthers undefeated by pitching six shutout innings with eight strikeouts. Bailey held Fabius-Pompey to five hits and two walks. He also went 1-for-3 with an RBI at the plate.
Zach Nickerson (three RBIs, one run) and Brandon Relfe (two runs) both had a pair of singles, Caleb Roden tripled, Ryan Bailey (two runs, RBI) and Jake McNabb both recorded doubles, and Nick Jefferds added one hit. The Panthers only struck out twice the entire game.
PB/US (11-0) returns to action Thursday at Pulaski.
Weedsport 15, Moravia 3: Jake Hickok went 4-for-5 with three RBIs and three runs to guide the Warriors, while Aidan Mabbett (two runs, walk), Jake Brown (two runs, two RBIs, double, walk) and Braeden Curry (run, three RBIs, walk) added multi-hit games. Alex Murray (two runs, RBI, walk), Connor Mabbett (run, RBI, walk), Owen Mabbett (run, RBI, walk) and Sal Lomascolo added one hit apiece.
Connor Mabbett went all seven innings in the win, posting six strikeouts while allowing five hits, three walks and two earned runs.
Hunter Purdy (run), Nick Johnson, Connor Funk and Trystan Morris picked up hits for Moravia, while Josh Crull and AJ Lawton had RBIs. Gavin Stayton and Tanner Scores added runs.
Tioga 13, Union Springs 2: Hailey Short posted two hits while Telona White, Grace Perkins, Angelia Scholtz and Brittany Waters added one each.
Union Springs (6-7) hosts Dryden on Thursday.
Jordan-Elbridge 237, Weedsport 298: The Eagles had four golfers shoot under a 50 in the win, led by Ben Sullivan's 43. Following Sullivan was Jeremy Meili's 45, Zach Lipton's 49 and Sage Crawford's 49. 
Nick Spingler scored a 42 for Weedsport while Libby Nemec had a 58.
Marathon 239, Southern Cayuga 257, Union Springs/Port Byron 272: Jon Heath carded a 46 to lead the Chiefs.
Jackson Otis added a 48, Collin Walter had a 51, Jared Howe chipped in a 55 and Jacob McCarty finished with a 57.
Andrew Salls paced the Wolves with a 52. He was followed by Jake Button (52), Luke Winters (54), Alex Church (57) and Thomas Hrycko (58).
Union springs/Port Byron visits Dryden Thursday, while Southern Cayuga travels to Trumansburg on Friday.
Be the first to know
Get local news delivered to your inbox!