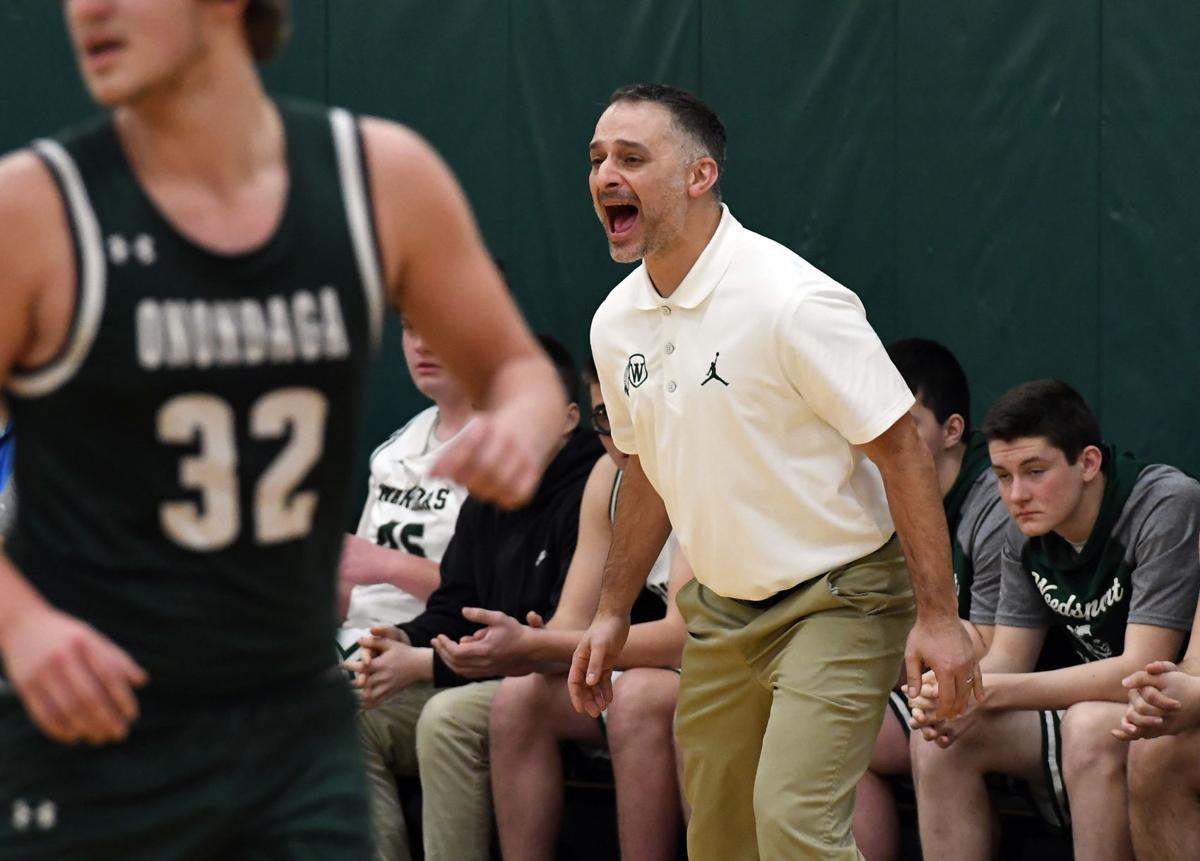 Thirty-two minutes were not enough to decide a winner between the Weedsport and Skaneateles boys basketball teams on Saturday, but in overtime the Warriors were able to come out on top 80-73.
The score was tied at 64 at the end of four quarters, but Weedsport scored 16 in the extra session to pull away.
Josh O'Connor was Weedsport's top finisher, recording 15 points with three 3s. Aidan Mabbett was next with 14 points, Jake Brown notched 13 points and Joel Blumer added 10.
For Skaneateles, both Nate Fouts and Andrew Neumann totaled 22 points, while Tyler DelFavero scored 14.
This is the second straight year the two teams, which don't play in the same conference, met for a thrilling non-league game. Weedsport and Skaneateles collided in December 2018, with the Lakers holding off the Warriors on a last-second shot block on a potential game-tying 3-pointer. Both teams entered that game with perfect records.
Weedsport (16-2) has two more regular season games left, starting with a home tilt against Pulaski on Monday. Skaneateles (12-6) also plays Monday, hosting APW.
BOYS INDOOR TRACK AND FIELD
Section III Class AA/A championships: Auburn's David Oughterson came in seventh in the 300m dash (38.74), while teammate Jimmy Vasile finished eighth in the 1600m run (4:44.58).
Section III Class B2 Championships: Skaneateles' Joe Norris won the 1000m run, completing the event in 2:44.74, besting the runner-up by almost five seconds. Matt Persampieri also won an individual title, finishing first in the 1600m run (4:48.34).
Caleb Bender finished No. 2 in the 3200m run (9:37.97), while Persampieri was on his heels in third (10:11.67). Ben Euto came in second in the shot put (38-6.25).
Section III Class C/D Championships: Cato-Meridian's 4x200m relay team won the title, wrapping up the race in 1:41.29. Teaming up were Connor Harrington, Devon Gilmore, Hunter Towers and Schuyler Goodwin. Also for the Blue Devils, Gilmore came in second in the 300m dash (39.19), while Kyle Sheckler placed fourth in the 600m run (1:37.02).
GIRLS INDOOR TRACK AND FIELD
Section III Class B2 Championships: For Skaneateles, Emme Conan won the 55m dash (7.47) and the 300m dash (43.62). Tess Peterson was the runner-up in the high jump (4-8). Sarah Tallerico placed third in the 1000m run (3:12.16) and the 1500m run (5:10.08).
In the field, Reagan Evans won the weight throw (36-0.5), Peterson took first in the triple jump (34-1.25), and Evangelia Vitsaxaki took bronze in the long jump (14-6.5).
Section III Class C/D Championships: Cato-Meridian's Ariana Proper had the third-best high jump (4-6).
Section III Class B championships: Hannibal/Cato-Meridian's Hunter White defeated Central Valley's Kace Cook by fall in 3:08 to claim the 126-pound title. After receiving a bye through the first round, all three of White's victories came via falls.
Jack Lamson (102), Chad Thompson (152) and Ethan Scanlon (182) were the runners-up in their brackets; Tyler Murray (126) finished third; Anthony Crofoot (220) and Santana Salvador (285) ended up in fourth, Ben Alton (113), Dominic Greenwood (120) and Jordan Beach (132) came in fifth; and Logan Longley (138), Drew Butterfield (170), and Ethan Thibault (195) placed sixth.
Broome 84: Cayuga 57: Scoring 22 points to lead the Spartans was Fatimaah Findley, who hit six 3-pointers. Tanyea Jansson finished with 12 points, seven rebounds and three assists. Tori Mandell added nine points, eight rebounds and three assists.
CCC (7-13) hosts Finger Lakes on Wednesday, the Spartans' final home game of the year.
Be the first to know
Get local news delivered to your inbox!