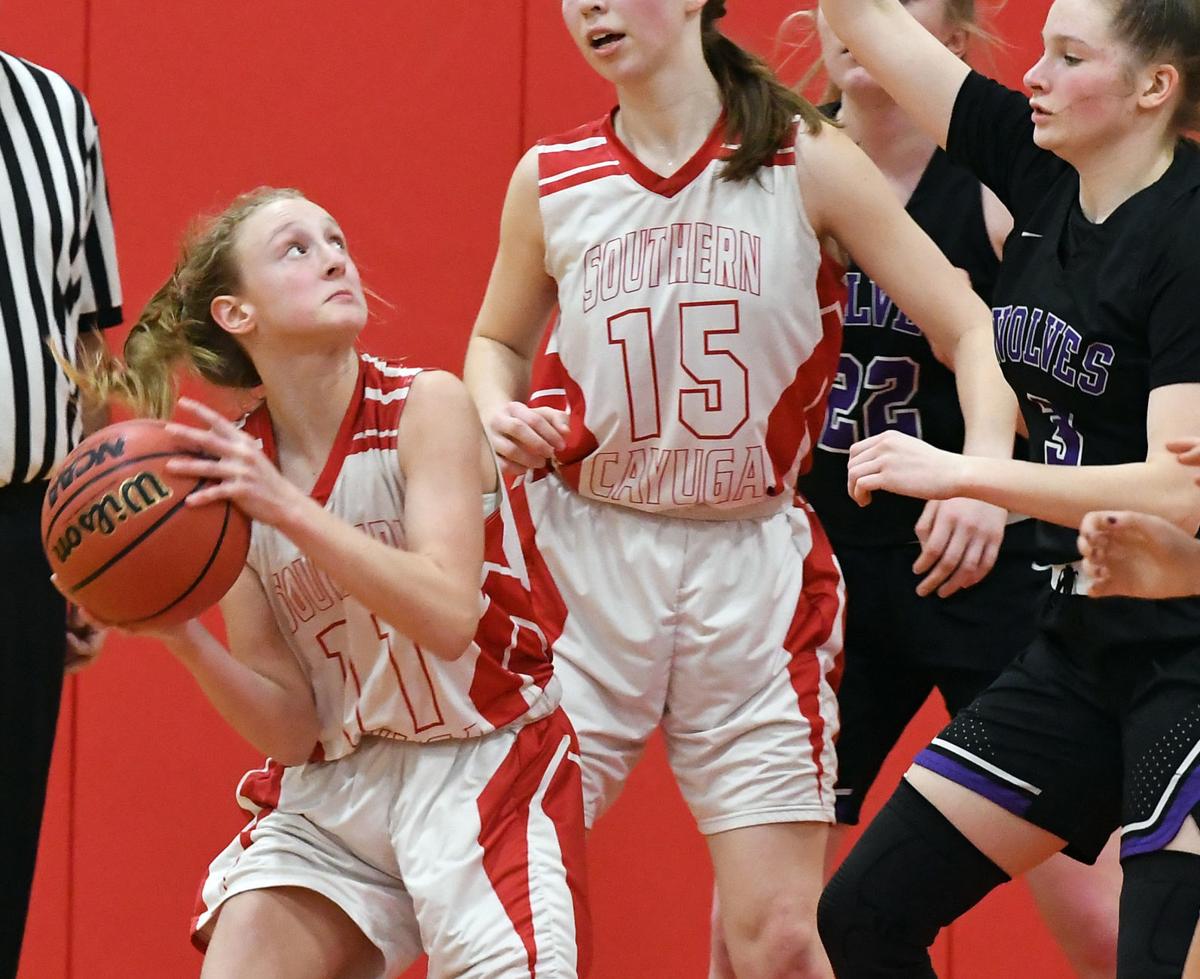 Southern Cayuga girls basketball had several contributors in a 37-34 win over Groton on Wednesday. 
Lily Colton recorded 10 points with six rebounds, while Avrey Colton had eight points, five rebounds and four steals to lead the Chiefs. Charli Bennett was next with seven points. She also had six rebounds and five steals. Kaley Driscoll (four rebounds) and Marissa Wiemann (11 rebounds) both scored six points.
Southern Cayuga (6-13) hosts Cato-Meridian on Thursday.
Marathon 45, Moravia 35: The Blue Devils trailed by a score or two for most of the fourth quarter, but the Olympians went 7-for-8 from the free-throw line late to close out the game.
Kate Baylor posted 13 points to lead the team, while Maddy Kelly added 12 points.
Moravia faces Spencer-Van Etten on Thursday.
Moravia 70, Trumansburg 55: Gavin Stayton went off for 27 points, draining five 3-pointers.
Ryan Robbins, Justin Pettit (five rebounds) and Deegan Sovocool (five assists, four rebounds) all recorded 11 points. Connor Funk had a team-high nine boards, and Josh Cespedes hauled in eight rebounds.
You have free articles remaining.
Marcellus 63, Skaneateles 61: It required two overtimes to decide, but the Lakers were outdone by the Mustangs.
Skaneateles was down by 13 entering the fourth quarter, but outscored Marcellus 19-6 in the final frame to force overtime. Both teams were limited to six points in the first overtime, but the Mustangs had an 8-6 edge in the second overtime to win the game.
Nate Foutes was the Lakers' high scorer with 22 points. Andrew Neumann figured in with 16 points. Nick Wamp added 10.
Finger Lakes 90, Cayuga 68: FLCC hit nine 3s in the first half to put CCC in a hole. Trailing 45-29 at half, Cayuga cut the deficit to nine with 13 minutes remaining, but that was as close as the Spartans got.
Deonte Holder led offensively with 23 points to go with seven rebounds. Jacob Ramirez finished with 18 points and six rebounds. Shaheed Alcide chipped in with 12 points and nine rebounds.
Cayuga (7-14) finishes up with two road games, starting Saturday at Tompkins-Cortland Community College.
Finger Lakes 58, Cayuga 52: Cayuga led entering the fourth quarter, but FLCC's late rally was the difference.
Jania Freeman (Auburn HS) led CCC with 15 points along with nine rebounds. Gretchen Earl contributed 13 points and nine rebounds, and Fatimaah Findley registered 10 points. Tanyea Jansson added a team-high 10 rebounds.
Cayuga (7-14) next plays Saturday at TC3.