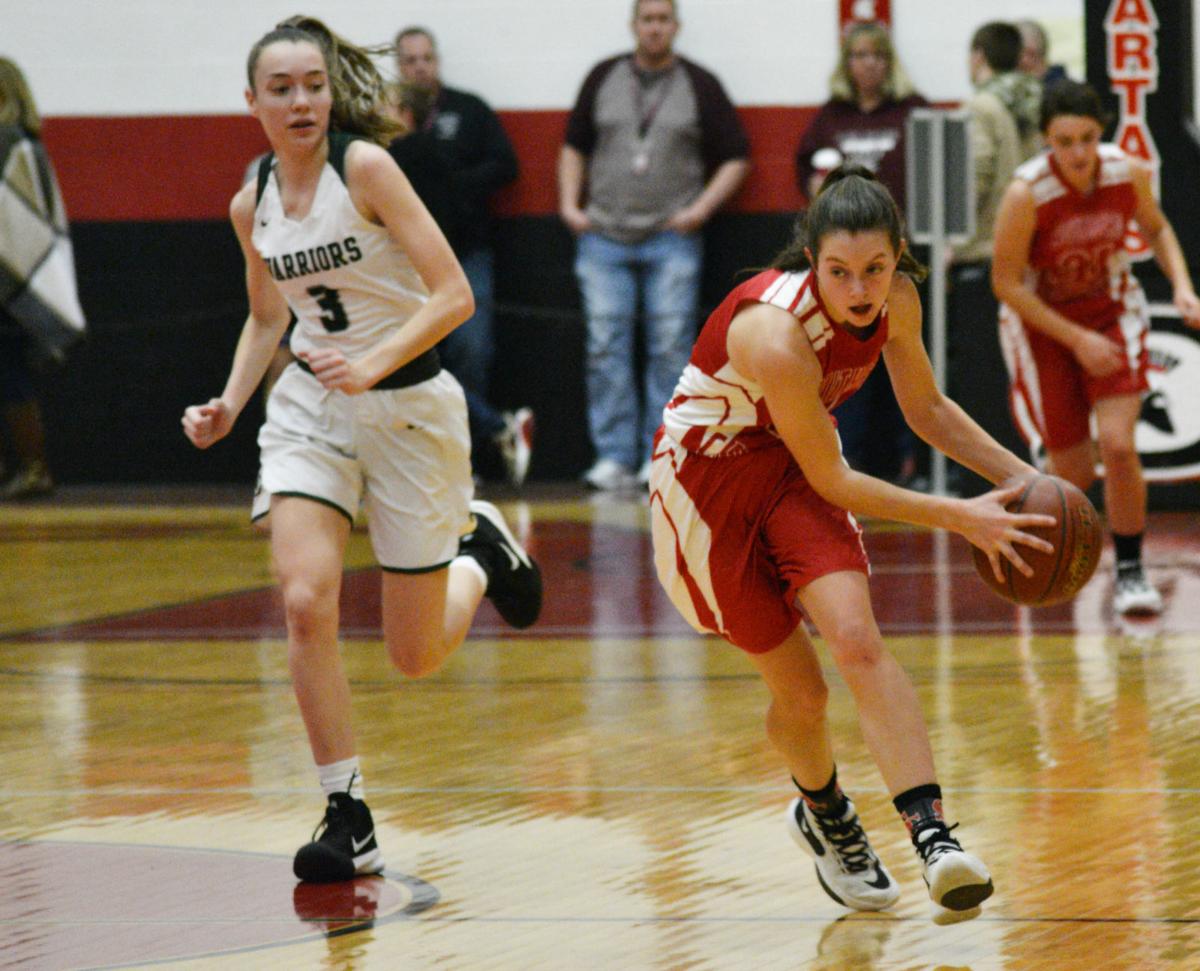 Kaley Driscoll scored 12 points and grabbed six steals as the Southern Cayuga girls basketball team defeated Cato-Meridian 60-32 on Thursday night.
Bridget Davis also scored 12 points, Charli Bennett contributed 10 points and Lilly Colton added eight points and seven rebounds.
Southern Cayuga finishes its season 7-13.
For the the Blue Devils, Abbby Congdon led with 10 points. Sarah LaPrease added seven points and Lydia Cox had six points.
Auburn 53, Fulton 35: Doray Dilallo had a double-double with 11 points and 11 rebounds as the Maroons won on Senior Night.
Marlee Solomon scored 10 points with nine rebounds, Emma Nolan contributed 10 points and six assists and Peyton Maneri scored nine points with six assists.
Auburn finishes the regular season with a 8-12 record and awaits the sectional seeding meeting.
Southern Cayuga 55, Newark Valley 48: Nick Thurston paced the Chiefs with 14 points. Free-throw shooting was key for Southern Cayuga, the Chiefs made 19-of-26 from the charity stripe and 7-of-11 in the fourth quarter.
Steve Sherman added 12 points, Nate Thurston scored 11 points and Jackson Otis contributed 10 points.
You have free articles remaining.
Southern Cayuga (8-10) plays at Groton on Friday.
FROM WEDNESDAY
Skaneateles 7, Oswego 1: After a scoreless first period, the Lakers scored three times in the second and four times in the third to seize control.
Garrett Krieger posted three goals for the hat trick, while Charlie Major and Charlie Russell both had three-assist nights. Also scoring goals for Skaneateles was Cole Heintz (assist), Cam Lowe, Brendan Powers and Jack Weeks. Jack Henry nabbed two assists, while Jack Buff and Jacob French each added one assist.
Goalie Adam Casper made 12 saves.
Skaneateles (18-0-1) looks to clinch the league title when it plays Whitesboro on Wednesday, Feb. 19.
Cato-Meridian 56, Pulaski 37: Ahead by only three at halftime, the Blue Devils surged with 20 points in the third quarter to pull away.
Marcus Ramacus was the team's top scorer with 17 points. Robbie Krieger and Trevor Lunkenheimer both ended up with 12 points.
Cato-Meridian (11-8) plays its last regular season game Friday at home against Manlius Pebble Hill.