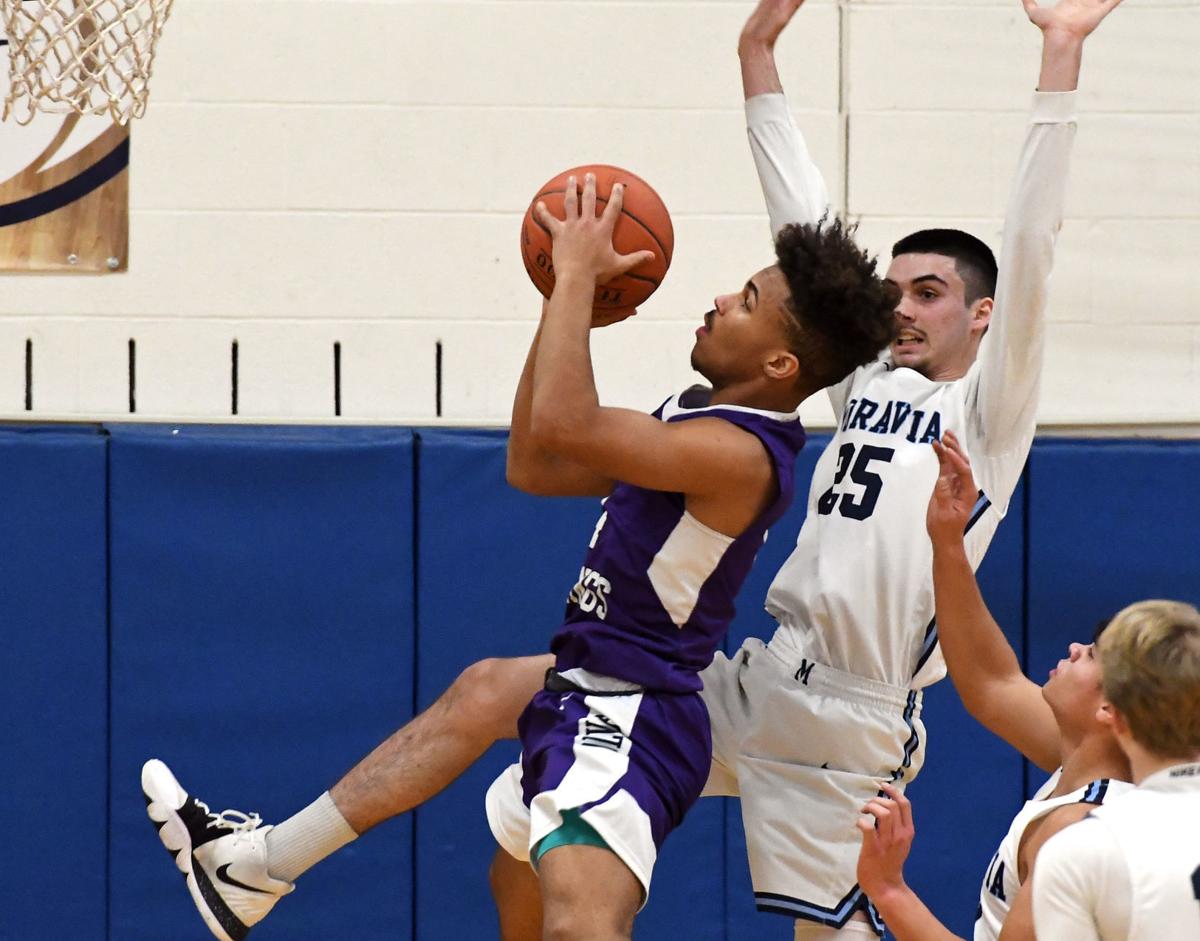 Union Springs boys basketball rebounded from a slow start to defeat Dryden 60-53 on Monday.
The Wolves got off to a slow start in the opening quarter allowing 21 points, but fought back to work a tie at halftime. At one point late in the game Union Springs led by 13, though Dryden hit a few late 3s to make it interesting.
Jose Reyes notched 24 points in the win, while Kobe Haight had 10 and Chris Daum added nine while also leading the Wolves in rebounding.
Union Springs (10-8) travels to Southern Cayuga on Tuesday.
Weedsport 67, Pulaski 31: The Warriors spread out the scoring offensively and stifled Pulaski defensively. Pulaski did not score more than 10 points in any single quarter. For Weedsport, Josh O'Connor recorded 13 points, Owen Mabbett posted 11 points, and Isaac Holden added nine points. Twelve players in total scored at least one basket.
Weedsport (17-2) wraps up the regular season Wednesday at Port Byron.
Clyde-Savannah 48, Port Byron 42: Brandon Relfe paced the Panthers with 11 points to go with six rebounds, while Kody Kurtz added 10 points, four steals and four assists. Tyler Merkley chipped in with seven points and five rebounds. 
Port Byron hosts Weedsport on Wednesday. 
Moravia 48, Groton 34: Maddy Kelly, Angie Oliver and Brooke Steger all scored six points, while Brianna Steger had three points. Those four seniors, along with Bailey Steger, were all recognized. 
Moravia (8-8) travels to Marathon on Wednesday and then plays Spencer Van Etten Thursday to conclude the regular season. 
FROM THE WEEKEND
Auburn 78, Fowler 64: Jay Baranick posted a career-high with 26 points to lead the Maroons to their 12th win of the season. Troy Churney picked up a double-double, scoring 20 points with 13 rebounds. He also posted seven assists and seven blocks. Also posting a career-high in points was John Danczak, who dropped 20 points.
You have free articles remaining.
At one point through the second quarter, Auburn had outscored Fowler 43-15.
The Maroons (12-6) are home against Jamesville-DeWitt on Tuesday.
Section III Class AA tournament: Auburn had two winners, with Luca Pirozzolo capturing the 138-pound title, while Keyshin Cooper won the 220-pound bracket.
Pirozzolo defeated Liverpool's Jonah Gellar 11-4 in the title bout. Cooper pinned Adam Rush from Cicero-North Syracuse to cap off his day.
Other place-finishers for Auburn included Bradley Boyhan, who finished second at 120 pounds. He fell to Liverpool's Jeremy Ianno by an 8-5 decision in the finals after slipping by Baldwinsville's Max Naples 2-1 in the semis. At 170 points, Lucas Hogan came in third in his bracket, winning a 3-0 decision over Syracuse's Albert Sippio in the third-place match.
As a team, the Maroons finished sixth out of nine teams. Auburn will compete in the Section III Division I individual championships on Saturday at Onondaga Community College.
Section III Class D tournament: Mitch Tanner came in third in the 220-pound bracket, claiming a 4-2 decision over Beaver River's Connor Edick in the consolation finals. Ike Svitavsky (145), Jack Smith (132), and Henry Smith (99) all took home fourth place.
Union Springs/Port Byron's girls team completed a three-peat at the IAC championships Saturday at the Valley Bowling Center in Waverly. US/PB rolled a three-game set of 2,752, beating out Waverly's 2,467.
Colleen Jump claimed the individual gold with a 648 series. She bowled rounds of 179, 243 and 226, adding up for her highest personal series. Also contributing was Jamilyn Casbarro with a 579, Alexis Colbert with a 538 and Makayla Smith with a 533.
The Wolves' boys team placed third, falling short of second place by 34 pins. Matthew Ward had the highest series with a 619, including a first round of 246. Next was Jacob Wawrzaszek with a 591 and Thomas Radley with a 576.
US/PB will compete at sectionals on Friday and Saturday in Vestal.
Broome 95, Cayuga 90: Deonte Holder paced the Spartans offensively with 26 points and six assists. He also had four rebounds. Stanley Beato posted 22 points with eight boards. Jacob Ramirez added 14 points, eight assists and two steals.
CCC is home on Wednesday against Finger Lakes.