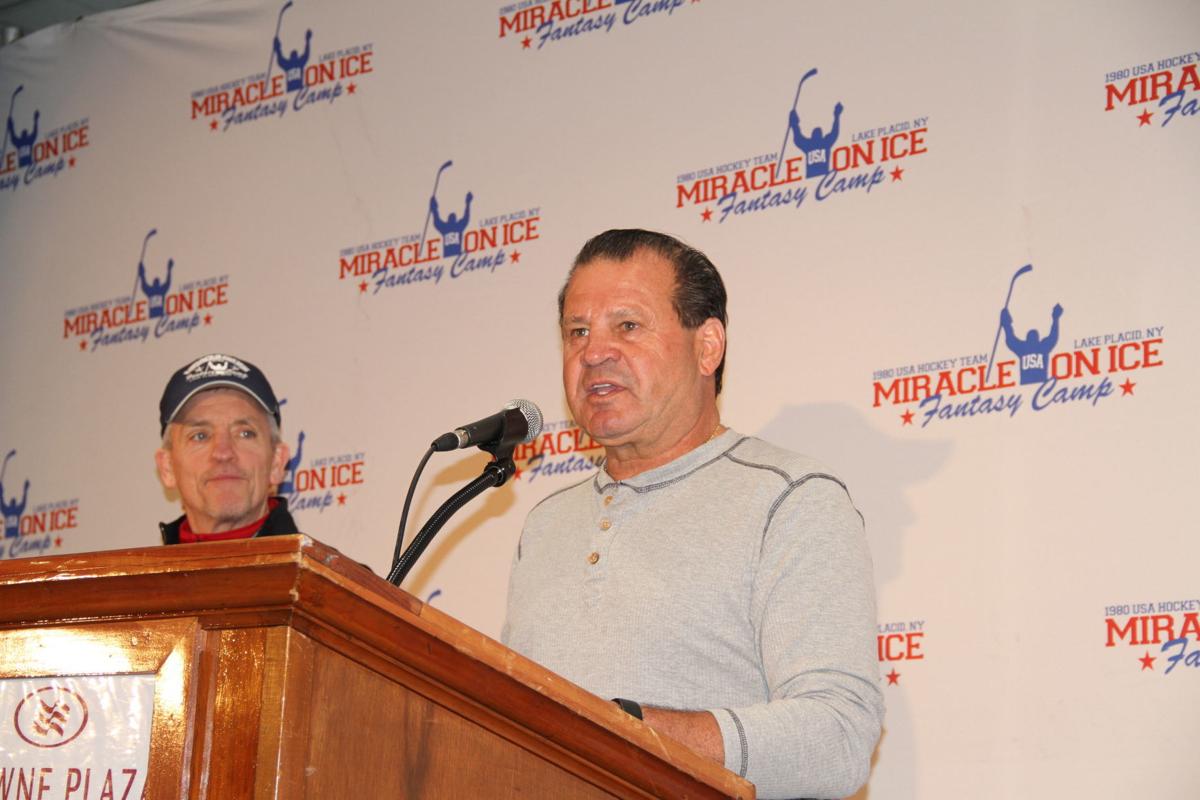 LAKE PLACID — There were 10 minutes left in the game when U.S. hockey team captain Mike Eruzione shot what would become the deciding goal in a game that made history.
At first, he didn't realize what he'd done. In his new book about the legendary 1980 Olympic match between the U.S. and Soviet Union teams, "The Making of A Miracle," Eruzione describes what was going through his mind as he watched the final moments of the game tick by. The book was co-authored by New York Times reporter Neal Boudette. It was released Jan. 28 and debuted at number six on the Wall Street Journal's best-sellers list.
With two seconds left on the clock, the puck past the blue line, Eruzione and his teammates hopped the boards and ran out onto the ice. They went straight for goalie Jim Craig.
"I hugged one teammate after another," Eruzione wrote. "I found one guy, embraced, then turned to look for the next, embraced him, looked for another, and another, and another. At the far end of the ice, in the stands, my mother and father, my cousin, my high school football coach hugged and cried."
As the crowd roared, Eruzione remembers looking up and seeing the final 4-3 score on the scoreboard.
"It finally hit me: the goal I'd scored twenty minutes earlier had been the difference, the winning goal," he wrote. "I hadn't realized that until then. Then another thought took over my mind: all along I had believed."
Even though so many others doubted their ability to beat the Soviet team, Eruzione always believed his team had a chance -- though it was "a long shot for sure," he said.
"I had believed I could play and contribute. That's just how I was brought up," Eruzione wrote. "That's how it was in my family. You worked. You worked and worked and you waited, and if an opportunity came up, you kept working. And if you believed in yourself and tried as hard as you could, well, at some point something good would happen."
In his memoir, Eruzione talks about his working-class upbringing in the Boston Harbor town of Winthrop, Massachusetts, and the intense training that lead up to the 25-year-old Boston University student making the shot that would secure the team's place in history.
Eruzione's 288-page memoir, which is available now at the Bookstore Plus on Main Street, was released as Lake Placid prepares to celebrate the 40th anniversary of the 1980 Olympic Winter Games.
The XIII Olympic Winter Games were held from Feb. 13 to 24, 1980, at venues in both Lake Placid and Wilmington. Starting this Thursday with the opening of two new exhibits at the Olympic Museum, and ending Sunday, Feb. 23, special events in honor of the 1980 games are planned at venues throughout the area.
Be the first to know
Get local news delivered to your inbox!