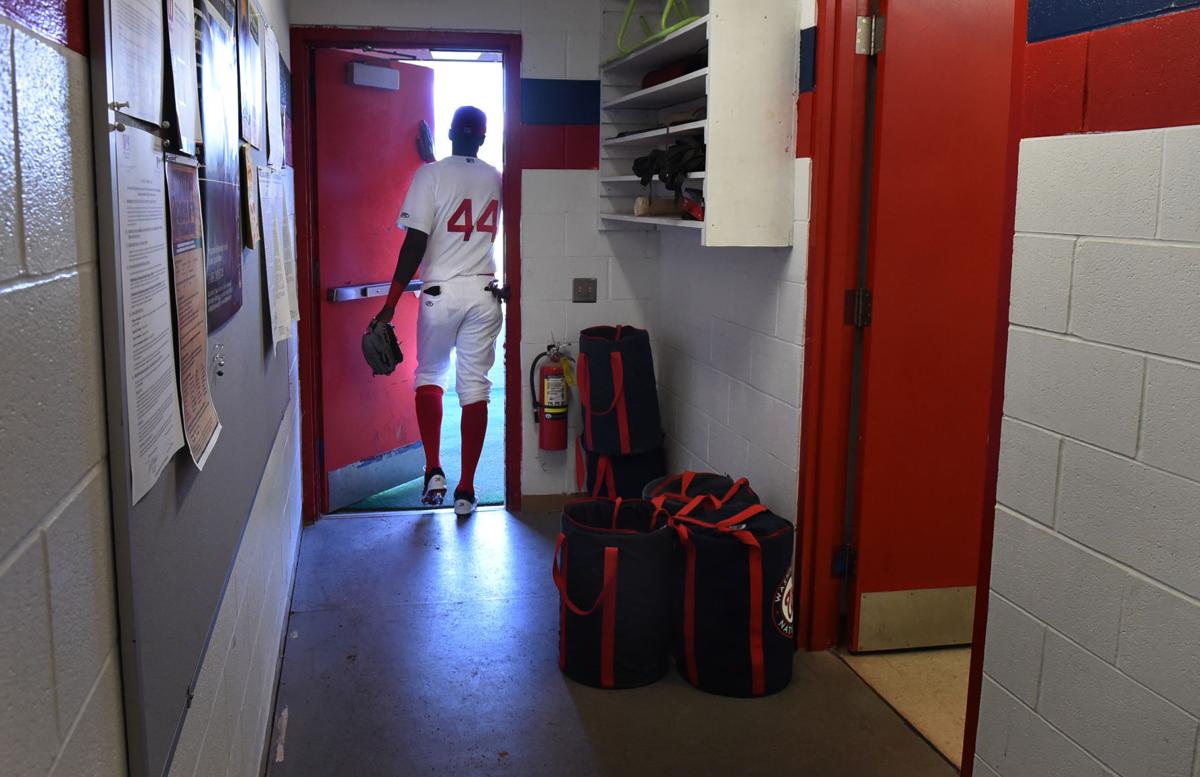 One-hundred and nineteen minor league cities were extended invitations to be affiliates of a Major League Baseball franchise on Wednesday. 
Auburn, which has been home to Minor League Baseball and partnered with a parent club since 1958, was not among them. Nor were several other New York-Penn League teams, signaling the end of the longest-running Class A league in the country. 
According to the list of affiliates, first reported by Baseball America, the Doubledays are among seven former New York-Penn League franchises that will not have professional baseball in 2021. Other New York state teams in the same situation include the Batavia Muckdogs, Staten Island Yankees, and Tri-City ValleyCats. 
Major League Baseball and Minor League Baseball are transitioning away from short-season leagues — the New York-Penn League has been a short-season rookie league since 1967 — to a full-season model at every classification. Minor League Baseball will now have four classifications: Triple-A, Double-A, High-A, and Single-A. 
The first incarnation of the New York-Penn League began in 1939, when the league was introduced as the Pennsylvania-Ontario-New York (PONY) League. Batavia, another city that will be without professional baseball, had been in the New York-Penn League since its inception. 
Among active franchises, no New York-Penn League team claimed more championships than Auburn's eight. Oneonta, which last hosted a team in 2009, holds the record with 12. 
When Minor League Baseball last played in 2019 — seasons at every classification were canceled in 2020 due to the COVID-19 pandemic — New York state had 10 minor league baseball teams. 
That total now shrinks to six. Rochester (Washington Nationals), Buffalo (Toronto Blue Jays), and Syracuse (New York Mets) will remain Triple-A ball clubs, while Binghamton (New York Mets) will remain a Double-A team. 
Brooklyn and Hudson Valley, both formerly of the New York-Penn League, will now operate as High-A teams in the newly formed Mid-Atlantic League. 
MLB has not announced how it will divvy up the leagues in each classification, though it is expected to remain regionally based. 
Of the 43 minor league teams that were not invited to join with parent clubs, many will join leagues without a major league affiliation. Several former New York-Penn League teams are joining the MLB Draft League which will host incoming prospects preparing for the amateur draft. 
Nineteen, including Auburn, do not have a clear path forward. Auburn Community Baseball representative and Auburn city manager Jeff Dygert told The Citizen last week that the Doubledays were offered a position in the Draft League, but passed due to costs of joining the league. 
Auburn is currently in discussions with several collegiate-level teams and leagues who are interested in using Falcon Park. The stadium is already home to Cayuga Community College's baseball team and Auburn High School's varsity baseball team, and the multi-use facility is also capable of hosting lacrosse, softball and soccer. 
"We know it's going to be different than it was, and for some people that will be problematic," Dygert said last week. "It's a change, and it's opened up some other opportunities for us that we probably would've never explored with the minor league baseball that was here. We'll lose that, but there may be opportunities for even better things down the road."
According to The Athletic, MLB will send out Professional Development Licenses (PDL) to the 120 clubs it hopes to continue as traditional minor league affiliations. PDLs will last 10 years.
Several New York-Penn League teams released statements either Wednesday or in previous weeks as minor league news trickled out, expressing disappointment that professional baseball will not continue in their respective cities. 
The Staten Island Yankees, a member of New York-Penn League since 1999, plans to file a lawsuit against the New York Yankees and Major League Baseball for "false promises," accusing their former major league partner of "repeated assurances" that the affiliation would continue. According to Staten Island, "the loss of connection to the Yankees" makes it impossible to continue as a minor league organization, and the team is ceasing operations. 
Baseball America and The New York Times first reported in November 2019 that Major League Baseball was seeking to restructure the minor leagues under the new Professional Baseball Agreement, with the current PBA expiring follow the 2020 minor league season, and that around 40 minor league teams would lose affiliations. 
Katko, in a separate statement addressing the future of the Doubledays, said, "this team has always provided affordable entertainment to our community at Falcon Park. The Doubledays help support our local economy in Auburn — and its departure would mean an end for not only fans and players, but for local vendors, businesses and employees who have supported the club for decades."
Neither the Doubledays nor the New York-Penn League has released a statement in lieu of Wednesday's news. The Doubledays have not posted on their official Twitter account since Sept. 15. However, the organization has used its official website and Facebook page to promote a merchandise sale that began Nov. 27. 
New York-Penn League — Where are they now?
| Team | Previous affiliate | New affiliate | Current League |
| --- | --- | --- | --- |
| McNamara Division | | | |
| Aberdeen IronBirds | Orioles | Orioles | Class-A Advanced |
| Brooklyn Cyclones | Mets | Mets | Mid-Atlantic (Single-A) |
| Hudson Valley Renegades | Rays | Yankees | Mid-Atlantic (Single-A) |
| Staten Island Yankees | Yankees | N/A | N/A |
| Pinckney Division | | | |
| Auburn Doubledays | Nationals | N/A | N/A |
| Batavia Muckdogs | Marlins | N/A | N/A |
| Mahoning Valley Scrappers | Indians | N/A | MLB Draft League |
| State College Spikes | Cardinals | N/A | MLB Draft League |
| West Virginia Black Bears | Pirates | N/A | MLB Draft League |
| Williamsport Crosscutters | Phillies | N/A | MLB Draft League |
| Stedler Division | | | |
| Lowell Spinners | Red Sox | N/A | N/A |
| Norwich Sea Unicorns | Tigers | N/A | N/A |
| Tri-City ValleyCats | Astros | N/A | N/A |
| Vermont Lake Monsters | Athletics | N/A | N/A |
Sports reporter Justin Ritzel can be reached at 282-2257 or at justin.ritzel@lee.net. Follow him on Twitter @CitizenRitz.