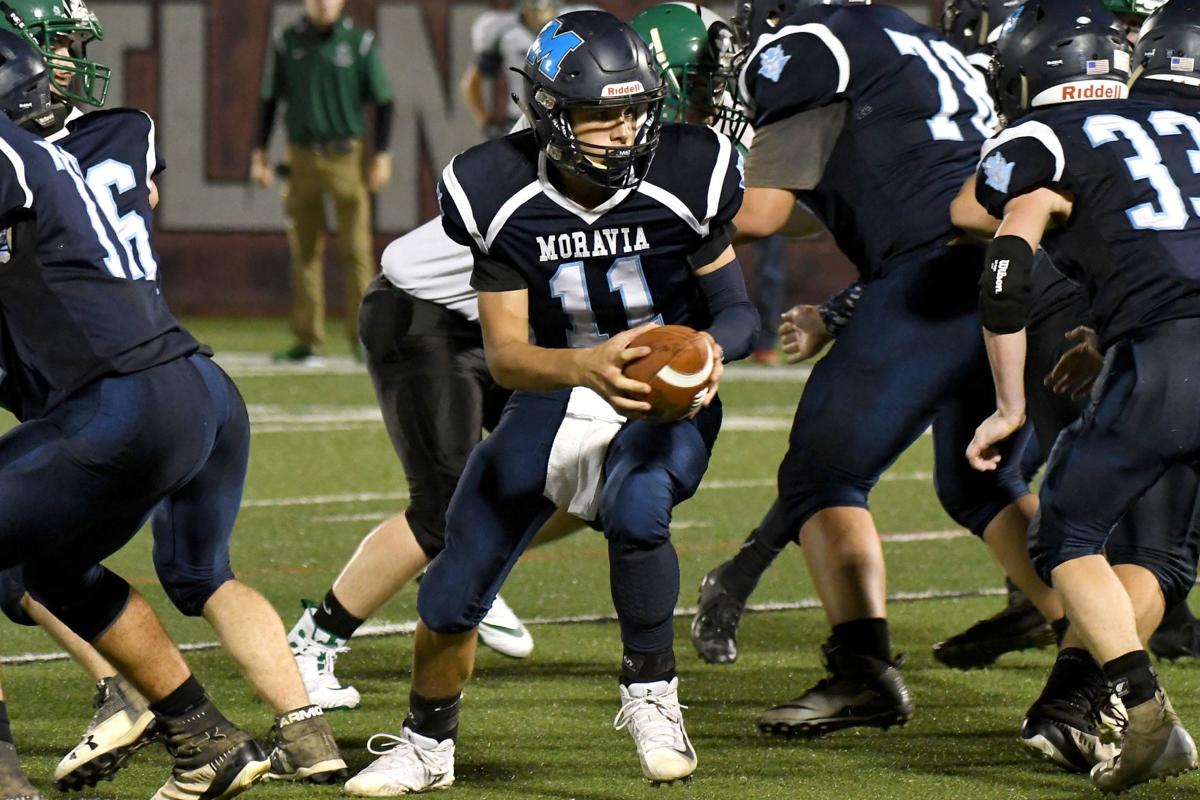 Moravia's football program will have a different look to it this fall. 
In lieu of the more traditional 11-man game, Moravia will be making the change to the ever-growing 8-man format, beginning in the 2020 season. The Moravia School District made the decision in March, and the team's first 8-man schedule was released by Section IV in April. 
Moravia becomes the second team in Cayuga County to drop to 8-man, after Weedsport Central School District made the same switch with its varsity program prior to the 2018 season. 
Moravia athletic director Todd Mulvaney cited two main reasons why the school district pursued the switch to 8-man: participation levels and geographic location. 
Most of Moravia's traditional rivals in the IAC has already switched to 8-man. As one of the few remaining Class D teams in Section IV, the Blue Devils were regularly making long-distance trips to play road games. Moravia's 2019 schedule included trips to Bainbridge-Guilford (70 miles), Delaware Academy in Delhi (105 miles), Deposit/Hancock (100 miles), Greene (50 miles), and Spencer-Van Etten (40 miles). 
Moravia now joins Greene (also a first-year entry), Lansing, Newfield, Elmira Notre Dame, Oxford, Thomas Edison, Trumansburg and Unadilla Valley in Section IV's 8-man division, which grows from seven teams in 2019 to nine in 2020. 
"Other than Groton, for all of our opponents we were traveling 60 to 90 minutes, or they were traveling to us. We really were traveling all over the state just to play our football games," Mulvaney said. "Just by switching to 8-man ourselves, we have a full schedule and it's schools we're used to playing in every other sport and in previous years in football. It's exciting that we get those old rivalries back."
The total number of players on Moravia's varsity roster typically hovers in the low 20s, according to head coach Fred Ott. While that's a high enough total to play, Moravia was consistently only a few injuries away from being safely able to field a competitive team. That pressure will be alleviated with 8-man. 
Ott considers himself more of a traditional football coach, but said he had conversations with several other Section IV coaches about 8-man football this past season and was assured that "it's still football." He doesn't expect much to change for his offensive playbook — Moravia ran a spread offense last year, which should translate well to the wide-open 8-man game — but it could present a big challenge on the defensive side. 
"I've been asking a lot of questions to see what 8-man was about," Ott said. "From the tapes I've seen — some coaches lent me tapes to prepare for the upcoming season — it looks like football, it's just a little more wide open because there's less kids on the field. We're actually looking forward to that, the challenge of something new.
"One thing we really like about it is that you keep your identity. We get to keep being the Moravia Blue Devils. The combined teams are doing great things as well, don't get me wrong, but it's nice to keep your identity and play football."
While 8-man football in the United States has existed for decades, it has grown exponentially in New York in recent seasons — so much so that the NYSPHSAA had to make drastic changes to its classifications in an effort to protect Class D enrollments, because so many Class D schools were flipping to 8-man. 
However, not all are in favor of 8-man's growing popularity. When Weedsport made the change in 2018, alumni and other community members voiced concerns to the school district and on The Citizen's Facebook page to Weedsport-football related stories. Many opined for combining with another school to keep 11-man football in favor of 8-man, while others voiced a simple preference for the traditional format. 
Mulvaney said that while he understands those concerns, Moravia switching to 8-man is "a student-athlete-centered decision." He added that the drop to 8-man isn't necessarily a permanent change, and that the school district will review the football program on a year-to-year basis. How schools in surrounding communities approach 8-man in the coming years will also be a factor. 
Added Ott, "I think people that are currently close to the program understand the move. What I'd put out there to the Moravia community is to give this a chance. Come watch games, come watch practice and you'll see it's still football. It's a big commitment that we're trying. Hopefully it works out for the best."
Sports reporter Justin Ritzel can be reached at 282-2257 or at justin.ritzel@lee.net. Follow him on Twitter @CitizenRitz.
Be the first to know
Get local news delivered to your inbox!