As August comes to a close and September begins, a lot of things change. The days grow shorter, children go back to school, and Canada geese make their return. Every September, geese begin to migrate through New York, filling farm fields, small ponds, shorelines, parks, mall parking lots, and highway medians. They seem to be everywhere this time of year!
For hunters, or aspiring hunters, this is an incredible thing. The early goose season in New York runs Sept. 1-25, offering large bag limits and other special regulations. In 2019, hunters can take 15 birds per day! That is a whole lot of shooting and a great deal of healthy, delicious meat for one day's hunt.
Are you a hunter? If so you may have hunted the early goose season. Perhaps, like me, you have friends who show you how it's done year after year. If you are not (or not yet) a hunter, you might immediately imagine sitting still, staying quiet, getting cold, etc. That's not always the case with the early goose season. Even on an "unsuccessful" hunt, you're bound to see large flocks of geese and have a lot of fun.
The September season is a great opportunity to give hunting a try or take out new hunters. You can talk, laugh, and even move around a bit. It's a fun and rewarding experience, whether you shoot geese or not, but rest assured your chances are high.
Last year, a good friend and I went on his first few waterfowl hunts, starting with the early goose season. We arrived at the New York State Wildlife Management Area (WMA) early to be sure to beat the crowd. We loaded our gear into kayaks, hauled them down the access road, and shoved off into the swamp. After a short paddle, we set up a few decoys and found a spot to hide among the cattails.
Soon after getting settled, we heard the sound of beating wings. Two lone geese were touching down over the treetops about 70 yards behind us. "See em?" he said, all excited. I told him to freeze and let them come in close, though I can't pretend like I wasn't a little rattled myself. After all, I'm no expert. Long story short, we emptied our shotguns and never cut a feather. I asked if his heart was beating, and he smiled ear to ear!
We spent the next few days in that swamp without ever getting a goose. It was hard to believe with the amount of birds we saw, but it does not always work out. The important thing is that we had fun, and that he was able to give waterfowl hunting a try. I think next time I will take him out with some friends who rarely have that kind of luck.
As a waterfowl hunter, your season does not begin until you have a state small game hunting license, a duck stamp and a registered Harvest Information Program number. HIP numbers are a legal requirement for migratory bird hunters that comes with an optional but important survey used by wildlife managers to monitor the harvest of migratory game birds and establish annual hunting regulations. Similarly, the Federal Duck Stamp is legally required.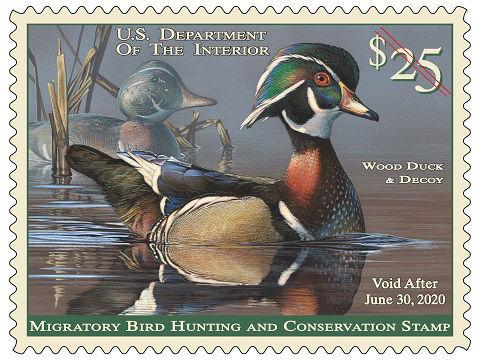 Duck stamps are not a choice for waterfowl hunters. That said, most do not see it as a burden. Contributing duck stamp dollars has a direct impact on habitat conservation, and is as much a part of bird hunting as waterproof camouflage and labrador retrievers. Also called The Migratory Bird Hunting and Conservation Stamp, it's been around since 1934.
While hunters are legally required to purchase a duck stamp, it is one of the easiest ways that anyone can lend a hand to habitat conservation. Do you like ducks, geese, swans, herons, egrets, osprey, eagles, woodcock, plover, bats, rabbits, squirrels, beaver, fox, turtles, snakes, deer, and/or all of the above? Do you want to help protect their habitat? Then go buy a Duck stamp! Ninety-eight percent of the price goes directly to acquire and protect wetland habitat and purchase conservation easements for National Wildlife Refuges like Montezuma, located here in the Finger Lakes.
Hunters aren't the only folks who benefit from Federal Duck Stamp dollars. Bird watchers, leaf peepers, kayakers, hikers, photography enthusiasts, and others do as well. And that speaks only for the humans. What about the wildlife? These dollars have provided over six million acres of habitat. Water purification, flood control, erosion reduction, and outdoor recreation opportunities are just a few of the extra benefits made available through the work of the duck stamp.
So if you are a hunter, a non-hunter, or anything in between, you should absolutely buy a duck stamp. They are inexpensive and easily acquired, and they do a whole lot of good. Once you have it, consider giving the early goose season a shot as well! It is some of the most fun you can have while hunting.
Nate Kennedy is a Liverpool resident who works in Waterloo. An Ogdensburg native, he is a lifelong hunter and angler who holds an master's degree in environmental communication from SUNY College of Environmental Science and Forestry, and he is a 4-H educator with Cornell Cooperative Extension of Seneca County. Kennedy loves to write about and share his outdoor pursuits and his column appears the final Sunday of the month.
Be the first to know
Get local news delivered to your inbox!