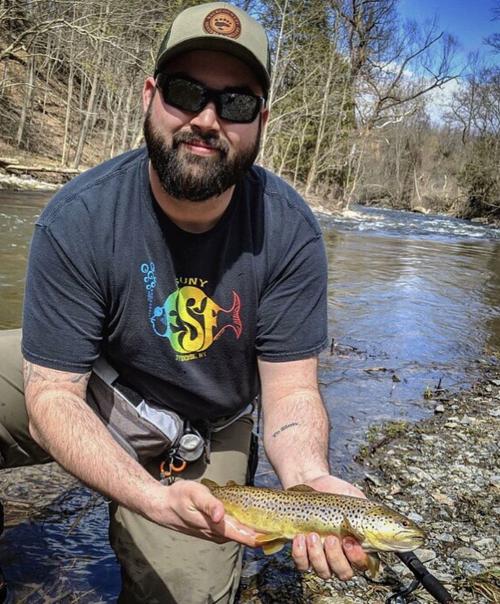 "Fishing is good for the mind and body," says state Department of Environmental Conservation Commissioner Basil Seggos. Agreed!
Our beloved changing of the seasons has been somewhat disrupted this year. At a time when the most reputable sources are telling folks to stay home and keep their distance, some people just want to go fishing! If you're one of those people, you can and should go. April is coming fast, and Commissioner Seggos is encouraging anglers to get outside, stay safe, practice social distancing and go fishing!
April can be a saving grace for the everyday outdoorsman and outdoorswoman. March, while it has its own outdoor pursuits, can be a tough time for the hunter and angler. But April ... April brings many of us back to life. In April you can fish for bluegill, bullhead, crappie and more. You can hunt for shed antlers, cut firewood for camp and scout for the upcoming spring turkey season. But that's not all, for April hosts two larger camps in the outdoor community in New York state — yellow perch and stream trout.
New York has a year-round season for yellow perch. The spring bite heats up as the ice recedes and the fish begin to stage in anticipation of the spawn. Anglers take to their boats and/or the shorelines of rivers, lakes and reservoirs to try their luck for these tasty fish. Growing up, this time of year was packed with tradition, family and five-gallon buckets. I was definitely in the perch camp!
Perch fishing on a good day is unlike anything else. I recently heard it referred to as "the grocery store," from a friend returning home with a bucket full of fish. In New York, the daily limit for yellow perch is 50 fish per person. (There are areas of the state where this varies, so you'll want to check the DEC regulations to be sure in your area.) Fifty perch provides a fair amount of delicious meat for the freezer, and this time of year the fish are plentiful. Live bait works well and minnows are the go-to.
Perch fishing is deeply rooted in community. As a kid, perch fishing meant family, friends and food would be gathered together on the tailgate of a truck around lunch time. My earliest memories of fishing are trips for yellow perch in April. We would arrive early on Saturday mornings to crowded state park shorelines, and interact with groups of friendly perch anglers as we tried to find a spot to call our own. This year, that will look a bit different, but still the community values are present, and the opportunity is abundant!
The stream trout camp is another thing entirely. It's beautiful, complex and much more solitary. To me, chasing stream trout is more like hunting than fishing. Perhaps that is why I find it so appealing. Growing up, my dad and I would go trout fishing every opening day, but never with any luck. We went to have fun, and never took too much time learning how to catch the fish. That said, we made some of our favorite memories on those trips, and I would not trade them for trout!
Once while in college, I tagged along with a close friend for opening day. He grew up in the trout camp! We spent the day exploring central New York, he with a fly rod and I with traditional spinning equipment. We drove and hiked and fished and drove and hiked and fished some more. It really reminded me of those earlier trips with my dad.
Fishing small streams was a new thing for me altogether, and I landed more trees than trout. I fell in love with the aspect of being in close quarters with the fish, targeting small pools of water hidden in the woods. It took some time for me to get the hang of it, but eventually it happened. I caught one — a nice-looking brown trout from a small Finger Lakes tributary in the middle of nowhere. It was beautiful!
Trout season opens every year on April 1. This year will be no different. In the time since that first fish I have made a small habit out of chasing stream trout in the spring. Living in New York, you are missing out if you do not trout fish at least once or twice a year. From the Catskills to the Adirondacks to central New York, across the Finger Lakes and Great Lakes, our state is loaded with trout fishing opportunities! Stocking efforts can be tracked through the DEC website, and rest assured there are trout to be caught!
So go! Give it a try. If you grew up in the perch camp, try trout fishing this spring. If you are a diehard trout bum, go for perch. If you are new to all of this, fear not! These endeavors are relatively easy to try, and the "how-to" information for both is abundant. They are delicious, plentiful fish that have deep roots and long histories in our state. Get outside, enjoy the fresh air and go fishing this April!
Nate Kennedy is a Liverpool resident who works in Waterloo. An Ogdensburg native, he is a lifelong hunter and angler who holds an master's degree in environmental communication from SUNY College of Environmental Science and Forestry, and he is a 4-H educator with Cornell Cooperative Extension of Seneca County. Kennedy loves to write about and share his outdoor pursuits and his column appears the final Sunday of the month.