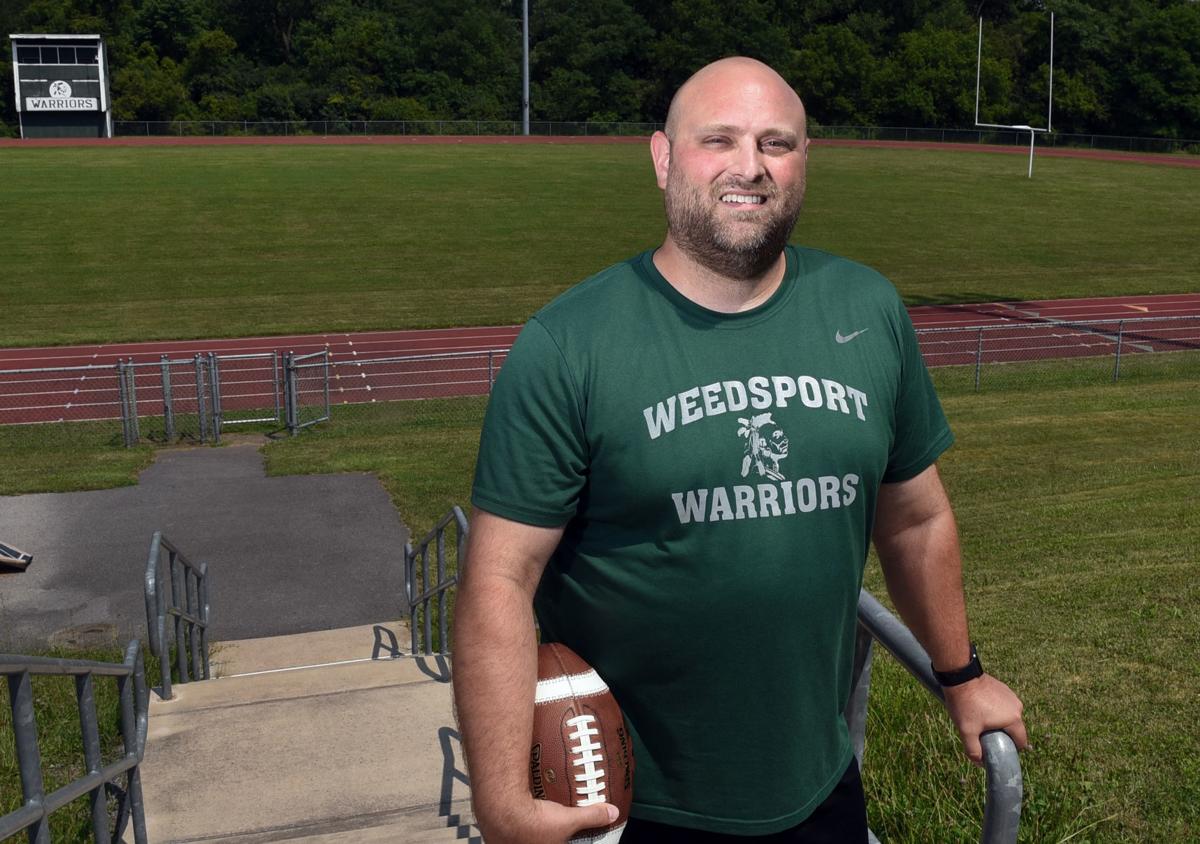 The two-time defending Section III 8-man football champs will have a new head coach this fall. 
Rob Piascik, who was Weedsport's assistant coach and offensive playcaller last season, has been named head football coach in a move that was approved by the district's board of education Monday. 
Piascik, a 1999 Weedsport graduate, takes over for Jon Sgarlata, who led the Warriors to a 15-1 record and two section titles over the last two seasons. Sgarlata will remain on the staff as an assistant coach. 
Prior to joining Weedsport as an assistant, Piascik was most recently head coach at Port Byron/Union Springs from 2017-2018. He also previously coached football teams at Hannibal and West Genesee in various capacities. 
"It's a good fit, which was the biggest thing," Piascik said in an interview with The Citizen on Tuesday. "I've been doing this long enough to know when it's a good fit and when it's not, and this one fits."
Weedsport athletic director Zac Young said conversations with Sgarlata — who is also the varsity boys basketball head coach — about Sgarlata's interest in stepping down occurred during the winter, but no official decision was made until after the completion of basketball season. 
With Piascik, who is also the school district's recreation director, Young believes the football program will benefit from his experienced track record. 
"He's got experience at multiple schools at multiple levels," Young said. "He's been a head coach, he's been an assistant. That's obviously a plus. I don't see it being a huge transition for our kids. He's from Weedsport, he knows the community, he knows a lot of the kids."
In a text message, Sgarlata said part of his decision to step down was due to the "immense" challenge of being the head coach for two varsity programs. Staying on as an assistant for football, Sgarlata is looking forward to refocusing on "the nuts and bolts."
"Over the last two years we rebuilt the foundation that was in place long before I became coach," Sgarlata said. "Weedsport has enjoyed decades of success. It is time for the torch to be passed to Rob. He's a Weedsport alum and loves our football program as much as anyone. I don't know what small school football will look like over the next decade. I do know that Rob will be well prepared and lead our program with pride."
While Piascik will now be listed as head coach, there will be little change to coaching responsibilities on the field. Piascik will lead the offense and call plays, Sgarlata will take charge of the defense, and Brian Gates will continue to coach up the offensive and defensive lines. The three coaches intend to split special teams duties. 
Having never coached 8-man prior to coming to Weedsport, Piascik spent much of the 2019 season adjusting to the more wide-open 8-man game, and found that offense translates from 11-man pretty seamlessly. That's not the case on defense, and many hours of film study were spent learning that side of the ball. 
As head coach, Piascik hopes to continue to innovate how the Warriors play in all areas of the field. 
"The really hard part is the defensive side of the ball, where positions have to do multiple things. There's a lot of parts to the defense that had taken me a little bit longer to get ahold of," Piascik said. "If you watch our film, we don't look like other teams defensively. I think we're a little ahead of the game and a little unique with the stuff we do. 
"I feel a lot more confident in the game. We don't want to just maintain, we want to improve and get better as we go."
Admittedly, there's little feel for how many student-athletes will come out to play football this upcoming fall. Section III set a Feb. 1 deadline for teams to classify as 11-man or 8-man for the 2020 season, over a month before schools closed in mid-March due to COVID-19. 
Spring months are often crucial for football coaches to gauge interest for the upcoming season, and much of the participation stems from current players convincing friends to come out for the team. 
It's also possible that summer workouts won't be allowed, or will only be allowed in limited instances. 
"You don't know who is coming out until Aug. 24. There could be some kids that show up that haven't played before. We'll coach the kids that come and go from there," Piascik said. "It's hard (to gauge participation) in a regular situation, but this isn't a regular situation. It's been a little bit challenging ... seeing those guys that are on the fence and trying to get them involved, because I don't have those opportunities to see them in the weight room or see them in the hallway. 
"We're waiting on guidance from the state level to find out when we can get together with the kids, if we can get together with the kids. We just don't know, but we've taken steps. We've tried to do some online classroom stuff with the kids we know are gonna play."
While COVID-19 complicates preparations for the season, Piascik is excited to be head coach for the program he once played for, though his main focus will remain on his players and making the most out of their experience. 
"It's one of those things, I try not to put my own feelings and thoughts into it too much because it's really not about me, it's about the kids," Piascik said. "It's about them having the opportunity to be a part of the program that I was part of awhile back. But it does make it a little sweeter when it's your hometown, and I feel a little more connected to that community.
"I've already played high school football, but I get to come back and help other kids have a good experience, maybe teach some life lessons, and win some football games along the way."
Weedsport is set to open its season Saturday, Sept. 5 at Red Jacket as part of New York state's Week 0 slate. 
Sports reporter Justin Ritzel can be reached at 282-2257 or at justin.ritzel@lee.net. Follow him on Twitter @CitizenRitz.
Be the first to know
Get local news delivered to your inbox!