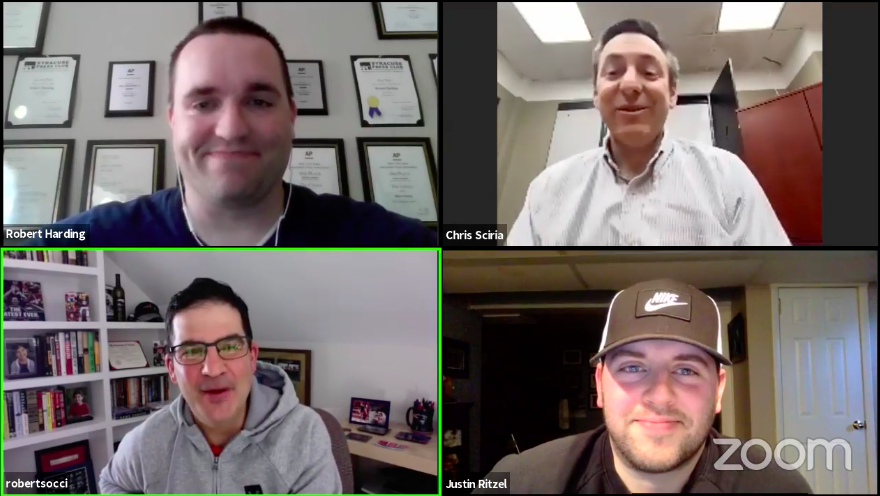 New England Patriots broadcaster Bob Socci joined The Citizen Sports Weekly on Facebook Live Wednesday to discuss various topics including the upcoming NFL season and former Patriots quarterback Tom Brady. 
Socci, a 1985 graduate of Auburn High School, has been the Patriots' radio play-by-play announcer since 2013. He also can be seen at patriots.com contributing to weekly video previews for each Patriots game.
At Auburn High, Socci was a senior on the 1985 varsity baseball team that won the New York state title. He graduated from the University of Dayton in 1989. 
As a broadcaster, Socci also has experience covering various minor league baseball teams. Prior to his career broadcasting the Patriots, Socci spent one season calling games for the Pawtucket Red Sox, Boston's top minor league team. He's also called minor league baseball in Albuquerque, New Mexico, as well as U.S. Naval Academy football and basketball and Patriot League basketball for the CBS College Sports Network. 
During the video, Socci discussed games he is most looking forward to seeing this upcoming season and what he expects from the Patriots without longtime quarterback Tom Brady. 
Socci also addressed the possibility that the start of the NFL season could be delayed, and what it would be like to broadcast games without fans in the stadium. 
"Certainly it's going to be a very foreign environment," Socci said. "Broadcasting the NFL, so much of the excitement is created by the environment. You feed off that as a broadcaster and that really energizes you, but you still have a job to do and I'm gonna feel my way through it if that's the case."
Be the first to know
Get local news delivered to your inbox!