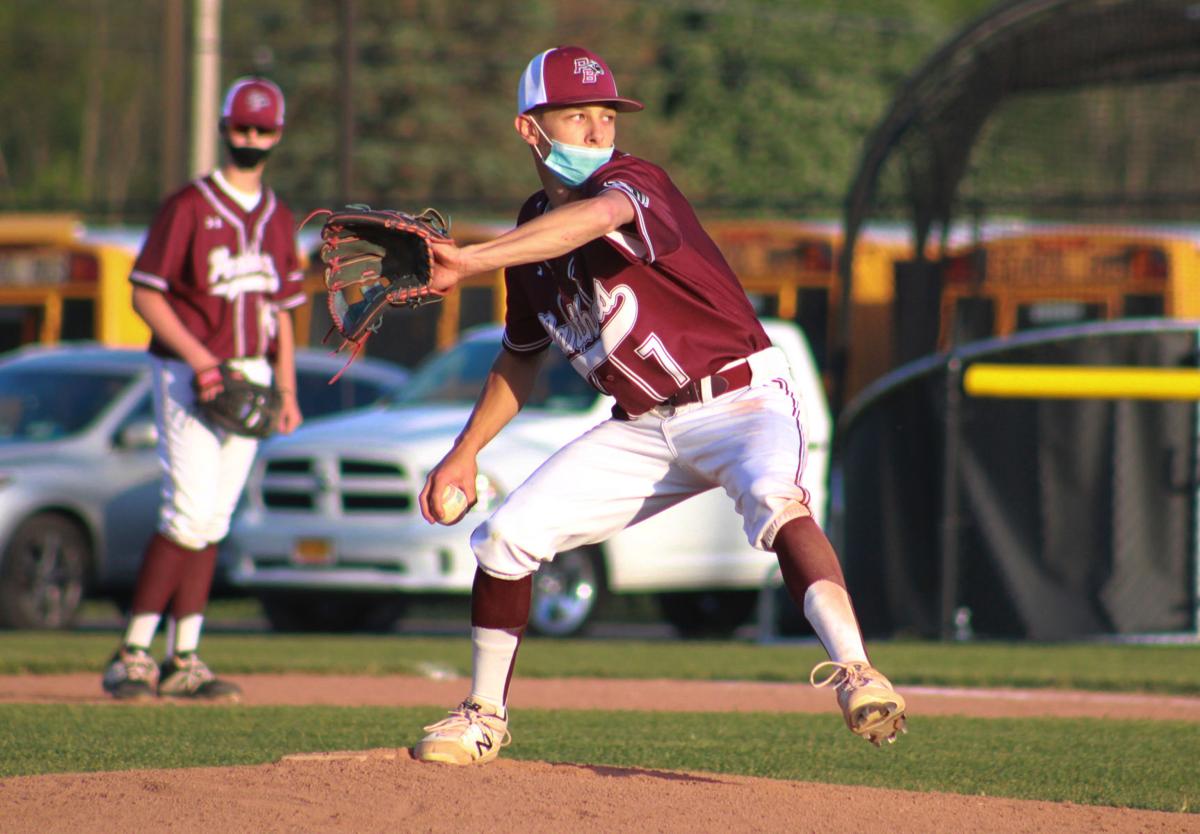 PORT BYRON — It was hardly the start he wanted to his head coaching career at Port Byron. 
Taking over the varsity baseball team following its split with partner Union Springs, Panthers coach Angelo Biondo watched his team suffer through a no-hitter in their first game of the season. 
That performance seems light years away now. Facing unbeaten rival Weedsport, Port Byron was a hitting machine. Guided by a four-run second inning, the Panthers earned a 7-3 win on Thursday in Port Byron. 
"Obviously the first time out in that game against Bishop Ludden was tough, but we came back and learned hope to cope with adversity," Biondo said. "It was kind've a wake up call. Our guys learned to play with more heart and learned to battle.
"To show a rival school what they really have after getting beat 4-0 by them (earlier this season) and them being undefeated, it's a sweet feeling."
The Panthers' offensive explosion in the first three innings provided time for starting pitcher Brandon Relfe to settle in. Relfe allowed two hits and three walks in the first three innings while his defense coughed up an error. Those baserunners resulted in three runs. 
That was all Weedsport would manage on the night. Only one more baserunner reached in the final three innings of Relfe's outing, and eighth-grader Connor Usowski struck out two in the seventh to close it out. 
"We knew it would be a battle. We knew it'd come down to who was gonna get the two-out hit, who was gonna take it over," Biondo said. "Brandon didn't have his stuff in the beginning, but he really stepped up. He showed why he's a senior leader."
It helped that he was able to support his own cause in the second inning after Weedsport had gained a 3-2 lead. Relfe and Tyler Merkley hit back-to-back RBI doubles to center field in that frame, while Gabe Rhodes, Drew Nolan and Conner Goodrow all reached and scored to give Port Byron a 6-3 advantage. 
Usowski singled and later scored in the third to provide more insurance. 
Weedsport, which entered the game perfect through nine outings, fell victim to a determined Panthers team that was desperate for a win on senior night. The game was stark in contrast to the teams' previous meeting earlier this month when the Warriors picked up a shutout win. 
This time around, Weedsport was held to only three hits as Antonio Tortorello, Joe Guy and Ashton Benedict all recorded singles. Otherwise, it was a quiet night at the office for the bats. 
"Port Byron was inspired tonight. We knew we were going to get their best, no doubt about it," Weedsport coach Rob Matson said. "They came out ready to play, and I feel we did too. They had a couple hard hit balls and balls that found some gaps. That's gonna happen. But I'm proud of our guys and everything we want to do this season is still available to us."
The Warriors will now have little less than a week to stew on what went wrong against the Panthers before returning to action next Wednesday against Cato-Meridian. That doubleheader will serve as a continuation of a prior game that was called off due to rain. After that, one final game against Pulaski remains, and then it's the postseason. 
For a team that hasn't felt any adversity yet this season in terms of losses, Matson expects to learn plenty about his group the next time they take the field. 
"We were in a stretch where we were playing five-inning games. We were tested against Tully the other night and we knew we were going to be tested against these boys tonight," Matson said. "Obviously we would've liked to come out with a win, but there's a lot to learn. We have a lot to improve and I still don't think, despite our good start, that we've played the best we could this year. It's exciting going into the next two weeks, because I know we're capable of a lot."
On Port Byron's end, this season represents a new era for the program. New head coach, new varsity field to play on, new challenges to face. 
As Biondo continues to gain comfort with his players and vice-versa, the sky could be the limit. 
"It's awesome to take over a program, but it's a little scary at first, especially with the off year last year," Biondo said. "You don't know what you're walking into, you don't know who is coming out. It's been amazing to have these seniors who came over fill me in on how Port Byron plays baseball. I know it's tough after splitting with Union Springs, but we know we can play with the best."
Sports reporter Justin Ritzel can be reached at 282-2257 or at justin.ritzel@lee.net. Follow him on Twitter @CitizenRitz.