Twenty years ago, there was no New York-Penn League champion.
Or, it should be said, there was no singular champion.
Three times in the league's near 80-year history, the championship series has been canceled.
Once was in the early days of the New York-Penn League, formerly known as the Pennsylvania-Ontario-New York League.
There was also 2001, when the championship series between Brooklyn and Williamsport was canceled due to the Sept. 11 terrorist attacks.
That season, Auburn's roster was full of eventual major league talent. Future major league all-star Morgan Ensberg was the Doubledays' third baseman, while Keith Ginter went on to have a six-year major league career.
The pitching staff was loaded. Tim Redding, a Rochester native and former student at Monroe Community College, was the ace of a staff that featured future Cy Young award winner Johan Santana and another eventual all-star in Roy Oswalt.
In all, nine players from that team would move on to play in the major leagues in some fashion.
"As I look back ... there's so many guys that got a chance, even if it was just for a stint," said Redding, now a pitching coach for the Hagerstown Suns, a Single A affiliate of the Washington Nationals. "You look back and see why we had such a good team."
At the time, the Doubledays were in one of the final years of their affiliation with the Houston Astros, a relationship that began in 1982 and ended in 2000. Santana, who won the American League Cy Young in 2004 and 2006 with the Minnesota Twins, was a second-year player for Auburn in 1998. That season, he went 7-5 with a 4.36 ERA over 15 starts.
Santana was left unprotected by the Astros in the 1999 Rule 5 draft, allowing the Florida Marlins to select him and flip him to the Minnesota Twins. The rest is history, but at the time, no player knew which teammates would succeed at the higher levels.
"Johan wasn't even really the best pitcher in that staff, and then the next year he was Rule 5'd," Redding said. "He went to Minnesota and flourished.
"It's very hard as a player to think about what your teammates' abilities are and what their future holds, because you're so concerned with giving yourself the opportunity to advance."
Redding carries his own piece of history from that season, as he started the fourth no-hitter in Auburn's New York-Penn League history. In that outing Redding went the first six innings, then gave way to relievers Darwin Peguero and Pete Sullivan to close out the game.
That no-hitter served as the first under the Doubledays nickname, and first since James Wright threw a seven-inning no-hitter for the Auburn Phillies against the Batavia Trojans in 1974.
"At that point in my career I was still throwing the ball hard. I had thrown a couple during junior college season and for me it was just another game, another start," Redding said. "When you're done as a starter, I knew what I had done to that point. I don't care what anybody says, you're looking at the scoreboard.
"I had to go in and do my post-start routine and I came back out for the seventh to the dugout to watch. It was a great accomplishment."
Led by one of the league's top lineups and an above average pitching staff, the Doubledays went 43-32 during the regular season. Auburn finished 1 1/2 games behind the Pinckney Division-winning Oneonta Yankees (45-31), but had done enough to clinch the league's lone wild card position.
That set up a match-up with the Batavia Muckdogs, the Stedler Division winners, in the postseason semifinal. Auburn lost Game 1, but recovered to win the final two games, including Game 3 in Batavia, to earn its shot in the finals.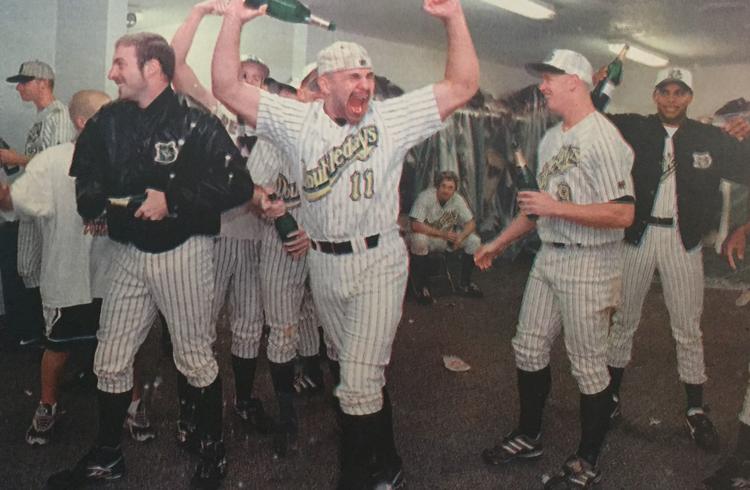 Traveling back to Auburn on the Thruway following Game 3 on Sunday, Sept. 6, 1998, the Doubledays' team bus ran into one of central New York's worst storms in recent memory.
A report from the National Weather Service stated that the "Labor Day Storm" formed around midnight that Sunday evening, and featured a combination of severe thunderstorms and wind gusts of up to 115 mph.
Over 1,000 homes and business were damaged, hundreds lost power and three people were killed. The city of Auburn was in a state of emergency for over 24 hours from Monday to Tuesday.
"It's always one of the topics that come up when I talk to friends and family members about that year," Redding recollected. "On our way back going down I-90, the bus started shaking and rocking back and forth. It was all black, pouring rain and multiple colors of lightning.
"It was pretty terrifying not knowing if we were going to make it back."
Finally reaching Exit 40 in Weedsport, the Doubledays discovered that the way back to Auburn down Route 34 was blocked by fallen power lines and trees. The team bus was forced to retreat back to the Thruway, take a detour to I-81 south and spend the night at a Comfort Inn in Cortland.
You have free articles remaining.
The team didn't make it back to Auburn until 5:30 p.m., Monday.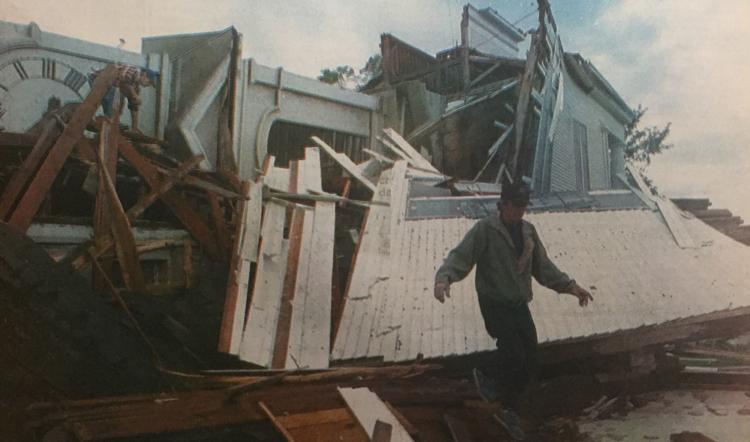 Despite the storm, Auburn still had a date with the division-winning Oneonta Yankees for the league title. As the lower seed, the Doubledays were supposed to host Game 1 at Falcon Park on Tuesday, Sept. 8, while Games 2 and 3 were scheduled for Wednesday and Thursday in Oneonta. 
But because of the storm, Falcon Park was in no shape to host that opening game. Along with issues with the field, there was no power at the stadium and the batting cage was bent "beyond use."
The New York-Penn League could not afford to wait for conditions to improve — an agreement in place with the Professional Baseball Players Association dictated that the season must end by that Thursday, Sept. 10.
Originally, there was a change of plans to have the two teams alternate home games, with Oneonta hosting Games 1 and 3 (if necessary), and Auburn would be home for Game 2. However, Oneonta's field was deemed unplayable and the bank of lights in left field would not turn on, forcing another adjustment. The next idea was to have Auburn host Game 1 that Wednesday, while Oneonta would host a doubleheader on Thursday (if Game 3 was required). 
Paul Taglieri was in his second year as general manager of the Doubledays, and he recalls what a headache that situation was. 
"It's ebb and flow," said Taglieri, now Executive Director of Minor League Facilities for the New York Mets. "You're waiting for calls from the league president, you're talking to their general manager and figuring out what's going on weather-wise, and you're communicating with the Astros and letting the farm director know what's going on.
"You're also worried about the players, and it was about staying on top of that."
Taglieri and Auburn manager Lyle Yates assessed Falcon Park's field around midnight on Tuesday, believing with some work that it would be playable the next day.
Head groundskeeper Rich Wild and his crew arrived around 7 a.m. Wednesday to prepare the field, but the umpires made their assessment at around 10:30 a.m. — eight hours before first pitch was scheduled — and made their decision that the game could not be played.
Auburn was not going to host a championship game. 
Yates called the decision "a travesty" and said "it's ridiculous things that transpired this way." Some believed that the league made their decision in fear that the Yankees would travel to Auburn only for the game to be canceled as restitution for what happened to the Doubledays the previous day. 
Said Doubledays CEO Ann Bunker after the cancellation, "We've been handed a raw deal. This is outrageous. I don't know why (the league) is doing this. Why were the umpires there so early? We shouldn't have to sit and take this. We want the league to know that we're not going to go limping off into sunset and do nothing about this. Our whole organization worked too hard for something like this to happen."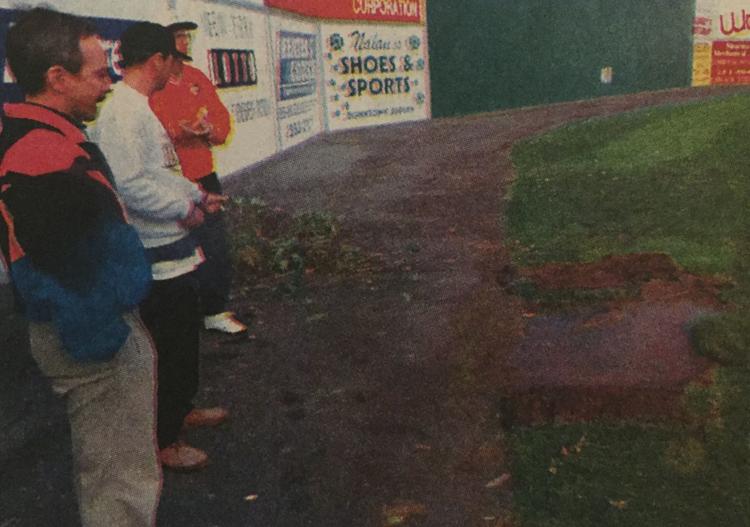 The next plan was for a winner-take-all championship game in Oneonta the following day but, just like the others, that was canceled due to field conditions.
While Oneonta held the division title and a better record, neither team held the best record in the league as that distinction belonged to Hudson Valley. The Doubledays and Yankees also split their season series at seven wins apiece. League president Bob Julian asked the major leagues to allow an extra day for the game to be played, but that request was denied.
Instead, Auburn and Oneonta were declared co-champions.
"Obviously you're upset because you want to win it outright, but you understand," Taglieri said. "Players had to go to their instructional leagues, or a lot of players had to go home after coming from college or high school. You're upset about some things, but you had to let it go and move on. It was still nice getting recognized."
The Doubledays still celebrated their achievement on the final day of the New York-Penn League season, donning shirts that said "Auburn Doubledays 1998 New York-Penn League Champions" on the front and "We earned it" on the back. Team members were also fitted for championship rings.
Said the manager Yates during the celebration, "We are celebrating the championship that these players earned and that they deserved. When the games had to be won, they stepped up and did the job. That's why I was confident if we got to play them one game on the field or two out of three, we were going to come through. As far as I'm concerned, 'co' is not in our vocabulary."
Oneonta had a similar feeling. Yankees manager Joe Arnold told the Daily Star, "We're the champions of this league. Auburn can do whatever it wants but we're not using that 'co' business."
At the time, Redding expressed that he didn't believe much effort was put in to ensure a game would be played. "Any way that the Yankee name can get a championship," he said.
Looking back, Redding explained his comment.
"I grew up a Yankee fan and you know the history, the legend of the team and the pinstripes. That's the Yankees, doing anything to help their brand. That comment was more out of jest because it's the Yankees. It was just that feeling of, 'Oh yeah, figures ...'"
Redding still has his championship ring, one of three he won as a minor league player. Despite the season ending in such bizarre fashion, he remembers that 1998 season fondly.
"Given the circumstances, it's still a pretty exciting honor. We put ourselves in a position to be awarded that championship and share it with the Yankees."