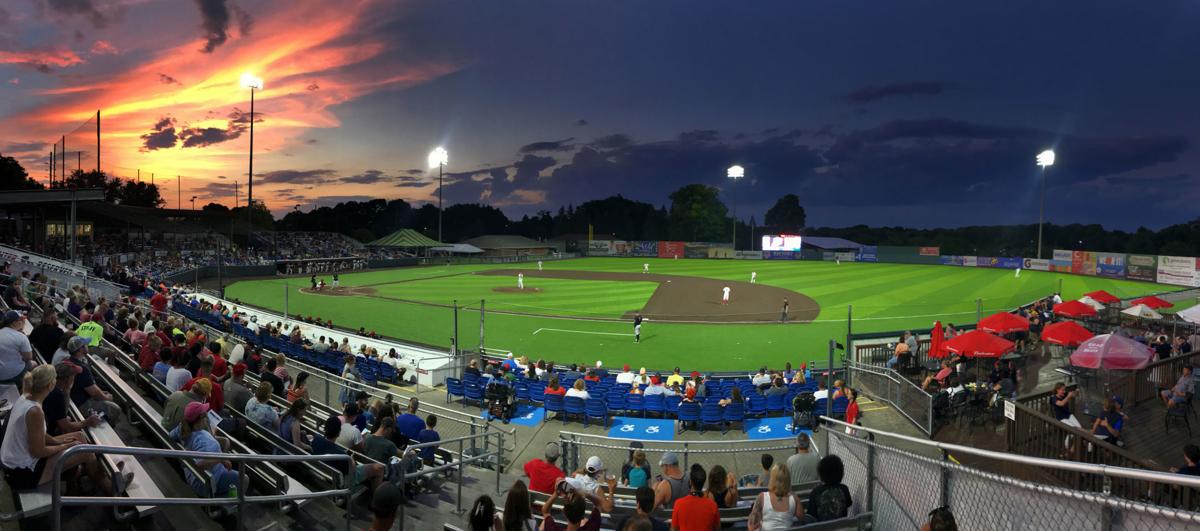 With all due respect to Yogi Berra, it's over for the Auburn Doubledays.
The 2020 season was officially canceled on Tuesday. To no one's surprise, Minor League Baseball announced that its 162 teams won't be playing because of the pandemic.
We all knew that was coming. We've known this was going to happen since late April. There won't be any games this summer at Falcon Park. There won't be a new group of young men, most in their first pro season, taking the field wearing the red, white and blue of our team.
No hot dogs. No beer. No foul balls. No umpire heckling. No cheers. No little kids asking for autographs. No foul balls that become the ultimate sports souvenir (I still have mine from 1994).
And sadly, most likely, never again.
The cancellation of the 2020 minor league season was the first shoe to drop.
The second is a heavy boot that will end more than 60 years of professional baseball in our city.
It may not come this month.
We've known about it since last October that MLB wants to eliminate 42 minor league teams, including Auburn and the New York-Penn League. I've written ad nauseam about it. I've asked our local elected representatives to help. Some tried. I've taken the anonymous New York-Penn League president Ben Hayes to task to SAY SOMETHING, ANYTHING to try to save the league. My colleague Robert Harding tried to talk to Hayes over the last few months but has been unable to reach him.
While writing this column I decided to check again if Hayes is mentioned anywhere on the internet in regard to contraction. I didn't expect to find anything, but incredibly he is quoted in a story on The Batavian website from last week.
Hayes said he would like to see contraction delayed by a year so the New York-Penn League would come back in 2021 for a "farewell season."
"That's my hope," Hayes told The Batavian. "We voiced that to our representatives on the negotiating committee. There are 42 clubs out there that if that plan were to go through, they would have never gotten a chance to have a last season, and that would be very, very sad."
Yes Ben, it would be very, very sad.
Too bad you didn't come out with a statement earlier but I don't blame Hayes for the end of the New York-Penn League. It's not his fault and I'm not trying to make him the scapegoat. Maybe behind the scenes he tried to do something.
A final season would be nice, a proper good-bye. The loyal Auburn fans deserve it. But I've never known MLB to be the sentimental type. Just look what it took to get a 60-game major league season. Ask the players what they think about Commissioner Rob Manfred.
This contraction is about saving money. The owners don't want to pay minor leaguers a fair wage and as a result, they want to whack 42 teams so they don't have to pay about 1,000 low-level players.
The pandemic has caused great financial hardship to many people and businesses. Some of the minor league teams not on the contracted list are going to struggle to survive. Losing the bulk of its season and with it millions of dollars, it is hard to believe that MLB is going to be sentimental and let the Auburn Doubledays and the rest of the New York-Penn League have a farewell season.
If anything, MLB may want to contract more teams and basically go with three levels of minor league ball, Class AAA, AA and full-season A. That would be 90 teams and they could also host cheap instructional teams at their spring training facilities for low-level prospects. Look at how they've cut the amateur draft.
So after what we've seen recently, yeah, I wouldn't expect a farewell season for the Doubledays.
As Yogi also used to say, "The future ain't what it used to be."
Be the first to know
Get local news delivered to your inbox!