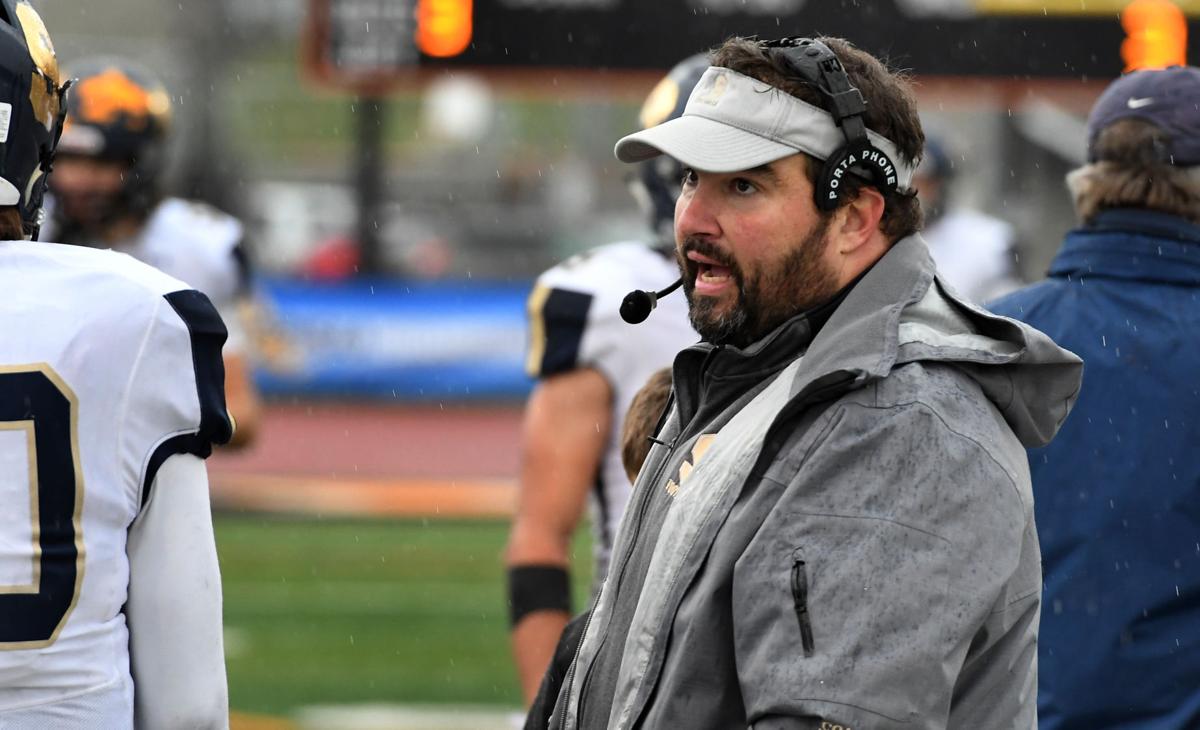 Former Skaneateles varsity football coach Joe Sindoni has filed a lawsuit against the Skaneateles Central School District, claiming he was wrongfully terminated from his position for his alleged involvement in a November pickup football game. 
According to Sindoni's complaint, filed to the Onondaga County Supreme Court, he was informed Jan. 19 that the Skaneateles school district's board of education had voted to relieve him of his position as varsity football coach. The decision stemmed from Sindoni's presence at a Nov. 26 football game that took place on the school district's turf field. 
Tackle football is currently considered a high-risk sport under Gov. Andrew Cuomo's guidelines for sports and recreation. At the time of the pickup game, tackle football games or scrimmages were prohibited in New York state. Flag football is considered a moderate-risk sport, which all types of play are permitted. 
Sindoni's complaint does not reference what type of football was played, but confirms that he attended the game — called the "Turkey Bowl" — to ensure there was adult supervision and that proper protocols were being followed, such as social distancing and the use of facial coverings. He denied that he organized the game.
In his complaint, Sindoni requests that the court orders the district to reinstate him as varsity football coach "unless and until the (board of education) has provided Sindoni with a constitutionally sufficient opportunity to be heard concerning the allegations on which such action is based." 
A court hearing in Onondaga County is scheduled for Wednesday, Feb. 10. 
In a Jan. 25 letter addressed to the Skaneateles community, superintendent Eric Knuth wrote that the school district had made a personnel change in conjunction "with events that transpired over Thanksgiving break."
"These gatherings jeopardized the safety of students, faculty, and staff and contributed to conditions that eliminated our ability to provide continuous in-person instruction. In the weeks following Thanksgiving, we received notice of 38 infected individuals and the subsequent quarantine of over 100 Skaneateles students, faculty, and staff," Knuth's letter said.
Sindoni's complaint claims that, because he was not afforded an opportunity to address his presence at the football game, his reputation has suffered "irreparable harm" in the community. He is employed as a financial advisor in Skaneateles, and said some of his clients "believe he recklessly exposed students to the transmission of the virus."
During Tuesday's board of education meeting addressing the personnel change Sindoni was not mentioned by name, but board Vice President Michael Kell read several letters from the Skaneateles community expressing support for "the coach" involved in "the football situation."
During a Feb. 2 meeting, Skaneateles Board of Education Vice President summarizes and reads comments from the community and student athletes i…
In one letter, read by Kell, an unnamed student-athlete wrote that "this recent news has been really heartbreaking for me and my teammates. Many of us haven't been able to sleep and are wondering why something like this would happen to someone who has worked so hard for the betterment of the team and every player on it."
Kell also referenced letters from the community voicing approval of the school district's actions, before stating that the district would not comment further due to ongoing litigation. 
Sindoni, who declined The Citizen's request for further comment, has been Skaneateles' varsity football coach since 2015. He led the Lakers to a state title in 2017 and a state semifinal berth in 2018. 
Prior to his most recent tenure at Skaneateles, Sindoni also coached the Lakers in 2012 and at Cicero-North Syracuse for two seasons from 2013 to 2014. Sindoni was terminated from his position at C-NS in March 2015 and was rehired at Skaneateles that June.
On its website, the Skaneateles school district has listed "Boys Varsity Football Head Coach" among its current openings. Skaneateles' varsity football team is expected to take part in Section III's Fall II season, which is tentatively scheduled to begin March 1.
Sports reporter Justin Ritzel can be reached at 282-2257 or at justin.ritzel@lee.net. Follow him on Twitter @CitizenRitz.