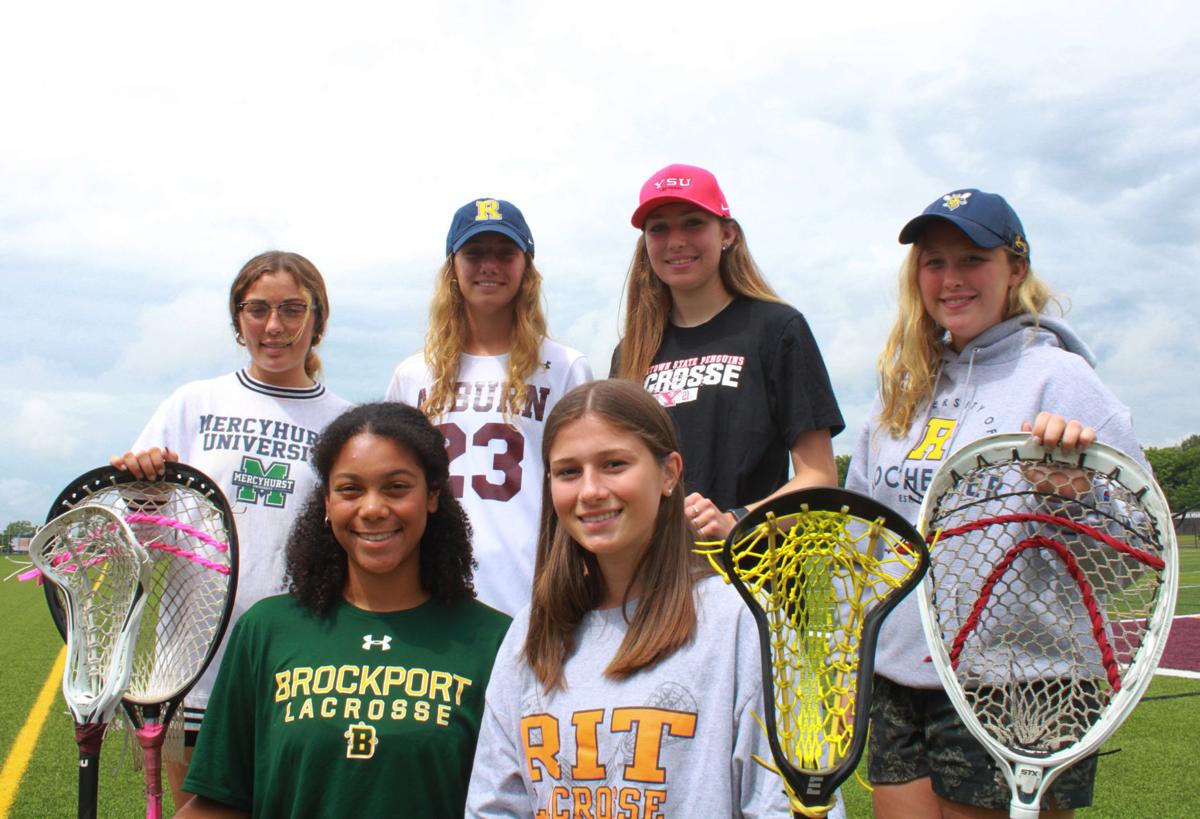 Each academic year, Auburn High School holds signing ceremonies for senior student-athletes who commit to play college sports. 
The Maroons' girls lacrosse program, which typically has senior classes as deep as eight or 10 players, would often introduce a handful of players that planned to move on to the next level. 
The 2020-21 senior class has upped the ante. All eight of the Maroons' senior players will advance to the college level this upcoming fall, the latest signal in Auburn's transformation into one of central New York's girls lacrosse powerhouses.
The players who recently made program history by winning the Section III Class B title with an undefeated season — the first championship in program history — shared with The Citizen their processes for college commitments. 
— Quinn Brady, University of Rochester: Brady, a goaltender, had a connection to the U of R through her father who played college football there in the 1990s, and through her club coach who also coaches there. "She's one of my favorite coaches I've ever worked with and the academics there are great," Brady said. 
— Alayna Foos, SUNY Brockport: Foos chose Brockport due to the welcoming nature she felt from the coaching staff, and also sought out the college's exercise science program. 
— Natalie Calandra-Ryan, Youngstown State University: Fresh off her 200th career goal, scored in the section title game, Calandra-Ryan said she was attracted to Youngstown State because of the newness of the program. The Penguins recently completed their inaugural season. 
Said Auburn coach Bill Dean of Calandra-Ryan, "She definitely had other schools looking at her and had the pick of the litter. It's a testament to her that she wanted to go on a journey with those coaches. I think she sees it as a good opportunity to get in on the ground floor and build something. Nat likes those challenges and likes to push herself."
— Ella Doan, Rochester Institute of Technology: Doan picked RIT for the physician's assistant program and is excited to work with new Tigers coach Erin Wagner. "The academics are great and they have a fairly new coach that I've heard awesome things about," Doan said. "Everything about it seemed right."
— Gracie Giannettino, University of Rochester: Giannettino, one of Auburn's assist leaders, sought out U of R because of the open curriculum and because of a positive experience from her visits. "There's so many options for what I could do, and I loved the atmosphere around campus. All the girls were great when I went for my visit," she said. 
— Paige Maneri, Mercyhurst University: Maneri, another goaltender, plans to study business intelligence, but also appreciated Mercyhurst's college atmosphere. 
— Abbie Izzo, Harvard University: Izzo caught the attention of Harvard's coaching staff at a prospect day back in the fall. Izzo, who was recently named an All-American, said she's been in contact with coaches throughout the last several months and is hoping to hit the ground running. "They didn't have the last two seasons, so we're really far behind compared to other Division I schools. They want us to come in prepared," Izzo said. 
— Anna Montgomery, Le Moyne College: Montgomery joins a Dolphins program that went 13-1 in 2021 and made an appearance in the Northeast-10 conference championship. 
In the NCAA, coaches are prohibited from contacting high school players prior to September of their junior year, which for this group was only months before COVID-19. The pandemic either through a wrench into their plans, or made their decisions easier.
Giannettino, for example, said she was set on U of R from the early going because of the uncertainty of summer recruitment leading into her senior year. 
Doan pointed out that because there was no 2020 season — this group's junior year — she didn't have much film to use as a recruiting tool, which led to her committing later than most. She said her parents filmed some tournament highlights last year on their iPhones. 
"It was a harder process with COVID, for sure," Doan said. 
Dean also reflected on COVID's impact, particularly with how it affected his two goalies, Maneri and Brady, each of whom had limited exposure during their interscholastic careers. Neither had a junior season, and while splitting time in net this year, it was rare to face more than five shots against in a game. 
Along with scouting that happens during summer tournaments with their club teams, Dean said college programs are more likely to take a flyer on a player who comes from a high school program with a pedigree. He mentioned other central New York schools like West Genesee and Skaneateles as having those reputations for potential college talent, and that Auburn hopes to achieve similar respect from college programs. 
Mercyhurst, where Maneri will attend school, is an example of that Auburn pipeline. Former Maroons Julia Rescott and Gabby McGinn played for the Lakers this season. 
"A lot of that is the offseason work and attending those prospect days. Coaches can see players that way, even if you're a backup on your high school team," Dean said. "If we can build our program name to the height of a West Genny or B'ville or Skaneateles, I think coaches are more apt to take a shot at a kid."
Dean also hopes that this year's senior class, as well as many of the seniors from past teams that moved on to play in college, can serve as inspiration for parents looking for a sport to involve their children in. 
Girls lacrosse, he said, can allow one to pursue their dreams.
"That's what you want as a parent," Dean said. "If you can hold that passion and love for the game, and if you work hard, those opportunities are going to be there. Hopefully we keep having kids that move on to play in college, and then continue their relationship to the game after that, whether it be through coaching, reffing or whatever it is."
Sports reporter Justin Ritzel can be reached at 282-2257 or at justin.ritzel@lee.net. Follow him on Twitter @CitizenRitz.