Following qualifying events held last weekend, Cayuga County-area men's and women's bowlers will take to the lanes this weekend to begin match play in the annual The Citizen Masters tournaments.
Men will be bowling at Starlite Lanes in Aurelius on Saturday and Falcon Lanes in Auburn on Sunday. The 64-person field was established following qualifying last weekend at Cedar House Lanes, with 136 bowlers having entered.
Women's qualifying, which was used to establish seeding in the xxxx-person field, took place at Starlite Lanes. Match play starts Sunday at Cedar House Lanes.
Champions in both tournaments will be crowned the weekend of Jan. 19-20 at Rainbow Lanes in Weedsport.
Here are qualifying results and opening-round matchups for both tournaments, which use a double-elimination format:
2019 The Citizen Masters Men's Bowling Tournament:
Jan. 5-6, Cedar House Lanes
Mike Suarez (2018 champion) 623
1 p.m. Jan. 12, Starlite Lanes
Mike Suarez vs. Dale Weigand
Justin Lasher vs. Joe Nadherny
Chris Binns vs. Pat Donahue
Jim Locastro vs. Jim Dries
TJ O'Donnell vs. Lee Burnett
Barry Marginean vs. Tyrone Jackson
Jerry Locastro vs. Ed Clark
Mike Prior vs. Dan Guzalak
John Ashby vs. Brandon Kulis
David Caci vs. Jason Schultz
Steve Walawender vs. Lou Liberatore
Dave Barski vs. Steve Phillips Sr.
Joe Willis vs. Chris Lugo
Shane Ellis vs. Shawn Murphy
Becca Young vs. Brian Brooks
Mike Walker II vs. Ted Phillips
Nicholas Downer vs. Ed Hall
Josh McBride vs. Sean Mott
Brian Connors vs. Mike Fallat
Duane Slater Jr. vs. Chris Kustyn
Mike Dries vs. Mike Pucino
Ernest Hyde III vs. James Abulencia
Jeff Matty vs. Corey Dockstader
Ryan Gabak vs. Josh Darling
Joe Traver Jr. vs. Wayne Clark
Rick Lambrecht vs. Kevin Lukins
Cory Slater vs. Jim Melfi
Scott White vs. Ryan Bitter
Jordan Kensinger vs. Mike Wilczek
Tom Winslow vs. Rodney Squires
Tom Lloyd vs. John LaRock
Mathew Rooker vs. Ed Wasilenko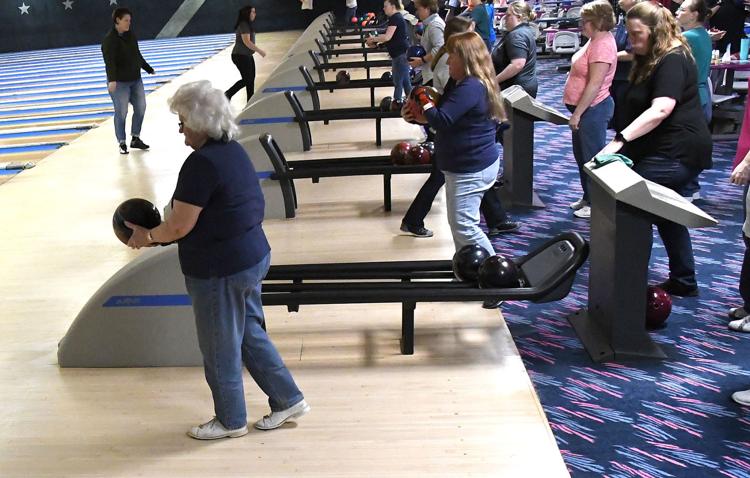 2019 The Citizen Masters Women's Bowling Tournament:
10 a.m. Jan. 13, Cedar House Lanes
Loretta Lees vs. Karen Nadherny
Paula McCartney vs. Diane Ashby
Callie Caci vs. Chelsea Clark
Bonnie Sherboneau vs. Susan Burns
Tori Colosimo vs. Ann Fenton
Denice Hall vs. Stephanie Piechuta
Renee Quick vs. Lisa Rouse
Joan Ashby vs. Jodie Binns
Qualifiers 1-8 get a bye and will bowl winners of the above matches in the second squad. The losers of the 10 a.m. squad will bowl in the second squad.