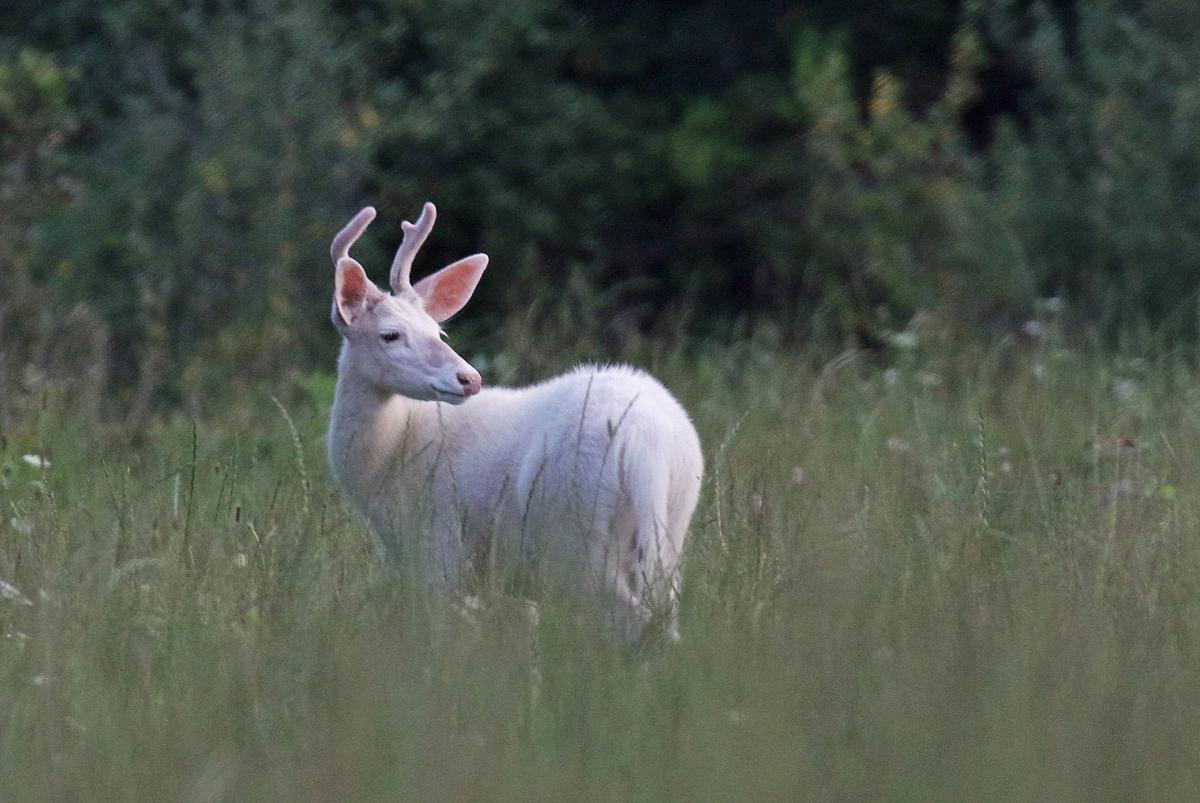 After more than 20 years of effort by a dedicated group of volunteers, Seneca White Deer has established regular tours to showcase the white deer and military history of the former Seneca Army Depot.
"We raised more than $225,000 from private donations to build the new John and Josephine Ingle Welcome Center," says Seneca White Deer President Dennis Money. "And we are operating 12 months of the year and until December are operating from Wednesday through Sunday."
Seneca White Deer does need help to fund one or more of the following projects as it continues to improve upon its great start: buying a "new" used tour bus that is handicapped accessible, expanding the bathroom facilities, increasing the educational programs by adding staff and class room materials, and purchasing an electric vehicle for photo tours as well as private tours.
Anyone wanting to donate should make checks out to "Seneca White Deer Inc." and mail to Seneca White Deer, 5479 Route 96A, Romulus, NY 14441. Because Seneca White Deer is a 501c3 not-for-profit corporation, any donation is tax exempt.
CANADA GEESE HUNT TIPS
Our resident Canada goose population has grown to an estimated 238,000 birds statewide. These resident geese do not migrate significant distances from northern breeding grounds to more temperate wintering grounds. As a result of the proliferation of this resident goose population, they have become a nuisance in parks, golf courses, cemeteries and other public areas. State Department of Environmental Conservation biologists have concluded that a more acceptable number of resident geese in New York would be at or below 85,000 birds.
DEC is farther from that goal now than it was in 1999 and continues to seek practical and effective ways to reduce the population. Most important among these is goose hunting, which results in an estimated harvest of 50,000 to 100,000 geese annually across New York state. However, this is not an option in many urban and suburban areas, so capture and removal programs have become necessary. The department also provides information on a wide variety of goose management techniques to help alleviate problems caused by the geese at airports, beaches, drinking water supplies, farms and countless other places across the state on the Nuisance Canada Geese page of the DEC website.
The September Canada goose season is like a pre-season football game. It's a great time to get practice and check out your hunting gear to hunt those migratory birds later on during the regular goose season. Hunters should not underestimate these resident geese. They can be smart, adaptable and extremely sensitive to hunting pressure, making them a challenge to hunt. Successful early season goose hunters plan and prepare a hunting strategy to hunt these geese.
Observe and determine their pattern: The resident geese are not like the migratory geese that feed in different field for a few days before moving on. The local geese have lived here all year and know where the best feeding areas and water sources are to roost. You have to learn exactly when and where these geese have been going a few days before you hunt them. Once you identify their feeding field and roosting area, locate the best place to hunt them.
Plan to be mobile: During the warmer weather the local geese do not go far from their roosting water source to feed. They seem to like "green fields" such as alfalfa, wheat and grass pastures, or if there is one nearby,  a chopped corn field. Plan on hunting different areas between morning and evening. Using layout blinds and small decoy rigs, it is easier to pick up and move to another area to hunt. Do not over-hunt one field or the resident will figure it out real quick and move to another feeding area. Locate several areas you can hunt on any given day depending on the wind, hunting pressure and seasonal farming practices.
Use fewer decoys: Flocks of resident geese do not usually exceed more than a few dozen birds. When you see them on the ground they cluster in family groups of three or four birds. Scouting is important when it comes to settng up your decoys. You want your decoy spread to look just like the geese when they are in the field you are going to hunt. If you are not sure, the key is to set up these small family groups.
Call sparingly: Early-season geese know where they are going. They have definite travel routes and locations to feed and roost. Excessive calling is not needed to make them land; using slow, relaxed, low honks, clucks and moans will do the trick. Watch the geese and react to what they are doing, particularly the lead bird. If you are getting reaction out of how you are calling, keep making that sound.
Find where they roost: If you can find the roosting area, you can locate multiple feeding areas to hunt in the morning and evenings. Hunt the fields around the water source. Once you hunt them on that roosting area the geese will most likely leave. You will have to find where the geese relocated. Hunting the geese on the roosting area should be your final hunt on this particular group of local birds.
MALLARD NUMBERS DOWN
The Mallard duck has been one of the most abundant and sought-after ducks in New York state and most of the Atlantic Flyway. This has not always been true, but the "green head" population really increased from the 1970s through the 1990s. The population is now declining. In the northeastern United States the mallard population has declined from a high of nearly 900,000 in 1998 to approximately 450,000 in 2017. In New York state the breeding population has declined from a high of 236,000 birds in 2002 to a low of 122,000 in 2017, a 48-percent decline. There are several theories for the decline, but biologist have not determined the exact reason. As a result of this, a two-mallard daily limit is being discussed for the 2019-2020 season.
Anyone interested in a thorough update on the mallard duck and its decline should read an excellent article by DEC biologist Josh Stiller in the August 2018 issue of the New York State Conservationist magazine titled "Mallard Decline: Cause & Action." You can find the article at www.dec.ny.gov/docs/administration_pdf/0818mallards.pdf
PUBLICATION ON CHRONIC WASTING DISEASE
DEC's Division of Fish and Wildlife, in cooperation with the state Department of Agriculture and Markets, has recently published an informational document on chronic wasting disease titled: "New York State Chronic Wasting Disease: Prevention-Surveillance-Response." The document will inform hunters about the basic facts of CWD, what they can do to prevent its spread and what DEC is doing to protect the state's deer herds. The publication can be found on DEC's website at: https://www.dec.ny.gov/animals/7191.html. Copies can also be picked up from the Regional Wildlife Offices.
NUISANCE WILDLIFE CONTROL OPERATORS
In early July, Environmental Conservation Officer John Lifrieri received a call from a certified nuisance trapper that another nuisance trapper from Tioga County had left squirrel traps at one of his customers' homes and had not returned to check or retrieve them. ECO Lifrieri confirmed that the nuisance trapper hadn't returned to the residence since May, and had left two cage traps in different locations near the house. Further investigation determined that the trapper had not held a valid nuisance license since 2015, and had a history of violations with DEC. ECO Lifrieri discovered that ECO Stan Winnick from Tioga County had dealt with this business in late June for similar issues in a different location. Working together, ECOs Lifrieri and Winnick located the nuisance trapper and issued him numerous summonses for illegally taking and possessing wildlife, commercially trapping without a license, failing to tag a trap, and multiple counts of failing to check traps in both the village of Oxford and the town of Big Flats. In addition to dealing with DEC's Division of Law Enforcement, the business has faced violations from the New York Attorney General's Office and the Better Business Bureau. DEC's Special Licensing Unit has denied the company a renewal of its nuisance wildlife control operating license, as well.
DEC will license individuals to take or trap, transport and release wildlife whenever the animal becomes a nuisance, destroys property or threatens public safety. The individual can conduct these activities for commercial purposes or as an employee of a municipality. To obtain the Nuisance Wildlife Control Certification, the individual has to pass a test given by DEC with a score of 80 percent or higher.
If you have a nuisance wildlife problem, visit DEC's nuisance wildlife page at www.dec.ny.gov/animals/7005.html for information on the best practices for landowners to repel, control or prevent problems with unwanted wildlife. Often a simple act will stop your problem. There are also sites on the page to help you locate a local wildlife nuisance control operator, and whether or not you need a permit or license to legally trap or shoot the nuisance wildlife on your own. You can also contact the Regional DEC Wildlife Office to make sure you are hiring a properly licensed operator.
DEC STAFF VIDEO SERIES
The DEC's "On the Front Lines" is a series of videos profiling staff and their work to conserve the environment, protect New York's natural resources and serve the public.
"We are proud of this series, which gives the public a behind-the-scenes look at the great work our dedicated employees do every day across the state to preserve and protect the environment for generations to come," DEC Commissioner Basil Seggos reported in a recent press release. "It's an opportunity for New Yorkers to learn more about the issues we tackle in their communities so that we can all reap the benefits of a healthy environment. A special thanks to DEC Fish & Wildlife Biologist Kristen Dieterle for her work identifying potential contaminants in New York's waterbodies."
The latest episode features Fish and Wildlife Biologist Kristen Dieterle and a team of her coworkers from the Bureau of Ecosystem Health using a process called electrofishing to collect fish from the Hudson River in order to monitor potential contaminants in the water. The video can be viewed at youtube.com/watch?v=dZJMWJA6czs. Once collected, the fish are processed and then sent to a lab to be tested for potential contaminants. Results that show contamination can lead to fish consumption advisories, the clean up of contaminated sites, or other actions.
Wayne Brewer is a past president of the New York State Outdoor Writers Association. His outdoor column is published the first Sunday of each month in The Citizen and at auburnpub.com. Please send any information about scheduled events and meetings at least one month in advance to brewersoutdoorcolumn@gmail.com.
Be the first to know
Get local news delivered to your inbox!