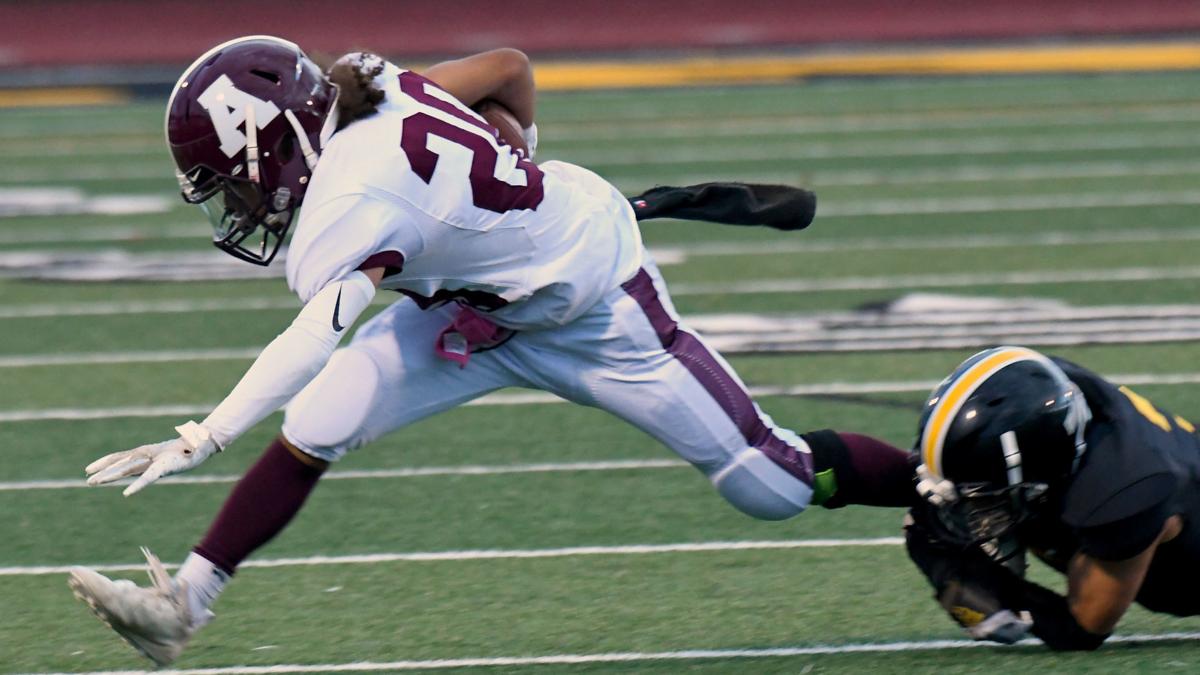 It was a strong opening week for most of Cayuga County's football teams. Five of the six area squads that began play earned victories, some in very decisive fashion.
This week, two area teams will host unfamiliar foes, while two others will butt heads in the first county match-up of the season. 
Here's what's going on in Cayuga County-area football in Week 2:
Auburn (1-0) vs. Penfield (1-0), 6 p.m. at Holland Stadium
The Maroons survived a slugfest at Henninger last Friday, emerging with a 16-14 win. Auburn's defense was dominant, led by a 13-tackle, 3-sack performance from senior linebacker Owen Spearing. Offensively, the Maroons did just enough to win. Quarterback Troy Churney hit receiver Shaheed Beal for a 6-yard score in the first quarter, then Churney rumbled in for a 15-yard touchdown in the third quarter, which was ultimately the difference.
Next up is a rare meeting with Section V's Penfield, who should be well-rested after a 44-0 win over Rochester's Edison Tuesday, Sept. 3. With a win, Auburn would start 2-0 for the third time in four years.
Port Byron/Union Springs (1-0) vs. Cato-Meridian (1-0), 7 p.m. at Alberici Field in Port Byron
Two longtime Cayuga County rivals meet coming off decisive wins in Week 1.
Facing defending Class D champion Herkimer, the Blue Devils rode three TDs from Konar Witkowski to take down the Magicians 31-14. Cato-Meridian was also strong in the other two phases: The Blue Devils recovered a fumble on Herkimer's first play from scrimmage that led to one score, and then blocked a punt to end the Magicians' second possession leading to another score.
Cato-Meridian finished with four turnovers.
Under first-year head coach Collin Dillabough, Port Byron/Union Springs stomped Utica Notre Dame 25-0 for the program's first win since 2017.
Moravia (1-0) vs. Hannibal (0-1), 1:30 p.m. Saturday at Scarry Athletic Complex in Moravia
In another out-of-section match-up, the the Section IV Blue Devils can match their win total from 2018 by beating the Warriors.
Moravia romped Bainbridge-Guilford in its opener thanks to three touchdown passes from Kyle Witten, two of which came in the first quarter. The Blue Devils' defensive was also steady, holding Bainbridge-Guilford to 5-of-17 for 29 yards through the air.
More big plays could be in store for Moravia against Hannibal. Two of the Blue Devils' three scores last week were 40 or more yards.
Skaneateles (1-0) vs. Canastota (1-0), 7 p.m. at Skaneateles High School
So much for inexperience. The defending Class B champion Lakers had no problem in their first game back in Class C last week against Holland Patent, dropping 55 points on the reigning section champs.
Sophomore quarterback James Musso was stellar in his debut, throwing for seven touchdowns and 329 yards. Musso's touchdown total ties the Section III single-game record, matching former Lakers QBs Patrick Hackler and Troy Green.
As expected, Musso leaned on all-state receiver Nick Wamp, who hauled in five receptions for 225 yards and three touchdowns.
Skaneateles will have its hands full with Canastota, as the Red Raiders are also coming off a 50-point performance in a win over General Brown.
Somehow, the Lakers will need to find out how to stop Canastota's Greg Olden. Olden, a senior wide receiver, scored four touchdowns in Canastota's opener: one receiving, one rushing, one on a kickoff return, and one on a fumble recovery.
The winner of this game could be the team to beat this year in Class C.
Jordan-Elbridge (0-1) vs. Herkimer (0-1), 7 p.m. at John Howes Stadium in Jordan
The Eagles' offense got off on the wrong foot last week in a 50-8 loss at Lowville, and a better performance will be needed if J-E is to beat another winless team in Herkimer. 
Against Lowville, J-E suffered a safety in the first quarter for the first points of the game, and it wasn't until the score was 50-0 that the Eagles recorded their first touchdown, a 13-yard run by Seth Gelling in the fourth quarter. 
Like J-E, Herkimer will be desperate for a win after losing to Cato-Meridian by two scores last week. 
Sports reporter Justin Ritzel can be reached at 282-2257 or at justin.ritzel@lee.net. Follow him on Twitter @CitizenRitz.
Be the first to know
Get local news delivered to your inbox!