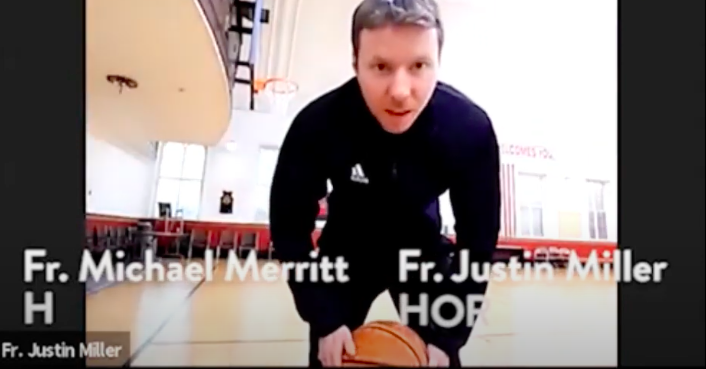 An Auburn priest laced up the sneakers to play a virtual game of H-O-R-S-E to provide some entertainment during the coronavirus pandemic. 
Titled "Holy HORSEplay," the videos appear on YouTube and feature the Rev. Justin Miller of St. Mary's Church in Auburn challenging other priests from the Diocese of Rochester. 
In the first episode, which went online Sunday, Miller challenged the Rev. Michael Merritt of the St. Francis and St. Clare Parish in Waterloo and Seneca Falls. 
During the video, Miller and Merritt took brief intermissions to discuss Merritt's beginnings in priesthood and their faith. 
Among the attempted shots during H-O-R-S-E were jumpers, reverse-layups, runners, 3-pointers and a trick shot. Miller was the first to complete H-O-R-S-E, unable to match Merritt's shot from behind the backboard. 
The video also begins with a message from Major League Baseball player Tim Locastro, an Auburn native, offering words of encouragement to CYO players who were unable to have their season-ending banquet this season. Locastro, a member of the Arizona Diamondbacks organization, was sent home from spring training in March when concern over the coronavirus rapidly grew. 
"I used to play CYO for both St. Mary's and Sacred Heart, and I know how much fun and how important it is to you guys," Locastro said. "I also think it's very important to follow the guidelines set by state officials requiring that we stay inside and also practice social distancing. Hopefully very soon we'll be back outside and playing the sports we love, and I'll continue to live out my dream playing Major League Baseball. Stay healthy and I hope to see you guys soon."
Currently all public Masses at churches in the Diocese of Rochester are suspended until further notice due to COVID-19, though some churches like Sacred Heart, St. Mary's, St. Francis and St. Hyacinth are open daily for personal prayer.
During one of the intermissions, Miller asked Merritt how people should carry on during the pandemic. 
"I would ask people to continue to pray for those that are suffering, continue to lend a helping hand the best you can," Merritt said.
The next episode in the series will feature the Rev. Nathan Wayne, an Auburn native who currently serves in Madrid, Spain. 
Sports reporter Justin Ritzel can be reached at 282-2257 or at justin.ritzel@lee.net. Follow him on Twitter @CitizenRitz.
Concerned about COVID-19?
Sign up now to get the most recent coronavirus headlines and other important local and national news sent to your email inbox daily.