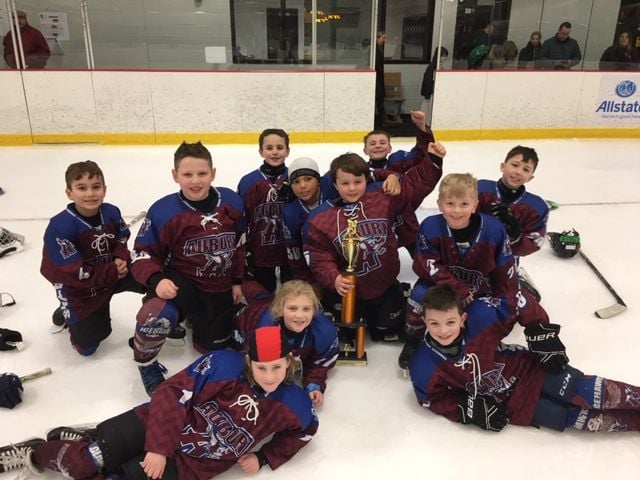 The Auburn Ice Hawks Mites (white) team captured a tournament championship in Rome this weekend, defeating Clifton Park 8-3 in the final game.
In the championship, Evan Maloy paced the offense with three goals and one assist. Ryan Padula, Gavin Wakeham, Lilly Jones, Morgan Winslow and Greg Bates also tallied goals. Mason Winslow picked up three assists. Connor Wilcox made 10 saves.
Auburn began the tournament with a 1-0 loss to Rome #2, with Wilcox making 11 saves.
Saturday's first game ended in a 2-2 tie as Auburn faced New Hartford. Padula and Evan Bulla scored, while Peter MacIntyre and Wakeham earned assists. Wilcox recorded 13 saves.
Auburn slipped by Rome #1 2-1 in the second Saturday game. Maloy and Morgan Winslow were the scorers. Nate Forward, Bates and Maloy earned assists.
In the semifinals on Sunday, Auburn faced Rome #1 again and skated to a 3-0 victory. Bates scored twice and Wakeham netted the other. Padula and Mason Winslow were both credited with two assists. Wilcox made 18 saves.
Auburn 5, Whitestown 0; Auburn 7, Whitestown 1: The Boyle & Anderson Ice Hawks took down Whitestown in a double-header.
In the first game, Mason Jones earned a shutout with 11 saves. Nico Tardibone scored twice while Jack Pineau, Carter Mizro and Mason Vitale all added a goal. Owen Kime posted two assists while Tardibone, Mac Maher and Owen Birchard chipped in with one.
In the second game, Tardibone, Pineau and Aiden Tomandl all picked up a pair of goals, while Birchard tallied one. Tardibone also recorded two assists, while Pineau, Tomandl, Mizro and Joey Lott had one assist. Jones made 13 saves.
Auburn is 25-4-6 this season.
Auburn 7, Center State 0; Auburn 2, Ithaca 1: Simmonds, Brady & Loi Oral Surgery was led by two goals apiece from Max Laraway and Judah Young against Center State Friday. TJ Pisciotti, Deirdre Hastings and Teagan Wilbur also scored. Laraway also recorded two assists. Ryan Maher and Matthew Hoey were credited with assists. Jonah Young picked up the shutout with 17 saves.
Against Ithaca, Judah Young and Laraway scored. Wilbur and Penelope Ferguson had helpers. Jonah Young made 23 saves.
Auburn 5, Corning 4; Elmira 10, Auburn 2: In the win against Corning, Siracusa Mechanical was paced by Kingston McGuire and Luke Siracusa (assist) with two tallies each. Addison Baier chipped in with a goal and an assist. Aiden Weaver, Josiah Freier and Morgan Cuthbert finished with assists. Tanner Marcellus made 13 saves.
Siracusa and Tristan White scored in the loss against Elmira. Marcellus made 16 saves.
Auburn 9, Lysander 4: Auburn Community Hospital was led by a hat trick from Ryan McKay. LT Tomandl added two goals, while Giovanni Manzone, Ben Chapman, Zach Jones and Mason Horsford all added one. Tomandl and Manzone also earned a pair of assists each, while McKay, Ely Williams and Horsford added one. Anthony Ciampi made 11 saves.
Representing Ruthless Aggression, Brady Maneri, Lucas Maneri and Mason Tanner all placed first at the Josh Allen Memorial Tournament in Slate Hill the weekend of Jan. 25. Brady Maneri came in second in another bracket while earning Most Outstanding Wrestler. At Odessa, Cameron Monahan and Bryce Monahan both won their brackets.
On Sunday, Jan. 26 at Indian River's Fear the Spear Tournament, Ethan Matthews, Alex Pesante, Tyler Teachout and Tanner all came in first in their brackets. Tanner earned Most Outstanding Wrestler. At Mexico's Battle for the Belt, Ben Lamson, Talan Hubbard and Maddie Westerberg all placed first, and Alex Lamson took third.
Fingerlakes 4, Auburn 1; Valley 3, Auburn 0: Mason Jones recorded games of 37 saves and 36 saves in a winless weekend for Boyle and Anderson. The lone goal of the weekend was picked up by Nico Tardibone, with Evan Moore recorded the assist.
Be the first to know
Get local news delivered to your inbox!