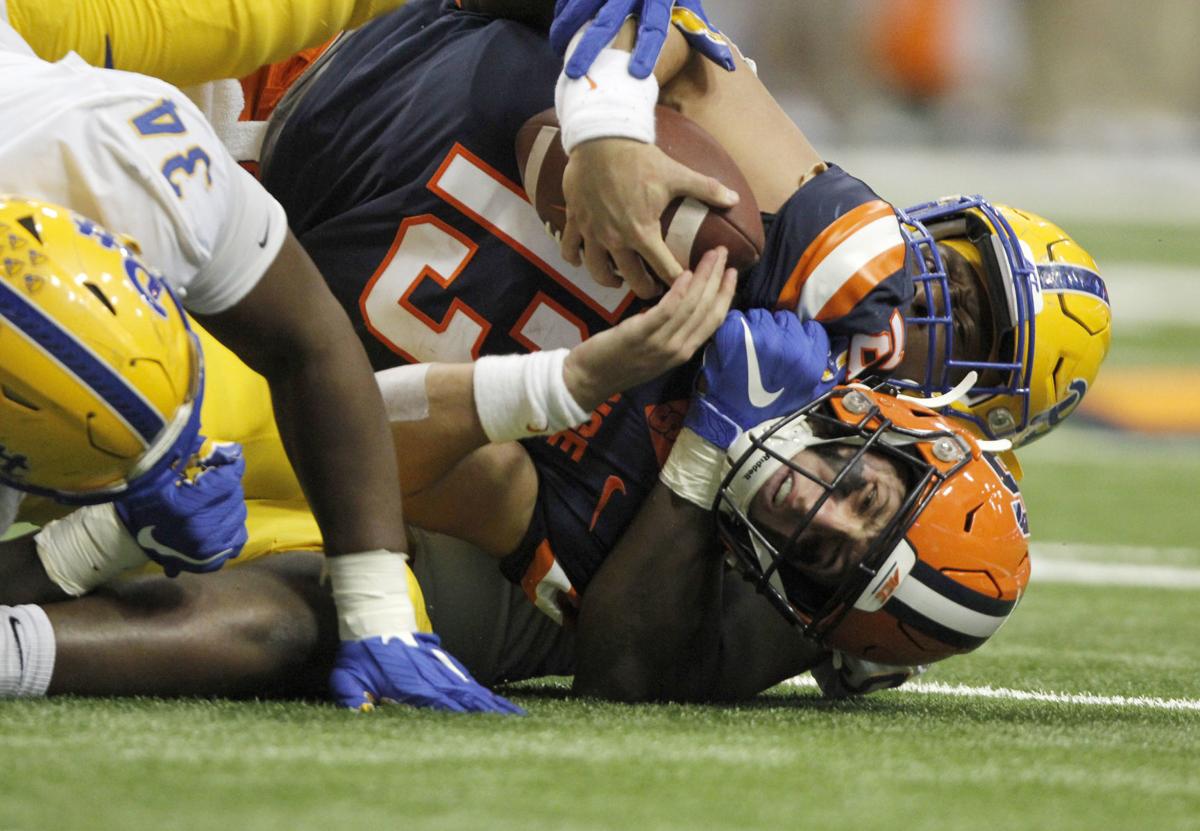 SYRACUSE — Through six games, Syracuse coach Dino Babers refused any notion that someone other than starting quarterback Tommy DeVito deserved a chance to helm the team's offense. 
In game No. 7, however, Babers was willing to at least entertain the idea. 
While backup quarterback Clayton Welch's efforts weren't miraculous, he did provide a large enough spark that Babers must at least reconsider who will start moving forward in what's looking like a forgettable season for Syracuse. 
Welch's statistics weren't spectacular — he finished 8-for-20 with 176 yards, two touchdowns and no interceptions — but the redshirt senior's style of play might be a better fit considering the Orange's supporting cast on offense. Welch gained 62 yards on 10 carries, finishing with a net of 36 yards after taking three sacks of his own. 
"I thought Clayton did a nice job of coming off the bench and doing certain things," Babers said after the game. "It was good to see him get out there as a senior in what might be his last opportunity. This is it, and it was fun to see him out there. I just wish the score would've ended up a little different."
Entering the game against Pitt, Syracuse was fourth-worst in the entire nation in sacks allowed. The Orange's third down percentage sat at 35.29%, which was 11th out of 14 teams in the ACC. 
DeVito was sacked six times, while Welch was sacked only three times. Syracuse didn't pick up any third-down conversions with DeVito in the game, but had five with Welch. 
With Welch in, the plan was simple: throw to the first read or scramble. That worked to some mild success. At times, Welch resorted to chucking the ball deep and hoping for defensive pass interference, and that resulted in three DPIs on one drive alone in the third quarter. 
You have free articles remaining.
Welch isn't the natural thrower that DeVito is, but what good is passing ability when a young offensive line can't consistently block? Welch is 6-5, 243 pounds and, much like former Syracuse QB Eric Dungey, can dish out punishment to would-be tacklers instead of taking it.
"I wouldn't say I really added anything," Welch said. "I've seen Tommy make plays with his legs, and I just had an opportunity. They probably played me a little different. I just went in there and fought." 
DeVito was in for every offensive snap in the first quarter against Pittsburgh. On the first play of the second quarter, Babers sent in Welch on a third-and-2 from Syracuse's own 42, and Welch scrambled for a 23-yard gain. 
Babers continued to sprinkle Welch into the game for the rest of the first half. When Welch threw a 94-yard touchdown pass to Taj Harris early in the third quarter, the rest of the game was his, though an injury to DeVito certainly played a part. After the game, Welch said his cameo appearances in the first half were part of the game plan. His extended stay obviously was not.
With Welch under center, Syracuse nearly pulled off a comeback. He found Aaron Hackett for a 7-yard touchdown with 2:44 left to cut the deficit to seven points. A defensive stop by the defense would've given Welch one more chance to tie the game. 
It wasn't in the cards, as Pitt ran out the remainder of the clock with a first down. 
Lots of eyes were on the redshirt sophomore DeVito entering the season, and it's not easy to take over for Dungey, one of the more prolific quarterbacks in Syracuse history. His own play has been up and down, but DeVito's also suffered from poor blocking by his line and a fair amount of drops from his receivers. 
He's also the program's best option looking past 2019. Welch will be gone. With five games remaining, Babers has a decision to make: should he play the quarterback who needs the experience, or the one who might give him the best chance to win right now? DeVito's injury situation might force his hand, or Babers could decide DeVito gives Syracuse the best chance to win now and in the future. That's been his stance so far. 
Either way, Welch's performance at least gave him something to think about. Quarterback controversy might be a bit strong, but changes could be coming at Syracuse's most important position. 
Sports reporter Justin Ritzel can be reached at 282-2257 or at justin.ritzel@lee.net. Follow him on Twitter @CitizenRitz.