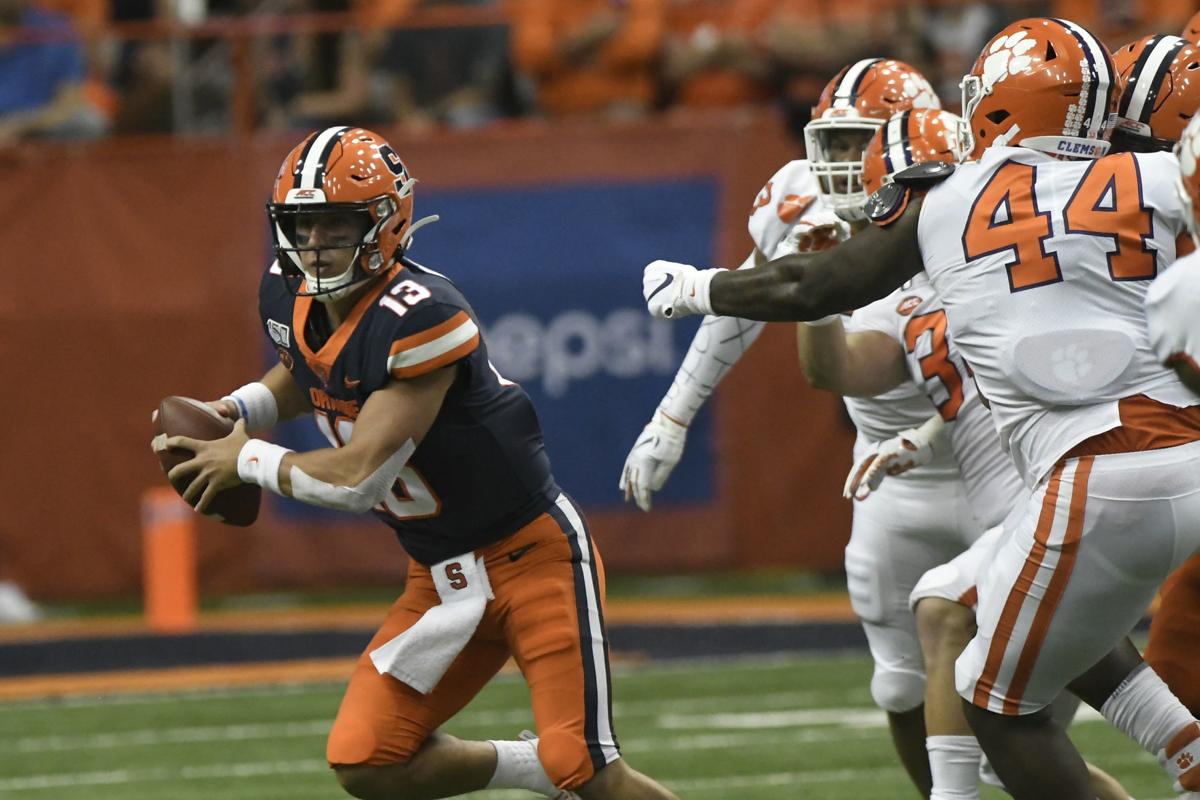 SYRACUSE — Growing pains were expected. 
After winning 10 games last year with one of the top offenses in the nation, Syracuse head coach Dino Babers' attack has whimpered more than it's roared through three games in 2019. 
With a first-year quarterback and a young offensive line, Syracuse is facing an uphill climb to match the production of last year's group. Led by third-team All-ACC selection quarterback Eric Dungey, the Orange averaged over 40 points a game (11th in Division I) and 464 yards per game (19th in Division I). 
Insert sophomore quarterback Tommy DeVito, and points have been more difficult to come by. Syracuse has scored only 50 points — a 16.7 average — through three games, while DeVito has struggled to fill Dungey's shoes at the helm.
DeVito is completing less than 60% of his passes and he's shown a concerning habit of turning the ball over at inopportune moments.
In the third quarter against Clemson Saturday, Syracuse had the ball at Clemson's 9-yard line following Chris Fredricks' interception. On first down, DeVito was pressured and rolled to his right. Instead of throwing the ball away, he threw it into the hands of Clemson's Mario Goodrich. The Tigers scored on the ensuing drive. 
"Young quarterbacks, they're going to make mistakes, and as they make mistakes they get better," Babers said after the game. "Like anything, if you touch the oven and it's hot, you get burned, and you don't touch the oven again.
"It was a little disappointing, but he's still my guy."
DeVito's final numbers against Clemson — 15-for-27, 172 yards, no touchdowns and one interception — were discouraging, but the Cedar Grove, New Jersey native rarely had time to throw.
You have free articles remaining.
Clemson's defense, whether it be pressure from the defensive line or blitzes from the secondary, had Syracuse's O-line on its heels the entire night. The Tigers racked up eight sacks and forced Syracuse into negative yardage 15 times. Meanwhile, the running game struggled to find holes as tailback Moe Neal was held to 22 yards on nine attempts. 
Babers hesitated to blame the line, and like his feelings on DeVito, he's confident that group will improve as the season continues. 
"I don't think it's all on the offensive line," Babers said. "It's not a simple offense. It's a complex offense and everyone has to do their part. It only takes one guy to break down offensively for something bad to happen."
Whether it be DeVito's decision-making, holes in the line or something else, Syracuse has been ineffective on pressure downs and in the red zone. The Orange are converting only 33% of their third downs (18-of-54) and 20% of their fourth downs (2-for-10). 
Syracuse reached the red zone four times against Clemson and came away with only six points. Babers chose to kick twice and didn't have a chance to choose the third time because of DeVito's interception.
On the fourth trip, the score forced Babers' hand and Syracuse went for it on fourth down, but Clemson made a stop. 
"We've got to correct our mistakes and continue to get better," Neal said. "We didn't execute. We don't execute against the No. 1 team in the country and that's what happens."
Syracuse faces Western Michigan and Holy Cross at home its next two games, and then the Orange undergo the bulk of its ACC schedule. The Orange face the ACC Atlantic's first- and third-worst defenses, Florida State and Boston College, in Weeks 8 and 9. 
With at least nine games left on the schedule, there's plenty of time for Syracuse's offense to find its identity. 
"We do feel like we have an opportunity to continue to grow as a football team," Babers said. "As bad as it may look, once it's all said and done I feel like we're going to be one of the teams people talk about in 2019."
Sports reporter Justin Ritzel can be reached at 282-2257 or at justin.ritzel@lee.net. Follow him on Twitter @CitizenRitz.