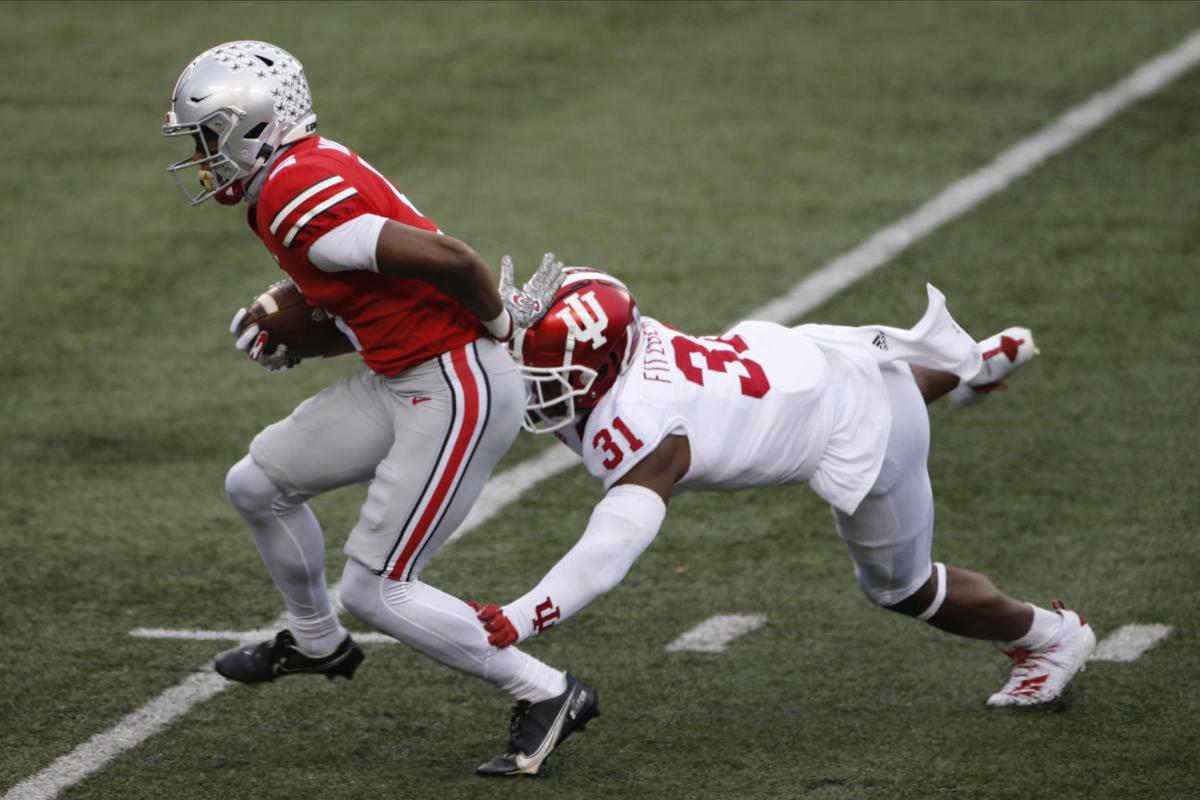 COLUMBUS, Ohio — After climbing to its highest AP Top 25 poll ranking in more than a half century, No. 9 Indiana got a chance find out how it measured up with Big Ten behemoth Ohio State, a team the Hoosiers hadn't beaten in 32 years.
They came up short but sure made it interesting — and a lot closer than the No. 3 Buckeyes would have liked.
Behind quarterback Michael Penix Jr., Indiana (4-1) rallied from a four-touchdown deficit in the second half only to be outlasted by the Buckeyes 42-35 on a rainy Saturday in an all-but-empty Ohio Stadium.
"You know, people didn't think we belonged on the field with Ohio State, but I think we showed that today," Indiana coach Tom Allen said. "I think we're a good football team, a really good football team."
The Buckeyes (4-0) were happy to get out of there with a win after leading 35-7 early in the second half and allowing Indiana to climb back to within one score. Two weeks ago, Ohio State led 35-3 at halftime and were outscored 24-14 in the second half in a win over Rutgers.
No. 19 Northwestern 17, No. 10 Wisconsin 7: Peyton Ramsey threw two touchdown passes and Northwestern shut down Graham Mertz and Wisconsin for a victory on Saturday that put the undefeated Wildcats in control of the Big Ten West.
Northwestern forced five turnovers — four in the first half — and sacked Mertz three times in its first win over a top-10 team since a 28-25 victory over No. 9 Nebraska on Nov. 5, 2011. Ramsey, a graduate transfer from Indiana, was 23 for 44 for 203 yards, and Ramaud Chiaokhiao-Bowman had four receptions for 95 yards.
The Wildcats improved to 5-0 for the first time since 2015. They also moved to 5-0 in the Big Ten for the first time since 1996.
Wisconsin (2-1, 2-1) had committed just one turnover this year, a fumble during a 45-7 victory over Illinois on Oct. 23. The Badgers then had back-to-back games canceled because of a COVID-19 outbreak within the program before rolling to a 49-11 win at Michigan last weekend.
No. 1 Alabama 63, Kentucky 3: DeVonta Smith caught nine passes for 144 yards and set the Southeastern Conference career record with two more touchdowns in Alabama's victory over short-handed Kentucky on Saturday.
Mac Jones passed for 230 yards and two touchdowns and Najee Harris ran for a pair of scores for the Crimson Tide (7-0 SEC), both in less than three quarters. A slow start turned into a breezy return from a three-week layoff after LSU was forced to call off last week's scheduled game because of COVID-19 troubles.
The outmanned Wildcats (3-5) were missing a number of key players because of injuries or coronavirus protocol. They were competitive early on the stat sheet, but it didn't hold up particularly long on the scoreboard.
Smith broke Amari Cooper's SEC and Alabama record with his 32nd touchdown catch, a 10-yarder from Jones in the second quarter. He added an 18-yarder from freshman backup Bryce Young.
No. 6 Florida 38, Vanderbilt 17: Kyle Trask passed for 383 yards and three touchdowns, and Florida rallied from an early deficit to beat Vanderbilt on Saturday.
The Gators (6-1, 6-1 Southeastern Conference) pulled into Vanderbilt Stadium an hour before kickoff already in uniform, hoping to avoid the visitors locker room as a coronavirus precaution. The Commodores (0-7, 0-7) opened the game by driving for a touchdown, but Trask helped get Florida on track for its seventh consecutive win in the series.
Trask, a Heisman Trophy hopeful, completed 26 of 35 passes to nine different receivers. He is the first quarterback in SEC history to accrue 30 touchdown passes in seven games.
No. 7 Cincinnati 36, Central Florida 33: Desmond Ridder three two touchdown passes and ran for two scores as Cincinnati defeated Central Florida Saturday to head into the release of the first College Football Playoff rankings unbeaten.
The Bearcats (8-0, 6-0 American) fell behind 14-3 in the first quarter against their toughest opponent yet, but grabbed the lead by halftime.
Dillon Gabriel threw for 243 yards, three touchdowns and one interception as the Knights (5-3, 4-3) lost at home for the second time this season.
UCF took a 25-22 lead in the third quarter with a 19-yard touchdown pass from Gabriel to Marlon Williams.
The interception Gabriel threw was costly for UCF.
Bearcats safety Darrick Forest picked off Gabriel's pass early in the fourth quarter and returned it 20 yards to the Knights' 16. Four plays later, a 1-yard sneak by Ridder gave UC a 29-25 lead with 13:07 remaining.
Be the first to know
Get local news delivered to your inbox!