MARCELLUS — Four Driver Middle School fourth-graders were mostly at ease presenting before the Marcellus Board of Education March 20, as they had already faced a "Shark Tank."
"I was about to kick off a project with my class called 'Genius Hour,' where they are allowed to select anything they would like to learn about," fourth=grade teacher Katrina Ercole said.
At the same time, Ercole said, she discovered that K-6 science teacher Mary Jane Hoeft's Invention Convention was also starting. So, Ercole decided to combine the two project-based courses as a vehicle for her students to learn to do creative problem-solving.
The project then became centered on the students coming up with an invention based on a subject of their choice. And, taking from the Genius Hour, the students were then required to present their idea to a "Shark Tank: — based on the television series where entrepreneurs present their ideas to a panel of business experts in order to measure viability.
All 20 students in Ercole's class presented their invention prototypes to a "Shark Tank" comprised of Marcellus school administrators, the technology teacher and Welch Allyn engineers. Then, four students were asked to come before the school board to talk about their inventions as well as the experience of presenting to the "Shark Tank."
"They had to present a what, why and how," Ercole said.
"You had to think really hard to find an invention," fourth-grader Max Chapman said.
His invention was a cooling headband for athletes. He said he placed ice packs inside an athletic headband.
"So, when I put it on it cools me down and I don't have to worry about getting real sticky and hot from my sweat," Chapman said.
You have free articles remaining.
Register for more free articles
Stay logged in to skip the surveys
All four prototypes were on display for the board. The other ideas included a battery-powered massager built into backpack handles, a chicken water giver and a makeup hairbrush.
The water giver included the collection of rainwater, which could be filtered then easily dispensed from a distance to a location, for example, inside a chicken coop that is hard for people to reach.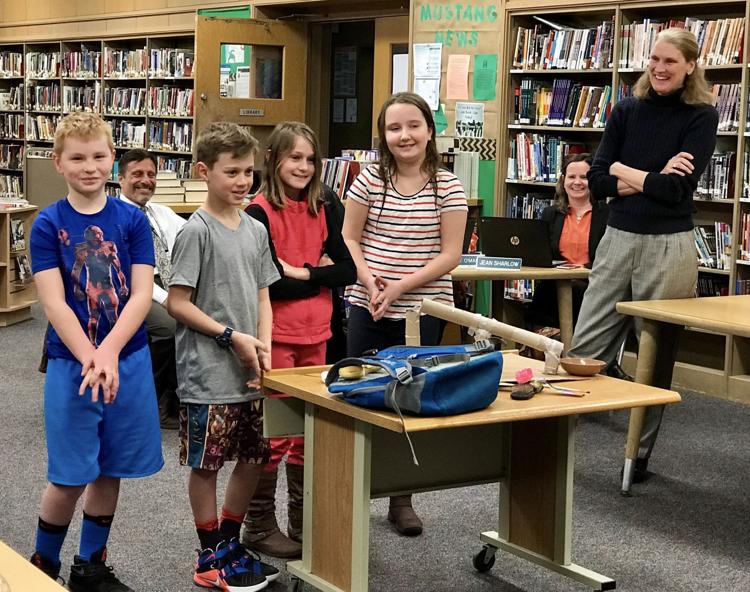 "I think it was fun making the invention because you had to think sort of outside of the box, like things that nobody has thought of before," fourth-grader Ella Butler said. "And, when I was in front of the engineers, I was like, 'you've got to pull yourself together.' So, it sort of gets better as you go along."
She came up with the idea of a chicken watering aid watching her mother awkwardly get into their chicken coop to provide water for her family's chickens.
"That was nice of you, thinking to improve your mom's life," Board President Ryan Riefler said.
Kendall Donigan was also inspired by her mother. She thought by attaching makeup to a hairbrush, the user would have only one location for several beauty needs they might use to get ready before going out of their house. 
Ethan Hubbard thought to provide a massage through one's backpack — an item most school-age children now carry on a regular basis.
"Most of them were solving problems for someone else," Ercole said.