MARCELLUS — Lilly Locastro said she was frightened at first when she landed in Haiti.
She was accompanying her father — Marcellus Board of Education member and physician Dr. David Locastro — on a five-day medical mission to Haiti, where they saw hundreds of patients on a daily basis. The need was so great that many more people were turned away each day.
"When we got there, I was scared to death," Locastro said.
He'd been on mission trips before but never with Lilly, a ninth-grader at Marcellus Senior High School. He said he could deal with it himself, but he was worried for her as the part of the country they were in was the most desperate of circumstances he had witnessed in his world travels.
"They had nothing," he said.
No shoes, no refrigeration nor plumbing, Locastro said, adding that if they had electricity, it was spotty and it only worked for a couple of hours a day.
"We all had to wear mosquito nets to bed," he said, because of the Zika virus and malaria. 
Lilly was dispensing medicine. She said she got comfortable in Haiti quickly because of the people, as they put her at ease even though they didn't speak each other's language. The Haitians speak French or a version of Creole.
"It was really eye-opening to see these people in their everyday life," Lilly said, adding that most only had one parent if any parents at all.
The Locastros showed their audience at Monday's school board meeting a video they produced from their trip that displayed the conditions the Haitians are living in.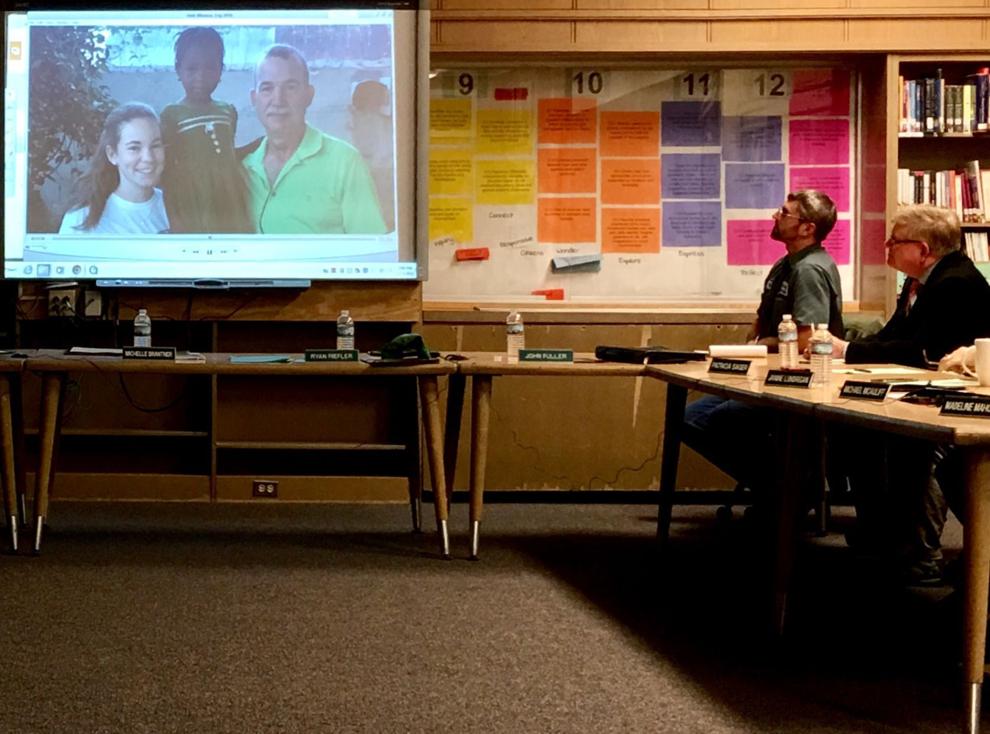 The video was followed up with a question-and-answer period.
School board member Janine Lundrigan asked if they witnessed any of the aftermath of the recent hurricane, Matthew.
Locastro said it wouldn't have mattered, as there wasn't anything there to be destroyed. It was dirt lanes and rustic tin shacks. If they were knocked down, they would just be set back up.
Board Vice President John Fuller said his daughter is planning to leave for Haiti for three weeks after Christmas with Habitat for Humanity and wondered if Lilly could offer any advice.
Lilly replied that it might be shocking at first, but Fuller's daughter should not worry as she will get used to it with time.
The Locastros said their patients would speak to them through interpreters, but that was difficult as well. For example, it took them three days to realize that when the patients were telling the interpreters they didn't have any food, it was being interpreted as they didn't have an appetite.
The Locastros were asked if they had to take any special medicine or vaccines to travel to Haiti and also if the Haitians were vaccinated. Lilly said she had a couple of shots before leaving and was taking pills to ward off malaria.
Locastro said there just wasn't a delivery system for the Haitians to be vaccinated.
He also said while they were packing up the last day, he let some children play with his stethoscope so they could listen to their own hearts. A women came up and pointed to herself, and he said she could listen, too. But, he realized she was really asking for him to listen to her heart. When he did, he realized she had end-stage rheumatic fever.
"There's really no place for them to go," he said.
A hospital stay is $35 a day, but if somebody gives them that money, they need to spend it on food to feed their families.
"We are a Band-Aid to a systemic problem that requires surgery," Locastro said.
Superintendent Michelle Brantner summed up the presentation by noting that Lilly had access to this opportunity and perhaps the school district could look at programming more service learning.
The superintendent added that there are many other places in dire circumstances such as Haiti around the world and even in parts of the United States. 
"There are parts of Lilly that are changed forever," Brantner said.
Journal reporter Ellen Leahy can be reached at ellen.leahy@lee.net or (315) 282-2230. Follow her on Twitter @WOC_Leahy.