MARCELLUS — This school year, seven Boy Scouts from Marcellus Troop 66 will achieve the rank of Eagle Scout.
That makes 43 total Eagle Scouts since 1991 among the two troops in Marcellus.
"This is quite a remarkable milestone for Troop 66," said Eric Larison, a former Troop 66 Committee chairman.
Recently at the Marcellus United Methodist Church, Andrew Marsh's Eagle Scout Honor Court was attended by area Eagle Scouts, fellow Scouts from Troop 66, Scoutmasters and family members.
Marsh's sister Colleen accompanied her parents to the ceremony. Dad James is an English teacher at Marcellus Senior High School, while mom Shelly teaches Spanish also at the high school.
"He's a very supportive brother," Colleen said.
At one point, Marsh's parents were called to the front to honor their son with a pin to mark the occasion. Marsh in turn gave each of them a pin as a memento.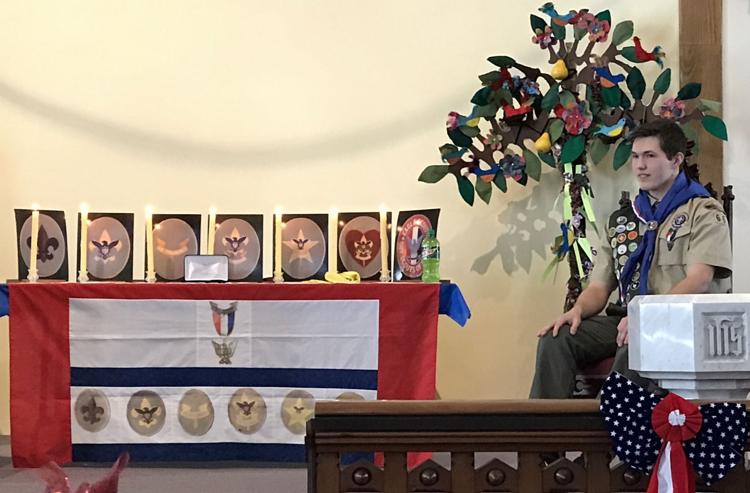 Marsh's Eagle Scout project was the GPS- and map-logging of all trails at the Skaneateles Conservation Area for the people who manage the Conservation Area to use.
The Boy Scouts of America reported that 55,186 young men became Eagle Scouts in 2016. The total hours Scouts worked on public projects nationwide was 9,156,368. That's an average of 165.9 hours of service per Eagle project.
The IRS has set a value of $23.56 per volunteer hour served. This means Scouts contributed $215,700,000 in time working on these projects last year.
Troop 66 Committee Chairman Dan Gooden read the Eagle citation, explaining each stage a Scout goes through to achieve the honor of Eagle.
These include being self-sufficient in the outdoors; understanding orienteering day and night; knowing first aid, including bandaging large wounds; understanding rights and responsibilities of citizenship, including how to properly care for the American flag; and learning and the practice of leadership skills.
"The higher a Scout climbs, the fewer travelers he meets along the way," Larison said.
Marsh's father spoke at the event. He said three of Andy's passions as a kid were running, history and food. As a rather shy sixth-grader, he attended his first troop meeting on a Monday. He came home saying he had been asked to go on a trip to Philadelphia the very next weekend.
"His mom and I were worried because it was an overnight trip," James Marsh said. "Andy wasn't worried at all."
After his first overnight without his parents. he came home elated, as he had seen the Liberty Bell and enjoyed a Philly cheese steak sandwich. He was hooked.
Marsh's two mentors were former Scoutmaster Brian Winoski, now assistant scoutmaster, and Jerry Kezar, who both spoke on his behalf.
"I've always appreciated that you are a thoughtful and measured young man," Winoski told Marsh. "You can think outside the box. You have a willingness to contribute. Whether by wiring or by choice, you seem to me to live the tenet of the Scout Law. For those of you out there who don't know, they are trustworthy, loyal, helpful, friendly, courteous, kind, obedient, cheerful, thrifty, brave, clean and reverent. In your case, I would also add dependable and dedicated to your personal character list."
Eagle Scout is the highest advancement in Boy Scouting. In the words of the Eagle Scout promise, Eagles do their best each day to make their training an example and their rank count strongly for better citizenship in their troop, in their community and in their contacts with other people. To this, they pledge their sacred honor.
"Out of 100 Scouts that begin this journey, only six reach the Eagle rank and yet the journey only really begins here," Gooden said. "There is no such thing as a former Eagle."
The Scoutmasters agreed that this troop is ideal in that it is boy-run and boy-led, meaning the leaders act more as mentors and advisers while the Scouts learn to manage themselves.
"If you pack the snowball right and give it a shove, it will run right over you," Larison said, adding that in Scouting nothing is given to you. 
Marsh is planning on attending St. Lawrence University in the fall and entering ROTC with an interest in entering the Army, as both grandfathers, Dan Kantak and Elton Marsh, were in the Army.
Winoski spoke of this new Eagle's other accomplishments, such as being selected by his peers to be the senior patrol leader. He also attended Boys State last summer, is a member of cross country and track and field teams at Marcellus, is a member of the National Honor Society and the Spanish Honor Society, and is the senior class president.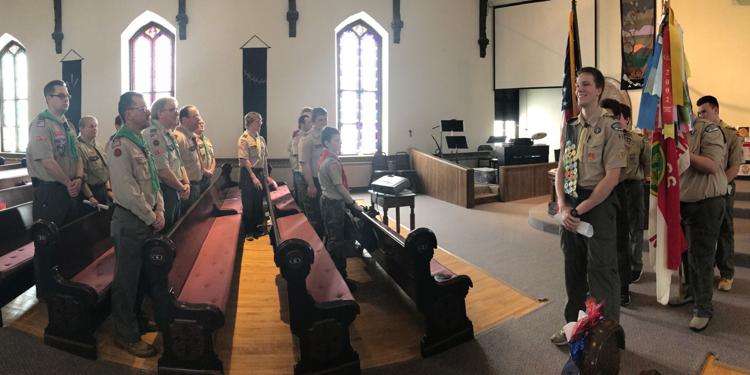 "Troop 66 gave me camaraderie," Marsh said of his fellow Scouts and the troop leaders. "My sincerest gratitude goes out to the leaders of my troop. All of you have helped me manage my leadership responsibilities better."
After thanking each troop leader and noting their contributions, he also thanked his parents for putting up with him during the six years of scouting.
"My path to Eagle has given me so much that I vow to give back through my next journey in life," Marsh said. "My only regret is that I could only get my Eagle once. If I had the choice, I would complete the journey until the end of time."