MARCELLUS — Modern folk art is how Marcellus artist Jason Cooper King describes his painting style.
Last year, King was commissioned to paint the Marcellus United Methodist Church for its bicentennial. He used an unusual technique of painting with the four seasons seamlessly moving along the canvas as well as sunrise to sunset to denote the passage of time.
The church's pastor, the Rev. Robin Blair asked King to paint the church with its doors open to welcome all and named the painting "Steadfast."
"The painting was very well received," King said. "I got a standing ovation at the presentation."
During Marcellus' Olde Home days, June 2, 3 and 4, King will be on the point in front of the Methodist church selling 11-by-14 signed prints of the painting as well as post cards on Saturday, June 3. In case of inclement weather, King will be inside the church's Wesley Hall.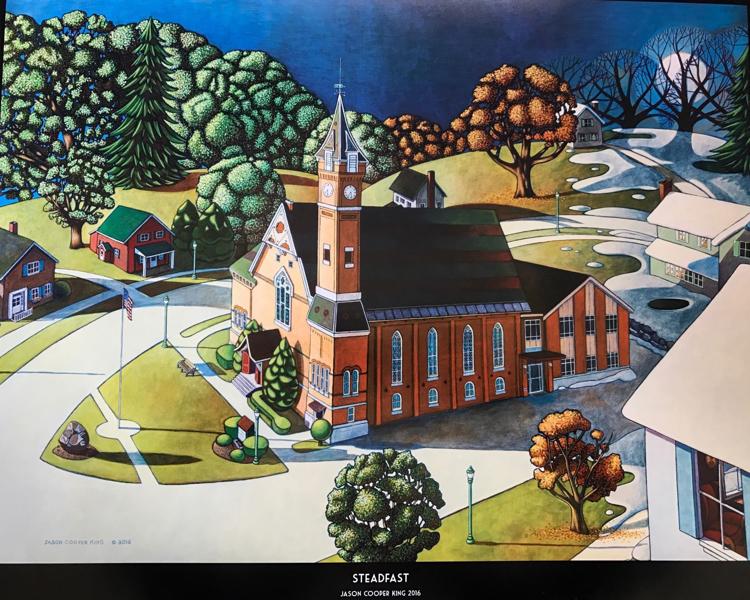 King started his art career at Marcellus Senior High School under the guidance of art teachers the late Bond Shaw and his wife, Claire Shaw. Bond even delayed his retirement from teaching for a year in order to see King through graduation.
King followed up that education with a Bachelor of Fine Arts at Syracuse University, graduating in 1989. He said he had an edge over the other students in the program, as he had studied art history while still in high school.
After SU, King put aside painting for an extended period of time and turned instead to paying off his student debt by opening a local janitorial service. It wasn't until he met his wife, Beth, that she inspired him to paint again, as she had operated an art gallery in Seattle and could see his work was important.
"I see separation of pieces (in my paintings) and like to make order," King said. "Maybe that is why I am good at cleaning."
He and his wife, the former Beth Tuttle, met at the Methodist church, where he was employed and her mother was in charge of the Gift and Thrift Shop. After an introduction, they realized they were kindred spirits.
The Kings' home on Paul Street in Marcellus displays their passion for antiques, with family heirlooms quite evident and King's paintings adorning many of the walls and fitting right in with the decor.
King grew up on Howlett Hill, where his family, the Coopers, has a long history starting in 1907 when the Coopers established the Cooperdale Poultry farm in 1924. His home and elders are often the subject of his paintings.
"I had a great childhood on Howlett Hill growing up with five siblings," King said. "Family is very important to me. I had the good fortune of knowing my great-grandparents."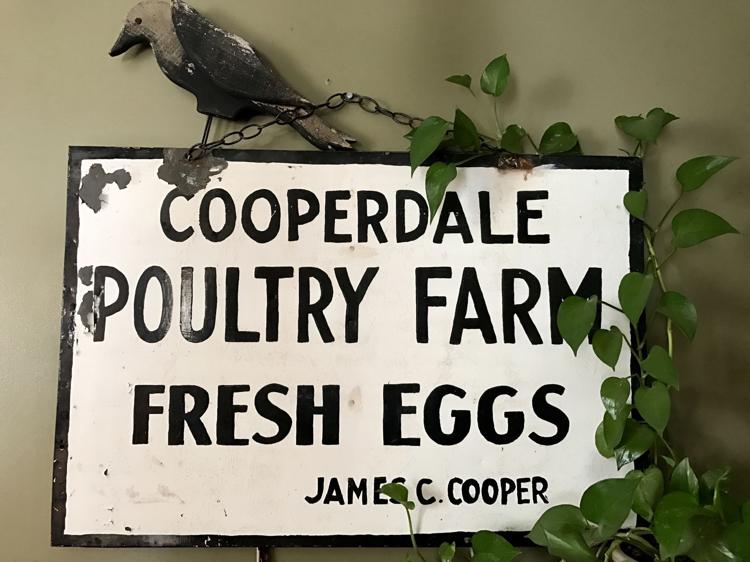 King has a style all his own. He said he paints the opposite color under each color on his paintings so that when he paints the intended color, there is a vibrancy that shines through. Meanwhile, his color palate tends to lean toward sepia tone, as it harkens back to early attempts at color.
He often works from photos for inspiration but also takes license in order to make the painting more dynamic and interesting.
His influences are Mexican artist Diego Rivera and Americans Grant Wood and Thomas Hart Benton. King's favorite art is in children's books, of which he has a large collection to reference. He admires Charles Schultz as an illustrator. King said Schultz knew how to draw just what was necessary.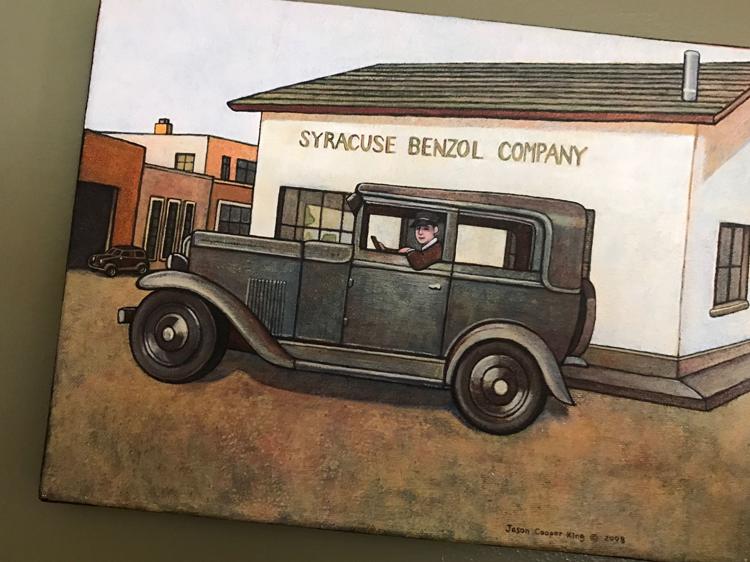 King follows suit, simplifying his paintings in a way he learned from the abstract artists.
"It's very important to make sure everything is considered," he said.