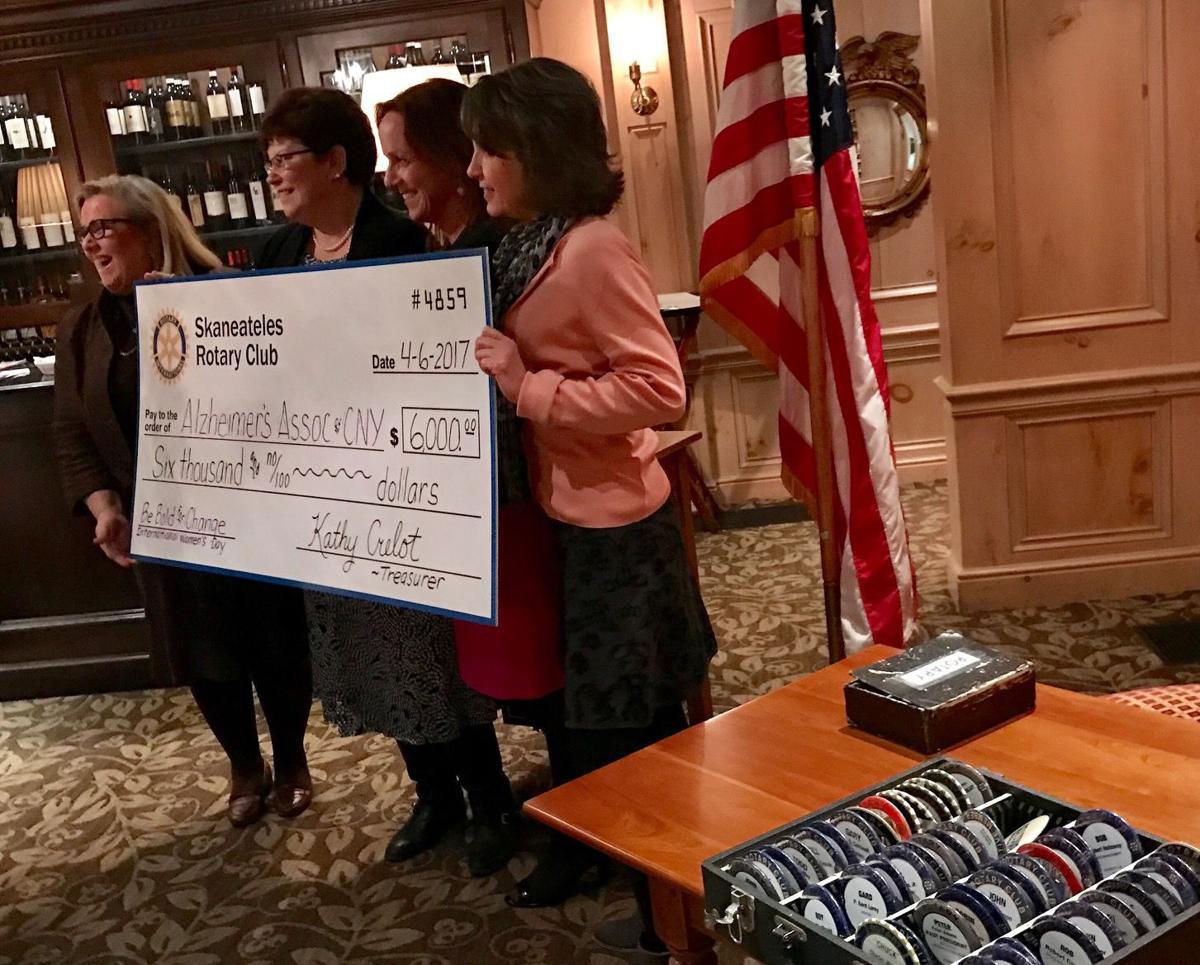 SKANEATELES — Rotary International, a global service organization, has Alzheimer's disease in its crosshairs.  
According to the Rotary International website, rotary.org, for more than 110 years, the 1.2 million Rotary Club members around the world "have used their passion, energy and intelligence to take action on sustainable projects," including polio and malaria — diseases that have been greatly reduced worldwide — and now Alzheimer's.
"Clearly, it affects all of us," Rotarian Amy Tormey said of Alzheimer's during Thursday's Skaneateles Rotary Club meeting.
Cathy James, CEO of the Central New York Chapter of the Alzheimer's Association, attended the meeting to receive a check from the club, which raised more than $6,000 during its International Women's Day event in March.
James said more women are diagnosed with Alzheimer's as well as disproportionally affected by the disease, as they are more involved with care giving.
"More women live longer, and age is a risk factor," she said.
Other risk factors include a gene that effects a very small percentage of the population, hormonal changes, medications and depression left untreated in the elderly — but the disease's actual cause is still a mystery.
Researchers recently concluded that Alzheimer's starts earlier than once believed, so by the time symptoms start to show up, the damage has already taken place.
You have free articles remaining.
"We are hoping to back up the clock and identify the people earlier," James said, adding that this is what National Institutes of Health scientists are working on right now.
A couple of stumbling blocks in that process are that the disease manifests differently in each person and the amount of doctors one sees before a diagnosis. James said patients can pull themselves together with reserves for a doctor's appointment, so they can appear not to exhibit symptoms as they are on a daily basis.
Researchers are also trying to find a biomarker. With this, they could find real treatments to slow down the progression and not just mask the disease. If scientists slowed it down by five years overall, James said, it would save the health care system $100 billion.
In the top 10 causes of death, Alzheimer's is the only one without real treatment, no cure and no way to slow down. The medicines on the market help with the symptoms but not the progression of the actual disease.
The Alzheimer's Association's mission is twofold, James said: research and care.
The local chapter offers many services free of charge, including educational material, care consultants who can work on a patient-by-patient basis with caregivers to develop the best strategies for that patient's care, family consultations to bring families together on their loved one's care, peer-led support groups for caregivers, how to determine when a patient needs a more secure setting than home and how to make this transition.
James thanked the Rotary Club for taking a leadership role in the effort to eradicate Alzheimer's.
"Researchers are telling us they have the science, but are lacking the funds," she said.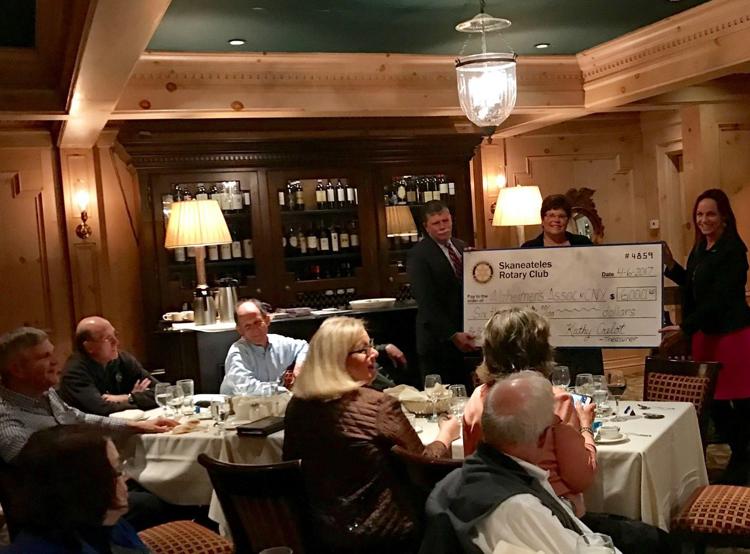 Journal reporter Ellen Leahy can be reached at ellen.leahy@lee.net or (315) 282-2230. Follow her on Twitter @WOC_Leahy.