Montessori School Of The Finger Lakes
| | |
| --- | --- |
| Sunday | Closed |
| Monday | |
| Tuesday | |
| Wednesday | |
| Thursday | |
| Friday | |
| Saturday | Closed |
About Montessori School Of The Finger Lakes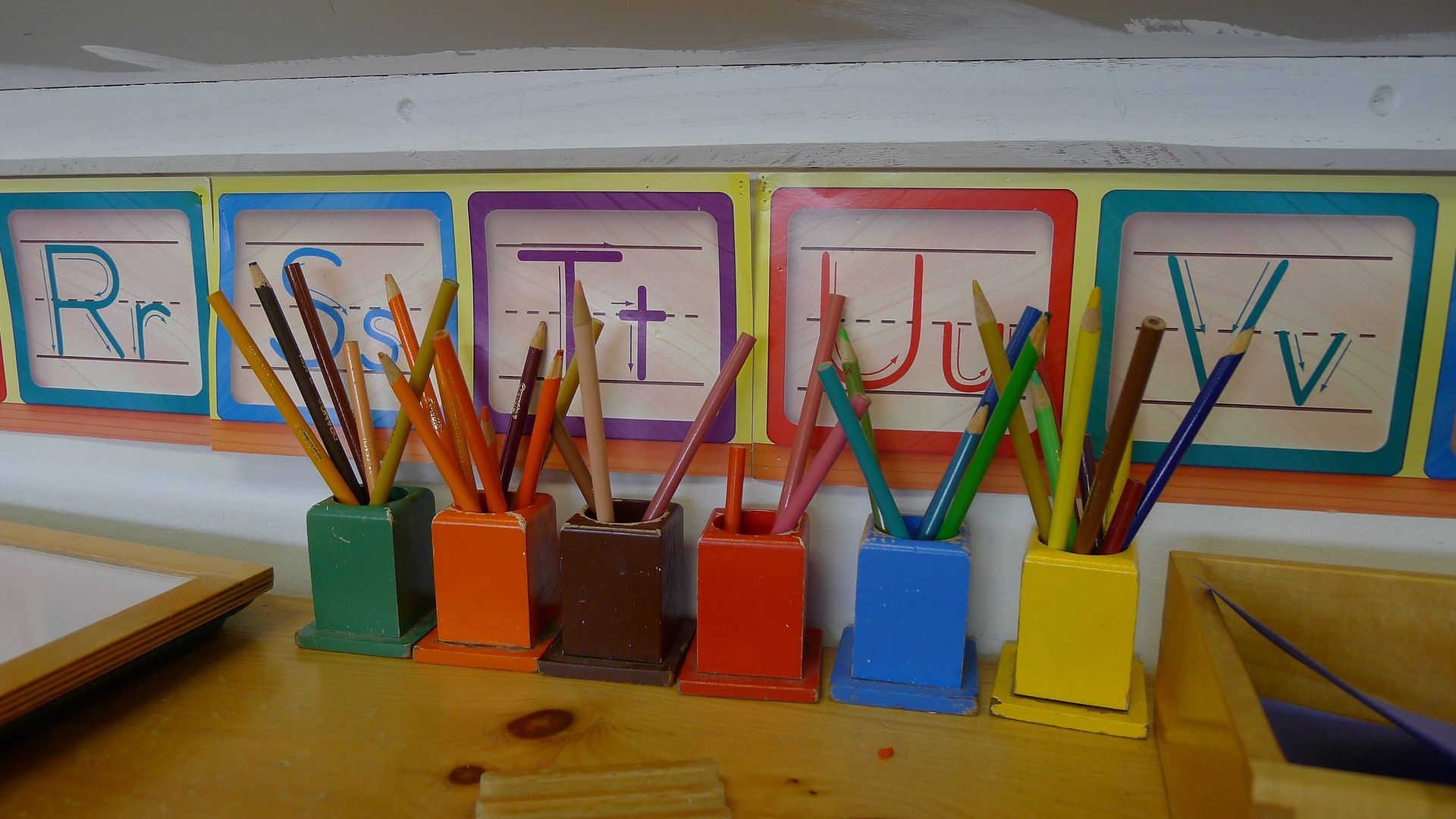 The Montessori School of the Finger Lakes has proudly served the community since 1981 by providing a variety of enriching programs for children of all ages. Founded and spearheaded by Gilda D. Brower, who is the teacher, directress, and executive director of the institution, the Montessori School of the Finger Lakes is conveniently located at 6734 Pine Ridge Road in Auburn.

Brower and her diligent staff take pride in exciting, enticing, nurturing and celebrating children. You can contact the school at 315-252-2225. You also can visit our website at http://www.fingerlakesmontessori.com. You can even like us on Facebook or email us at admin@fingerlakesmontessori.com.

Locally owned and operated, the school originally opened in Auburn in 1981 as the Montessori Children's House. The school started as a preschool/kindergarten for three to five-year-olds, and largely at the request of parents of preschool students, expanded to include first through third grades in 1995 and again in 1996 to include fourth through eighth grades. Finally, a third expansion for 9 to 12-year-old students was achieved in 2000. We have an active and very supportive parent/school community.

At Montessori School of the Finger Lakes, parents are incorporated into the daily life of their child's academics to create a partnership of support for each student. Together we enjoy and share the never ending process and "work" of personal growth.

The curriculum celebrates the evolution of a student and nurtures enthusiasm and respect. The use of the hand and the "cosmic" use of imagination engage the whole child. We have been honored to introduce over 800 students in the past 29 years to the great wonders of the world. We amaze the children every year with such great questions as, "How do we happen to have fossils of semi-tropical ocean creatures under our feet"? Observation of life's miracles such as the discovery of macro invertebrates in a drop of pond water, cross pollination of an amaryllis and the resulting swelling of the ovary, and the magic of metamorphosis keeps the wonder alive every minute in everyone, students and teachers alike!

Brower has been certified by the American Montessori Society since 1971, and is a member of the American Montessori Society and the North American Montessori Teacher Association. Gilda has been a faculty member of the Center for Montessori Teacher Education for the past three decades. Upon completion of 30 years of service to the community, the Montessori School of the Finger Lakes alumni family includes more than 1000 students.


To nurture an individual's growth; to guide children in independent learning; to foster their exploration and understanding of the environment; and to promote respectful interaction; that they may become contributing members of the global community.
How are we different from other schools? The answer is both simple and profound: we are a values-driven school. We're not driven by status, or statutes, or educational tradition. We serve each student's gifts and challenges, support parents, and nurture the "whole child" — socially and emotionally, as well as academically. Every practice at Montessori School of the Finger Lakes is in the service of providing our students with the tools they need to become independent lifelong learners, ethically and environmentally aware.
The Montessori Method is based on these three main premises:
• Children are to be respected as different from adults and as individuals who differ from one another.

• Each child possesses a unique sensitivity and intellectual ability to absorb and learn from our environment.

• The most important years of a child's growth are the first six years of life when unconscious learning is brought to the conscious level.
Goals of the Montessori Method
With an eye toward the development of a competent, self-assured, independent, and caring adult, the Montessori method aims to:
• Foster natural curiosity and a positive attitude toward school.

• Develop each child's self-confidence and habits of initiative, concentration, and persistence.

• Nurture inner security and a sense of order.
The Toddler program (18-36 months of age) is designed for the individual child. Maria Montessori believed that there are certain times in a child's development he/she will learn more quickly and easily if given opportunity and guidance. These Sensitive Periods allow the environment to be prepared in a way to welcome children, keep them safe, encourage interaction with the people and materials in the environment to assist each child's development of cognitive, language, motor, sensory, social and practical life skills.
The Universal Pre-Kindergarten Program (UPK) is a state-funded program for which the Administration of the Auburn Enlarged City School District applies each year. The Montessori School of the Finger Lakes is one of 5 preschool sites in the district that contract with the administration to provide one year of half-day preschool to eligible children. Parents/guardians of children who reach the age of four years by December 1st and who live within the district are eligible to apply. Grants may be determined upon income eligibility guidelines and are solely determined by the administration of the Auburn Enlarged City School District.
Applications are available through the Harriet Tubman Administration Office at 78 Thornton Avenue in Auburn in the spring for the following school year.
The Montessori curriculum for the early childhood years places emphasis both on physical and motor development and on cognitive development. Practical life exercises, including pouring liquids, preparing food, and polishing shoes, prepare the child for all future academic work by promoting concentration, order of tasks, and completion of a work cycle. Sensory training enables the Montessori child to identify and categorize information obtained through their senses. Materials that introduce the young mind to language arts, math, art, music, history and world culture, geography, and science abound in the Montessori preschool environment.
The Montessori curriculum for the kindergarten and elementary school years places emphasis on three aspects:
•Fundamental Skills
•Great Lessons
•and Individually Chosen Research
Fundamental Skills require a basic knowledge of math, science, language arts, technology, geography, anthropology, civics, economics, and the organization of human society
The Great Lessons included the inspiring stories of the development of life on Earth, of language, and of math and technology
For Individually Chosen Research, children are encouraged to conduct library and Internet research, prepare oral and written reports, and teach classmates
Before-school care is offered to those parents whose schedules necessitate an earlier arrival time. Beverages and snacks are provided as well as the opportunity for children to relax in a nurturing and familiar environment until school begins. Before-school care is available at 7:00 am to 8:30 am.
After-school care is designed to provide children with a safe, enjoyable environment for after-school activities. Children are encouraged to engage in both indoor and outdoor play or to relax with friends. Individual homework help is also available. Snacks and beverages are provided. After-school care is available from 3:30 until 5:30.
Admission Policy
Applications are accepted for students 18 months-10 years of age. The Montessori School of the Finger Lakes maintains a racially nondiscriminatory policy with respect to student admissions, composition of student body, and scholarship funds. No discrimination is, therefore, effected by the school against applicants on the basis of race, color, national or ethnic origin, gender, or religion.
Readiness Policy
Readiness for preschool is determined on an individual basis and takes the child's level of independence into consideration. Students who are able to part comfortably from parents and are toilet trained are generally ready. For the Toddler program, diapers are certainly fine.
Health Requirements
A physical examination form completed by the student's pediatrician is required. Immunizations required by the NYS Department of Health must be current and indicated as such on physical examination forms.
The Montessori School of the Finger Lakes follows the Auburn Enlarged City School District calendar, with the exception of the end of the school year. The Montessori school closes one week earlier than that indicated on the school district calendar. Along with a Parent Handbook, the calendar will be provided upon registration or it can be accessed through the Auburn school district's website, http://district.auburn.cnyric.org
The Montessori School of the Finger Lakes is closed for inclement weather following the determination made by the Auburn School District Superintendent. Announcements of school closings are made on the following radio stations: WAUB 1590 AM, WMBO 1340 AM, WNDR, WHEN, WSYR, and WSFW. In addition to the radio, three television stations, channels 3, 5, and 9, broadcast school closings. School closings are generally announced between 6:30 and 7:00 a.m. and continue as necessary throughout the morning.
Illness Policy
In order to check the spread of infections, we request that parents do not send students to school exhibiting the following serious symptoms: fever; recent (within the last 24 hours) vomiting; colored (not clear), draining mucus; or severe ear or throat pain. In the event that a child becomes ill during the school day, teachers will make every effort to contact parents or emergency caregivers listed by parents. It is imperative that parents arrange immediate pick-up of the child. Therefore, it is of utmost importance that parents inform the school of any changes in telephone (especially cell phone) numbers.
If your child is ill or will not be attending school for any reason, please inform the staff as soon as possible by calling 252-2225. It is especially important that the staff knows as early as possible on field trip days that a student will not be attending. Upon your child's return to school, especially following a contagious illness, please send in a doctor's note attesting to the child's return to health.
We will require a note from the parent upon a child's return to school following an absence to explain why the child was out. It is a requirement of the State that we are able to document reasons for absences and we appreciate your cooperation. Notes of absence include the date(s) of absence and the reason for the absence and are signed by a parent or guardian.
Visit us on Facebook and our website
If you would like any additional information about Montessori School of the Finger Lakes, please email the Executive Director (admin@fingerlakesmontessori.com) or call (315) 252-2225. Please be sure to include a daytime telephone number with area code should you wish to be contacted by phone.